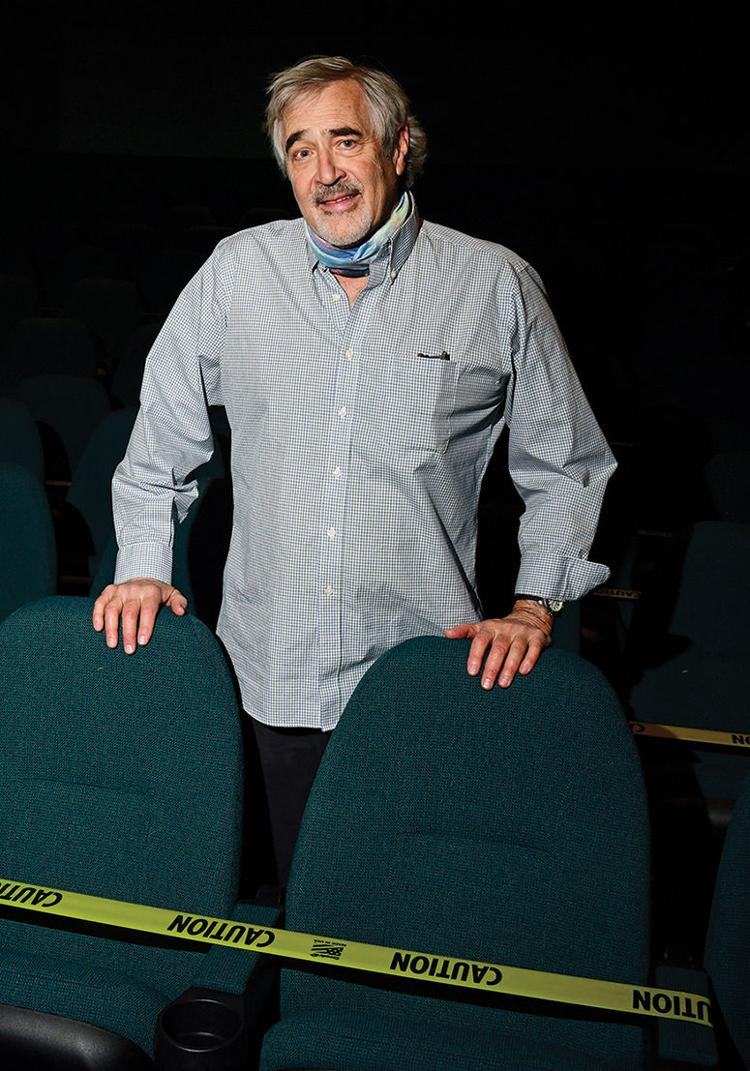 Ask Rick Kessler to name his favorite movie and he'll shake his head and laugh. In the nearly half-century since the Magic Lantern first opened in Ketchum, the theater has shown more than 4,500 movies—and Kessler has seen nearly all of them.
Still, some films stand out. There was the 1976 showing of "Rocky," for instance, which had the crowd cheering so loudly as the titular character took on Apollo Creed that their screams could be heard from outside the theater. "Arthur," the 1981 romantic comedy starring Dudley Moore, "absolutely destroyed audiences," as Kessler recalls. And moviegoers in the Wood River Valley simply couldn't get enough of Jeff Bridges and Sam Waterston in the mid-70s Western "Rancho Deluxe."
As a movie theater owner, Kessler says, the "best feeling in the world" is to walk down the theater aisle mid-film, taking in the energy of the crowd—the sounds of people "smiling, laughing, having a good time." He's loved sharing movies with others since childhood, when he invited the neighborhood kids to his house to show films on a projector.
"It just makes my heart flit," Kessler said.
It's been a while since Kessler heard the laughs and cheers of an audience: For three months, Magic Lantern Cinemas has been silent. The theater—along with the Bigwood 4 in Hailey, the Sun Valley Opera House, and all other movie theaters in Idaho—closed in late March as a result of statewide COVID-19 restrictions. Now, as the Magic Lantern prepares to reopen Friday, Kessler is hoping the joy and thrill of Ketchum's old favorites will bring audiences back.
Along with showing new movies "Emma" and "Irresistible," the Magic Lantern will kick off what Kessler is calling The Absolutely Positively Very Best of the Magic Lantern Pure Enjoyment Film Festival, a lineup of audience favorites from the past 47 years. The first week will feature eight comedies: "The Producers," "Airplane," "Annie Hall," "Animal House," "Ferris Bueller's Day Off," "Arthur," "Trading Places" and "Monty Python and the Holy Grail."
"These are films, each and every one of them, that had audiences laughing hysterically," Kessler said—and right now, he believes, "People need something to smile about."
If all goes well, Kessler said, he may extend the film festival beyond the first week, perhaps branching into classic dramas, Westerns and other genres. Tickets for the film festival movies will be cheaper than regular films, at $3 each.
Idaho movie theaters were allowed to reopen May 30, in the third stage of Gov. Brad Little's economic rebound plan. But reopening has presented some logistical challenges. Most blockbuster movies scheduled to come out in the early summer have been delayed for months or even until next year, leaving theater owners with slim pickings. The next two big studio films slated for release, "Mulan" and "Tenet," aren't scheduled to come out until late July.
Unlike local restaurants and shops, many of which also closed to the public in late March, the Magic Lantern and other theaters weren't able to offer curbside service or delivery of their services. Kessler described the closure, which required him to lay off the theater's staff, as "terrible," though a federal loan helped the theater push through financially.
Throughout the COVID-19 closure, Kessler said, many customers have asked when the theater will reopen. But whether the public will feel ready to go back to the movies, especially as Idaho has seen a recent uptick in coronavirus cases, remains to be seen.
"I fully understand the trepidation by the general public," Kessler said.
To minimize that trepidation, the Magic Lantern is implementing a number of safety precautions. Masks are required for entry into the theater and in the lobby, though moviegoers can remove their masks while watching the film. ("If someone wants to argue about their constitutional rights being violated, they can go get a lawyer and sue me," Kessler said of the mask requirement.) The theaters themselves are set up for social distancing, with a maximum of two people seated together and at least two seats—and one row—between parties. Fans will be on throughout the movie, and hand sanitizing stations will be readily available.
"I don't know what more we can do to make people feel safe," Kessler said.
In a time when anyone can easily access a movie from their couch with the click of a remote control button, what can the Magic Lantern offer hesitant customers? Kessler points to the theater's motto: "At the Magic Lantern, you don't just watch movies—you EXPERIENCE them."
Watching a movie at home, Kessler said, is "just something to do." Watching a movie in a theater, on the other hand, is a "communal experience, where you're all lifted up together."
In bleak times, Kessler believes, that communal experience is especially important.
"Movie theaters didn't make that much money during the Great Depression, but they were the one thing that helped lift this country," Kessler said. "Movies didn't end the Depression. But they helped us get through it."