With summer fast approaching, swim classes and lap training sessions are set to begin. But Wood River Valley pool operators are facing a shortfall in trained lifeguards to keep swimmers safe. The lack of lifeguards is leading to curtailed programs and shortened hours of operation.
The shortage means the Blaine County Recreation District's newly renovated Aquatic Center in Hailey will not be as active as expected this summer. The Aquatic Center will be open for reduced hours and will only offer season passes if the nonprofit is able to expand its schedule beyond current expectations.
BCRD Executive Director Mark Davidson said the BCRD has been "working hard" to recruit and hire skilled lifeguards and other staff to ensure we can open the Aquatic Center on Memorial Day Weekend with as robust a schedule as possible.
Idaho has the second highest rate in the nation of drownings among children ages 1 to 5, according to the federal Centers for Disease Control and Prevention.
"As we manage for staffing shortages, we believe a core function for the BCRD is to teach as many kids as we can to learn how to swim," Davidson said. "As a result, we will focus our efforts on maximizing availability of Swim School and Swim Team."
Due to limited capacity at the Aquatic Center, the BCRD is allowing children to be registered for only two sessions of swim school, two of which are already sold out.
Davidson said the BCRD is increasing lifeguard pay and that a number of full-time staff in other departments are stepping up by getting trained to be certified lifeguards and work at the pool.
"We are optimistic the hours of operation and programming at the pool will look similar to previous years with limited interruptions in service," Davidson said. "We hope the community will be patient with us and all organizations dealing with similar challenges."
The Wood River Community YMCA is also struggling to get a full staff of lifeguards to ensure safety at its lap pool, splash pool and water slide. Four lifeguards are required to keep all the pool facilities in operation at once.
"We're definitely strained going into the summer," said YMCA Executive Director Jason Shearer. "The water slide would be open more if we had additional lifeguards. If someone calls in sick, we may have to close a feature in the splash pool or the pool itself. We don't have a lot of backups. We would surely hire lifeguards if they came in."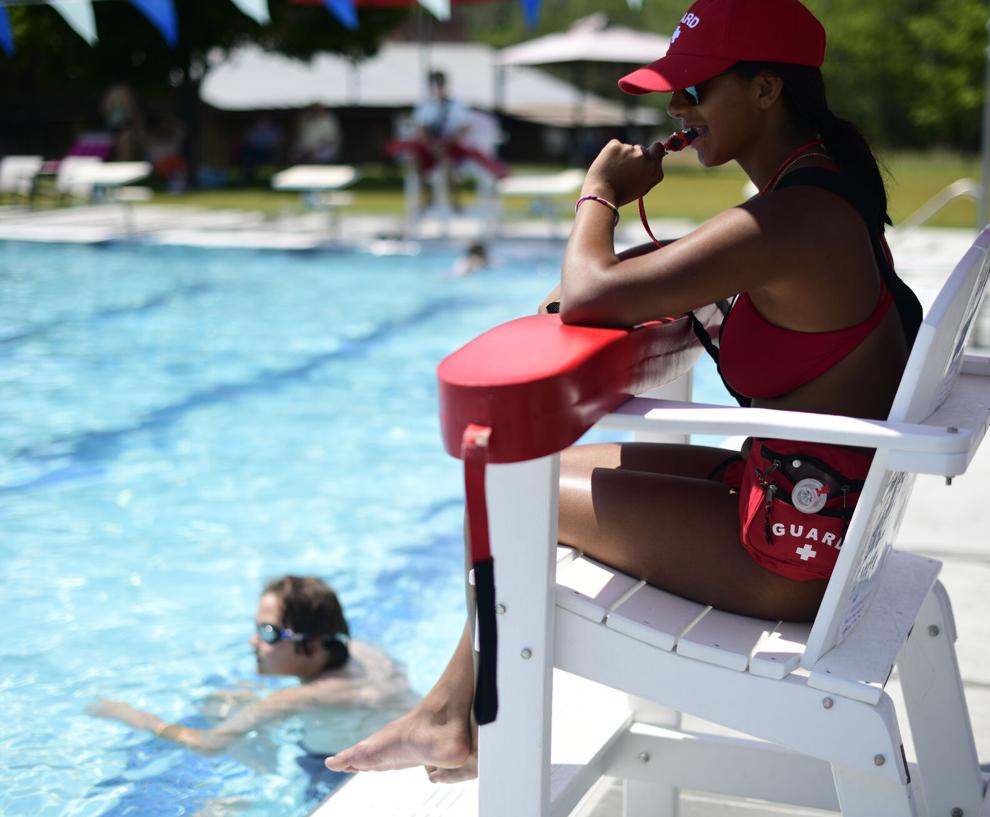 The YMCA provides free training over the course of one weekend for potential lifeguards and pays them $18 per hour for full time work, $15-$16 for part time.
"We can even provide swim coaching for those who want to learn the skills to be able to become a lifeguard," Shearer said. "Part of our staffing shortage means those who are working are working harder, but where safety is concerned you may not be able to open when you don't have adequate staff."
Shearer said he thinks the staffing challenges stem from there being fewer people in the job market and a lack of affordable housing in the valley.
John White is the operations manager for the Sun Valley Elkhorn Association, which operates private pools at the Elkhorn Village and the Harker Center. He said the Harker Center pool, which usually opens on Memorial Day, won't open until mid-June.
"We have a shortage of lifeguards," White said. "We have been concerned for the last three summers. We ran on a skeleton team of nine last summer and operated under reduced hours at the end of the season."
White said so far, he has six or seven people that have shown interest in working this summer, but he needs 12-15 part-time positions filled.
White said the Association pays $14 per hour and supplies lifeguard training. He said it seems that his usual pool of workers is seeking employment elsewhere, or just choosing not to re-apply.
"It's not a housing situation with us, because our lifeguards tend to already live in the valley," he said.