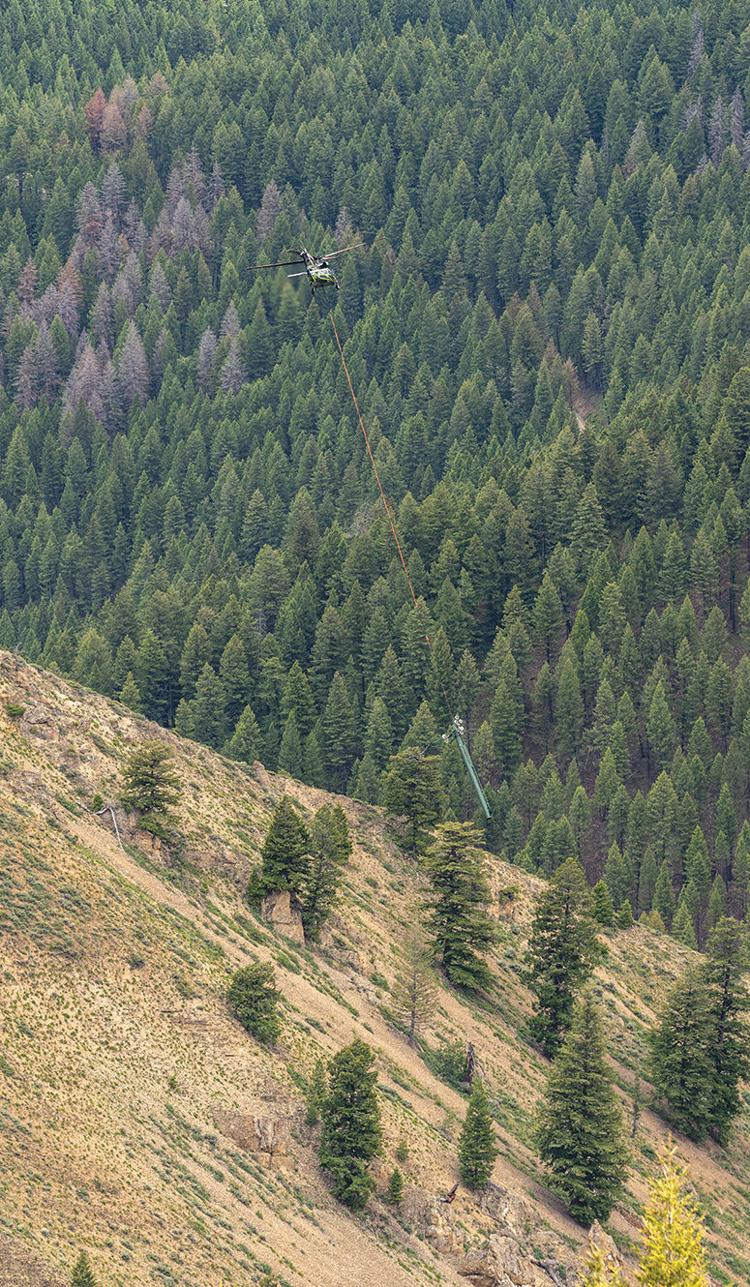 The Cold Springs Express chairlift project—on track to add 380 acres of skiable terrain to Bald Mountain's existing 2,054 acres this winter—is now in its installation phase, according to a spokesperson for the resort.
The gondola is scheduled to open today, the resort's website states, though only to sightseers and hikers due to construction around the Roundhouse.
"No lift-serviced biking will be available on Baldy this summer, so be prepared to earn it on the climb and get those legs strong for winter," the resort stated.
Manufactured by Austria-based Doppelmayr Garaventa Group, which also built the Roundhouse Gondola and seven other lifts on Baldy, the new Cold Springs Express high-speed chairlift will have a carrying capacity of 2,000 people per hour. (As a comparison, the Lookout Express operates at a capacity of 1,800 people per hour and River Run carries up to 2,400 people per hour.)
The new four-person, 5,500-foot-long lift will take riders up 1,600 feet across Gun Tower Ridge to the Roundhouse in about six minutes at a speed of around 11 mph. From the top of Broadway Face, novice skiers will be able to enjoy a 3.5-mile run down Broadway to the base of the new lift. From the top of Seattle Ridge, bolder skiers and boarders can explore Turkey Bowl and two chutes dropping into the Cold Springs gully, both previously out of bounds, before returning to the new lift.
Twenty-five high-efficiency snow guns have also been installed along the run—a process that involved digging trenches for air and water pipes.
Video clips from the resort's YouTube channel depict ground crews rigging 4,000-pound towers from the lift's predecessor and carefully removing them by helicopter. Clips also show all-terrain excavators digging pits for new tower settings, helicopters flying steel cages into position and crews filling the cages with concrete to serve as new tower foundations.
Built in 1970, the original Cold Springs chair carried skiers and boarders 3,000 feet from Lower Broadway run to the Christmas chairlift until this past March. The lift has been sold to Dodge Ridge Ski Resort, north of Yosemite National Park in California.
Last summer, glading work affiliated with the Bald Mountain Stewardship Project was completed to clear entry points into the two chutes that drop off Seattle Ridge into the Cold Springs gully. That project entailed thinning out tree stands, removing diseased trees and replanting trees in partnership with the Sawtooth National Forest.