By TONY TEKARONIAKE EVANS
The Wood River Valley is surrounded by public lands and pristine mountain terrain, which makes it an ideal place to explore the winter backcountry by ski and snowboard. Unfortunately, the valley's rideable hillsides are also prone to avalanche.
Ethan Davis is an avalanche specialist with the Sawtooth Avalanche Center, a nonprofit organization dedicated to encouraging backcountry safety. The Center provides free weather reports and avalanche forecasts, as well as snow safety training for winter sports enthusiasts and anyone else looking to avoid a slide.
"We will have one or more avalanche forecasters out in the field every day, seven days a week all winter long," Davis said. "Some have been out there already. As soon as there is enough snow for widespread backcountry recreation, we will start the avalanche forecasts."
Davis said forecasting avalanche risk involves a complicated process to determine where it is safe to go, and when. The most perilous times to hit the backcountry are generally during or shortly after a snowstorm or wind event that burdens some ridgelines and hillsides with heavy, dense layers of snow.
"Some days the mountains are saying 'don't come out here. It's dangerous.' At other times the situation is more nuanced," Davis said.
Davis began working as an avalanche forecaster with the Sawtooth Avalanche Center in 2015. His interest in snow started at Anthony Lakes, a "mom-and-pop" ski hill in rural eastern Oregon. He earned a Bachelor of Science degree in geography and a minor in mathematics at the University of Idaho. He then went on to earn a master's degree in meteorology from Pennsylvania State University, where he spent three years in a lab growing ice crystals. He worked as a forecaster in Alaska and Colorado before making his way back to Idaho.
"There is an awful lot of avalanche-prone terrain near the valley," Davis said. "Our forecasts are not just for extreme skiers. If the avalanche danger is high, any resident in the valley should be aware, because these slides could reach the valley floor."
Davis said skiers, snowboarders, snowshoers or anyone walking near hillsides should learn to recognize avalanche conditions and avoid potential slide areas.
"I would encourage anyone in the backcountry or near town to practice recognizing avalanche terrain, which could be on any snow-covered slope greater than a 30-degree angle," he said.

The Sawtooth Avalanche Center provides updated information on what to expect in the back country at various elevations, including what types of avalanches to look out for, their potential size and their expected distribution. The forecasts also inform users which hillside aspect or facing direction could be most prone to sliding.
Davis said slides can occur across a wide variety of terrain.
"We see avalanches above the valley floor as far south as Bellevue to Galena Summit and over Banner Pass. They can take place on very steep hillsides like on Della Mountain in Hailey, to areas of big, wide open alpine terrain," Davis said.
Davis said the most dangerous conditions could occur anytime a stiff and dense layer of snow gets built up over a weaker snow layer. This could happen during a snowstorm, after high winds and following a rapid warming or period of rain on top of snow.
In recent years, massive slides onto the valley floor took place in recently burned areas where trees and other vegetation could no longer hold the snow loads.
"Weather is the architect of the snowpack," Davis said. "The weather history is frozen in the snowpack, from early October snow layers to those later on."
Forecasters and trained backcountry enthusiasts typically cut through the snowpack to study the cross section "snow profile" to get a sense of the potential hazards underfoot.
"A stiff slab of snow sitting over a weaker, lower-density layer is a good recipe for a slab avalanche," Davis said. "An effective way to reduce risk is to not go out during a loading event, such as snowfall, or during and shortly after the wind has transferred snow onto another slope. It's generally more dangerous during or shortly after a storm."
Davis said that when going into the backcountry with others, having the right gear in case of an avalanche can mean the difference between life and death. The basic kit consists of radio transceivers that communicate locations between skiers, a probe or pole to find someone under the snow and a shovel.
"Those three things should be mandatory. I am not traveling with someone who doesn't have them," Davis said.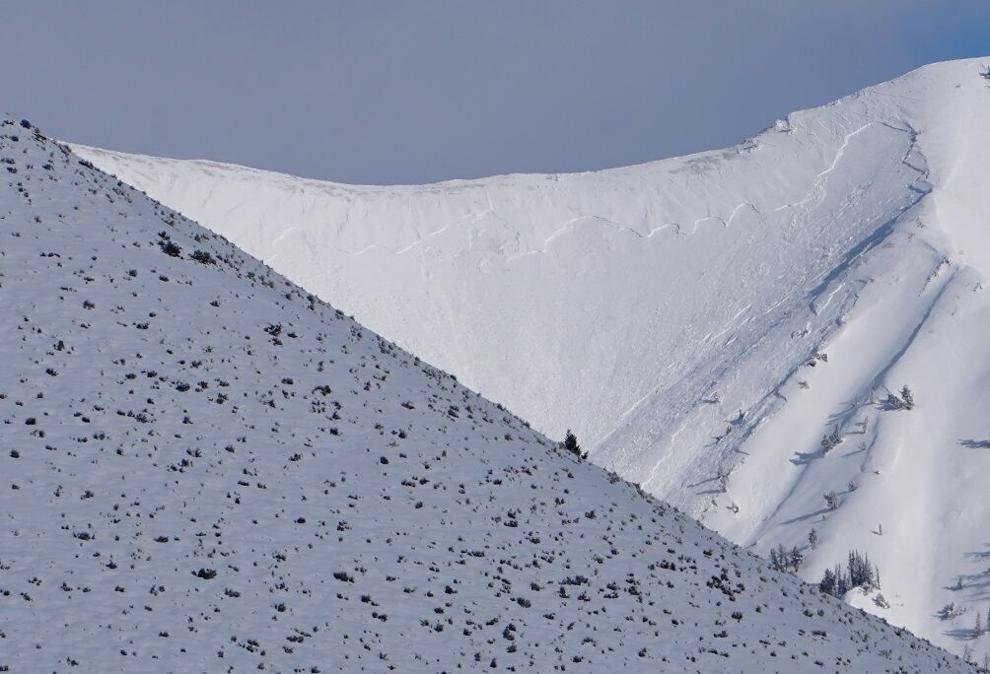 Going solo, with a buddy or in a group can have consequences also.
"If your caught and buried in an avalanche and you don't have a partner, you are not getting out," Davis said. "On the other hand, adding more people to an equation can add different objectives and social pressures to the mix. Some people have a higher risk tolerance than others."
The Sawtooth Avalanche Center and the Friends of the Sawtooth Avalanche Center offer basic avalanche trainings as well as more advanced trainings. The organization also offers a bi-weekly speaker's series, and references to backcountry guides and their services.
"On behalf of the forecasters, I'd like to thank the community for its support," Davis said. "We couldn't operate at the level we do without the financial support, volunteer hours and willingness to host and support our events."