The Hailey Planning and Zoning Commission again gave the green light to a proposed 104-unit multifamily development in Hailey's Woodside neighborhood on Monday evening, approving a design-review application in a 4-1 vote.
The P&Z previously granted Lido Apartment Homes unanimous planned-unit development approval on Dec. 6. That application has been forwarded to the City Council for review on Jan. 24.
Lido Apartment Homes—slated for the corner of Woodside Boulevard and Winterhaven Drive—is proposed for a four-acre open field just north of Copper Ranch Condominiums. The infill project would comprise nine two-story buildings and three three-story buildings with a broad mix of units ranging from 475 square feet to 1,500 square feet.
Based on its number of units, Lido Apartment Homes was the largest project to come before the P&Z in 2021. Behind the project is Copper Ranch developer Jeff Smith, who said last month that he plans to break ground in May and complete construction in three phases, each between 10 and 16 months.
At the city's recommendation last fall, Smith and his design team from Pivot North Architecture increased the project's density from 80 to 104 units by removing ground-floor storage units and adding "micro" one-bedroom apartments. They also added a third story to three buildings, increasing the maximum height from 35 to 38 feet.
Both changes prompted Smith to seek a waiver to the 85-unit maximum density permitted in the Limited Business zoning district and a waiver to the district's 35-foot maximum building height. P&Z approved both last month.
Overall, the project has received favorable reviews from commissioners. The board generally applauded Smith's plan to rent-restrict 12 units at 100% of area median income and to reserve those apartments for people working within Hailey city limits. Smith has also pledged to make the complex run on "100% clean energy" without any natural gas connections and to include wiring for 18 electric-vehicle charging stations.
"We have potential down the road to install as many as 84 [stations] at this point," Smith said.
On Monday, Commissioner Owen Scanlon—the only member to vote "nay" on the design plans—expressed concern about the 38-foot maximum height and asked Pivot North designer Michael McHugh to flatten the roof pitch from 27 degrees to under 14 degrees to minimize view impacts to neighboring Copper Ranch.
"I'm not sure you've taken a fair look at this," he said. "I think we ought to make tall buildings seem a lot less tall in a neighborhood of small homes."
McHugh said adjusting the roof would require a "wholesale, awkward change to the building format."
"We feel that a higher, steeper pitch is a bolder and more expressive architectural element," he said, adding that the design team could not get a warranty on a roof with a slope under 14 degrees.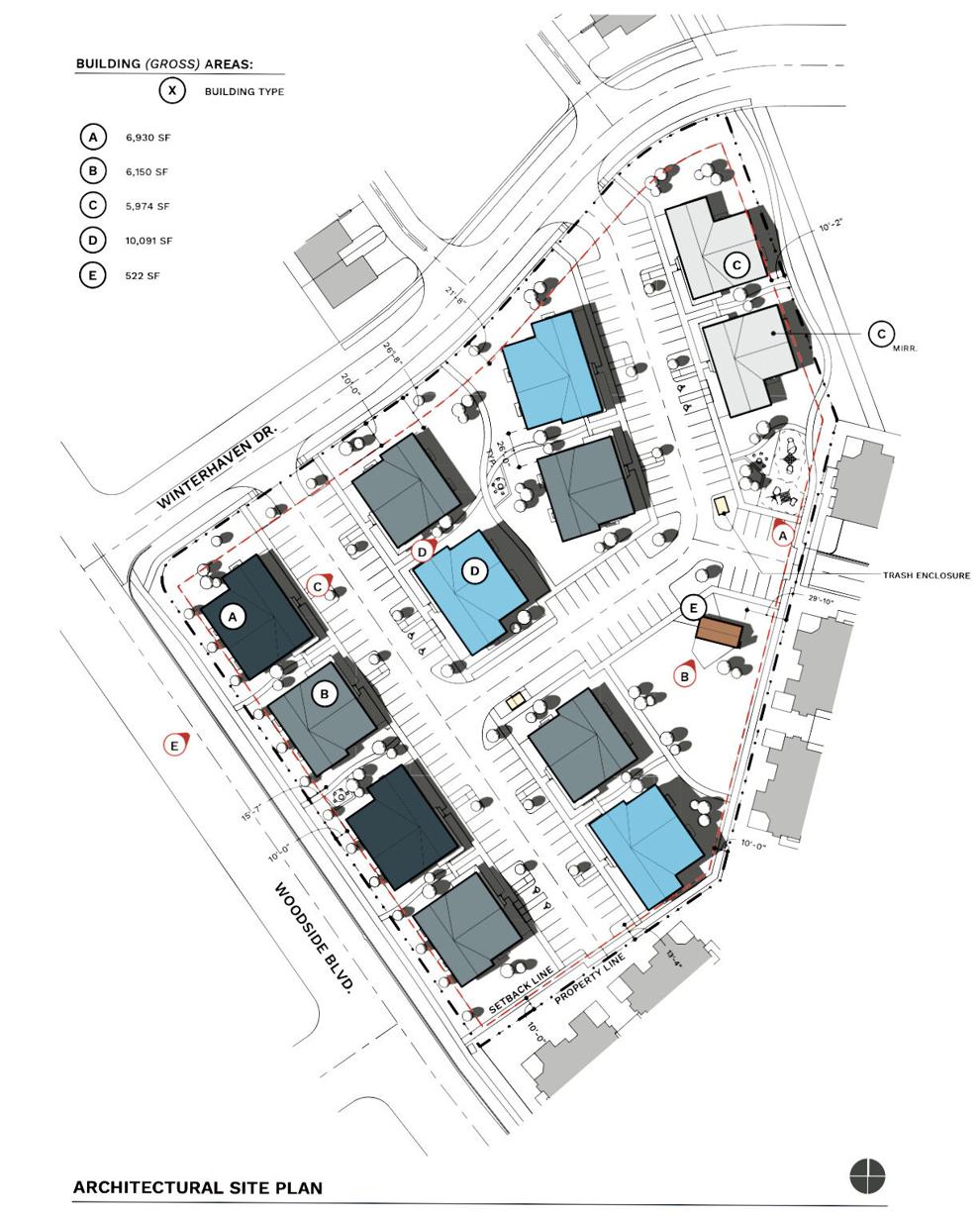 In total, the Lido development would include 12 475-square-foot "micro" units; 40 680-square-foot one-bedroom units; 35 850-square-foot two-bedroom units; 13 1,110-square-foot three-bedroom units; and four 1,500-square-foot four-bedroom units. Residents would have access to a total of 120 parking spaces off Winterhaven Drive, according to McHugh.
At last month's P&Z hearing, the design team heard several concerns from neighboring Copper Ranch residents about noise, traffic congestion and Lido residents cutting through their lawns to access to the bus stop. Other neighbors believed rental housing next to Copper Ranch would negatively impact their condos' property values.
Since then, McHugh said his team had moved one three-story building on the Lido campus to a more central location away from Copper Ranch. He also agreed to Commissioner Dan Smith's request on Monday to "add some larger, established trees" along the perimeter of the property to better shield Copper Ranch homes from headlight glare.
"It's always a pleasure to have an applicant who's responsive to not only what we have to say but also sensitive to their neighbors. That's a plus," P&Z Chairwoman Janet Fugate said.
Fugate also commended McHugh on Monday for replacing the storage units with much smaller "cubbies" to store skis and bikes, which McHugh said he had carved out "from wasted space in the units."
Commissioner Dan Smith told the applicant team he was "very happy" with their plans to utilize some artificial turf and asked for more of the material in the development's central play area to reduce irrigation demand.
"I think including more [artificial turf] is a direction that we should encourage and that will have long-term benefits regarding our future water usage in the community," he said. "... Also, we advertise ourselves as a 'tree city' and I would prefer to see us adhere to that."
McHugh responded that he would "definitely incorporate" drought tolerant plants and create a "natural, almost wild landscape with trees and shrubs" as opposed to manicured lawn space between parking areas and buildings.
"My opinion is this will be a great project," Commissioner Richard Pogue said at voting time.