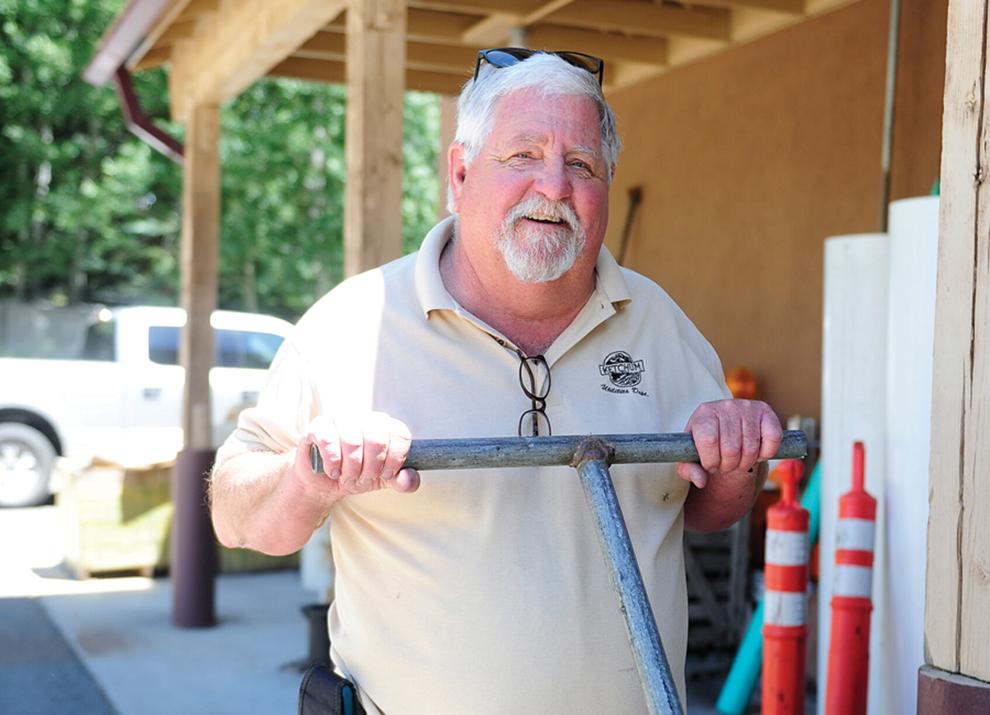 The city of Ketchum said goodbye to one of its longest-tenured employees two weeks ago, someone who has helped keep clean, fresh water flowing to residents for nearly 35 years.
On the last day of June, Pat Cooley retired as Water Division supervisor and started thinking more earnestly about life outside the world of wells, pumps and pipes. City officials organized a small pizza party for Cooley to thank him for his service and send him off to the next chapter of life.
Cooley, 63, grew up in Lewiston, Idaho, and eventually joined the U.S. Navy. He served in the Navy for four years, stationed in San Diego, from where he embarked on four tours of the western Pacific Ocean. On an amphibious command ship and a cruiser named the USS Oklahoma City, he visited Japan and other points.
In 1981, after his service, a friend told him about a special town—Ketchum.
"My friend said, 'You just have to see this place,'" Cooley said. "He was right."
After he visited the Wood River Valley, he decided to move and see if he could make it a new home, Cooley said.
For five years, he worked as a mechanic for Sun Valley Resort, working on snowmaking equipment on Bald Mountain. He also had other jobs, including cooking at a once-popular Ketchum gathering spot called Slavey's.
In 1987, after the city of Ketchum bought the private Ketchum Springs water system, Cooley took a job in the Water Division. He worked in all facets of the job, from maintaining pumps and infrastructure to doing work with meters and contractors.
Getting the city off the Ketchum Springs line and into a newer, better delivery system was a significant accomplishment that Cooley was a part of for many years, he said.
Ketchum Springs had thin, steel lines running through alleys that leaked a lot of water. "It was pretty much an old, dilapidated system," he said.
Over the years, the city has worked to get completely off the old system. Cooley thought the old system would "evolve out," but, at times, things stalled. When Mayor Neil Bradshaw entered office in 2018, he said one of his priorities was completing the conversion, Cooley said.
The city has been able to abandon some five miles of old pipes, Cooley said. Without all of the leaking pipes, the switch to newer infrastructure has saved the city 200 million to 250 million gallons of water per year, he said.
"It is probably the largest water conservation effort I've seen in this valley," he said.
At the same time, maintenance and power costs have dropped dramatically, Cooley noted.
Now, all but a handful of properties have transferred to the new water system, which is served by wells near the Big Wood River. By Sept. 15, after more meters are installed, the conversion should be complete, Cooley said, and the city will have a fully metered water system.
After graduating to the position of Water Division supervisor, Cooley can now retire knowing the job will be finished.
"I am delighted that I was able to work with Pat over the past few years," Mayor Neil Bradshaw said. "He was a driving force in the Ketchum Springs water line replacement. I'm glad he was able to complete this legacy project for the community before his retirement. Pat's efforts over his 34 years working for our town has added great savings to taxpayers and made Ketchum a more sustainable community."
---
Public service and family in Hailey
Initially, Cooley lived in Ketchum, but moved to Hailey after five years. He has lived in Hailey for 35 years, raising a family with his wife, Nancy. They have a son, Kevin, 28, and a daughter, Sara, 30.
Cooley served two four-year terms on the Hailey City Council. Accomplishments during his tenure include oversight of the reconstruction of Woodside Boulevard and reviewing and eventually approving development in Quigley Canyon, on the east side of the city, he said. The approved development protects some two-thirds of the property as open space, he noted.
"It was a long process," he said.
Now, retirement will transition him completely out of public life, Cooley said. He plans to "take summer as it comes," he said. He will likely spend some time working on his house and traveling to places such as Utah and the Oregon coast with his wife. He also plans to pursue his passion for whitewater rafting, which he has done most of his life. Past river trips include voyages down the Middle Fork of the Salmon, the Selway and the Bruneau, as well as the Colorado River through the Grand Canyon.
Still, he will miss some of his old life.
"I really do enjoy the people of Ketchum," he said.