In a months-long campaign to drum up support for consolidating fire and emergency medical services with the city of Sun Valley, Ketchum Mayor Neil Bradshaw and other proponents cited cost savings on vehicle acquisition and constructing a new fire station as a primary reason for doing so.
Both cities have identified a need for new fire stations, though Ketchum's need is far more pressing. Ketchum also desires to upgrade its two-vehicle fleet, which includes an aerial tower originally purchased in 1988.
Sun Valley acquired a new aerial tower in 2013 and has been looking to share the $112,000 lease payments with Ketchum. Both cities shared the first aerial tower for years prior to 2013.
Now, Bradshaw is calling for Ketchum to spend $1 million to acquire its own vehicle, and will be asking voters to support a $10 million bond measure—possibly more, possibly less—this November that would fund construction of a Ketchum-only station.
Bradshaw delivered that call during a Ketchum City Council workshop on Wednesday devoted to fire and emergency medical services. About 30 people attended the workshop in the City Council chambers. No votes or decisions were made.
Bradshaw said the new vehicle and Ketchum-only station would be acquired and built, stripping away two of the main benefits of consolidation, even as the city still discusses and pursues merging fire and EMS agencies in the northern Wood River Valley.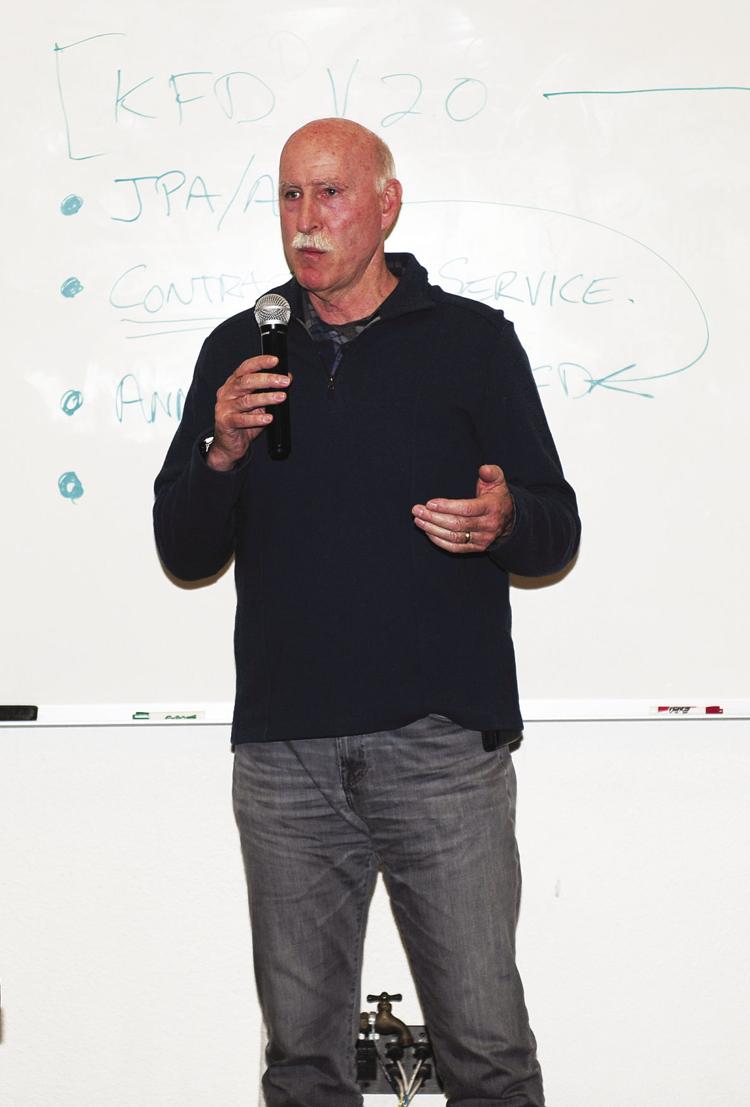 "No matter what, we should build a Ketchum fire station," he said.
The push comes as the Ketchum Rural Fire Protection District has put intense pressure on Ketchum over the fate of its $325,000 contract. The Fire District has contracted with Ketchum since the late 1950s, and the district's three-member board of commissioners voted Tuesday to draft new contracts with Ketchum and with Sun Valley. One of those contracts will have to be approved at a future meeting; Ketchum's existing agreement is set to expire at the end of June.
On Wednesday, Fire District Commissioner Jed Gray said his board wants to see the Ketchum Fire Department make changes in several areas: improving equipment, identifying a location for a new fire station and constructing the facility, revising the collective-bargaining agreement with the union to broaden the fire chief's authority and making the agreement more affordable for the Fire District.
He said a November bond measure is an important element of this. In his role with the Sun Valley Board of Realtors, Gray said he would pledge to campaign for the bond.
"The citizens of Ketchum need to understand they need to pass a bond," he said. "We will swing a lot of weight to try and pass this."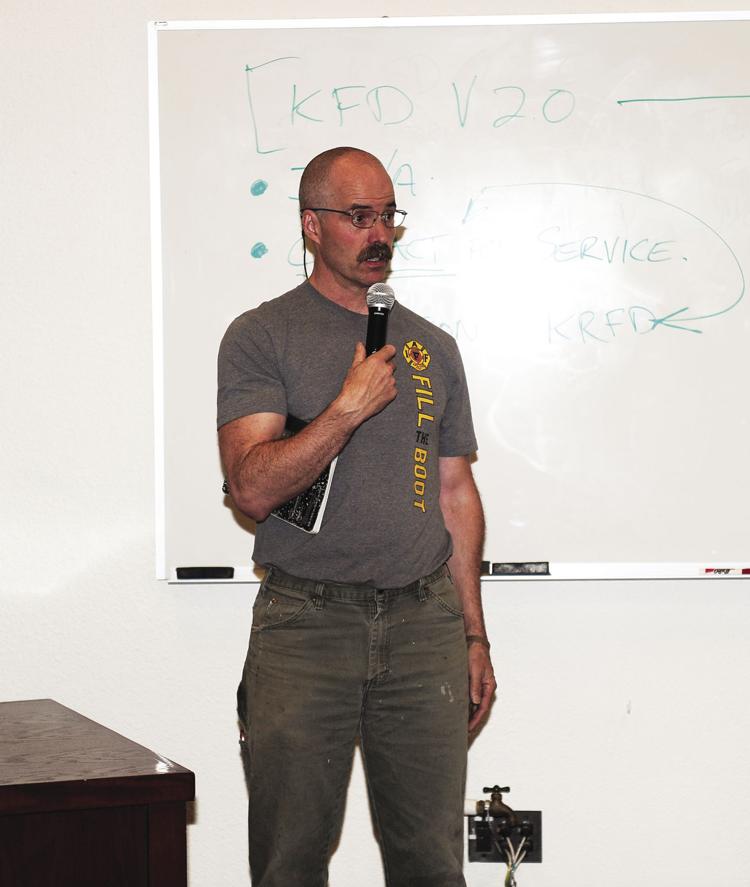 Union members asserted that the collective-bargaining agreement already provides the fire chief the needed flexibility on scheduling and other issues. The City Council listened to impassioned pleas from the city's professional firefighters, asking them to maintain the Fire District agreement because losing it would likely mean cutting four full-time positions.
Lt. Keith Potter, the department's training officer, said he has run the training courses for firefighters in Ketchum and Sun Valley and fears losing his job if the Fire District contract moves to Sun Valley.
"I'm one of those four positions that's on the chopping block," Potter said.
Interim Fire Chief Tom Bowman identified the need for a new vehicle in his plan for the "Version 2.0" of the Ketchum Fire Department. The vehicle, called a quint, covers the functions of an engine as well as a ladder truck. It pumps and stores water, holds ladders and has an aerial platform.
The city has about $540,000 in a savings account to replace vehicles, which would be exhausted to purchase the quint. With the full purchase price at more than $1 million, lease payments on the remaining cost would tally $56,000 annually.
If passed by a two-thirds super majority of voters on Nov. 5, the bond could supply an estimated $6 million to $8 million to construct a fire station. The bond would raise $10 million, but the full cost would exceed that due to interest. The City Council will have to approve sending the bond measure out to voters in November. Ballot language submitted to voters will include the interest costs.
Bradshaw said the facility would not include police. The Ketchum Police Department will be located within the new City Hall building on Fifth Street.
He said the Ketchum Urban Renewal Agency would have a role in financing the project, though that has not been decided yet. He said the idea of a joint public safety facility with Sun Valley has been shelved.
Bradshaw asked the union to be flexible by ripping up the existing collective-bargaining agreement and crafting a new one, and asked the council to reconsider a contract for services with Sun Valley but with a clearly defined "definitive agreement" that would install an oversight committee between both cities to review each fire and EMS call monthly. The Ketchum City Council rejected a proposed contract for services in March partly due to concerns about management and oversight.
"The chances of a joint facility are highly unlikely," he said. "We have to take that option off the table."
Ketchum has found itself in the unpleasant position of pledging millions of dollars in new spending to save a $325,000 contract. City Councilwoman Courtney Hamilton lamented the city's weak negotiating position, but said it's important that the council take action to fix the ongoing problems with the Fire Department.
"We need to focus on Version 2.0," Hamilton said. "We're not in a good negotiating position with anyone. We need to fix our problems. The partnership opportunities are going to be much stronger."