After a three-hour deliberation period that drew a crowd of 150 to the Limelight Hotel—marking the largest City Council meeting turnout this year—it became clear that in order to set up shop in Ketchum, the planned Marriott Tribute hotel will need to rethink its proposal.
Of the two dozen attendees who addressed the council in the Limelight's Silver Creek Ballroom on Monday night, a vast majority expressed dismay over the proposed 100-unit hotel.
By the end of the night, the council appeared to take the public's comments to heart.
"Seeing this level of opposition, it's important to listen to you guys, our constituents," Councilman Michael David said.
Facing an overwhelming adapt-or-leave pressure from the public, the City Council decided to hit pause on the Marriott's first application hearing—which revolved around its conditional-use permit, planned-use-development and development agreement applications—and resume deliberations on Dec. 2.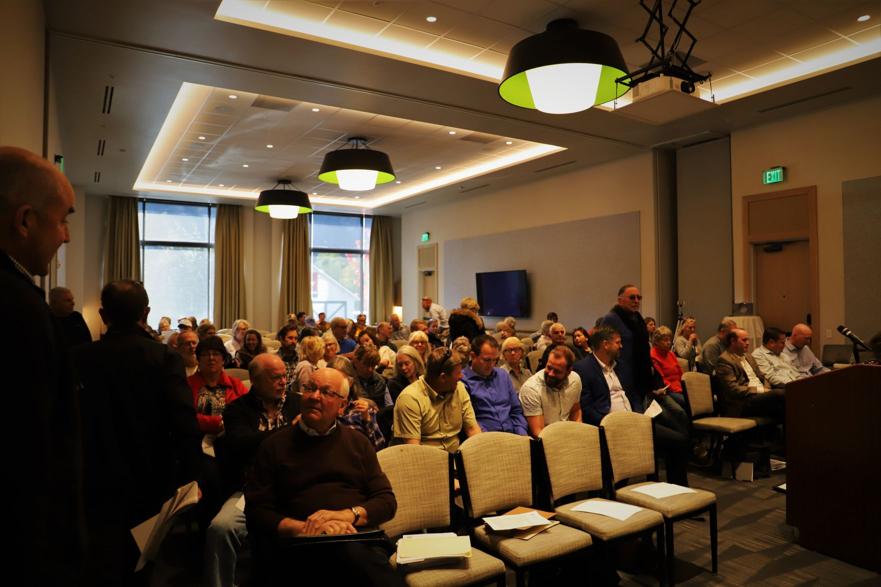 This would give Provo, Utah,-based developer PEG, representing Marriott, adequate time to align its renderings more closely with public interest.
Blueprinted on a one-acre plot that begins at the intersection of River Street and Main Street (state Highway 75) and slopes down along the highway, the hotel would sit across from the Limelight Hotel and diagonally from the Kentwood Lodge.
If allowed to progress, the Marriott would become the fourth hotel to join the intersection of Main and River streets by 2021 (assuming Jack Bariteau's proposed luxury hotel on Main Street finds the money for construction).
As proposed, the Marriott stands four stories tall at River Street, a height similar to the Limelight's, and terraces down 35 feet to Trail Creek at its southern end. There's one exception to its general four-story rule, however: A central portion of the hotel rises to 72 feet tall and totals six stories. That's due to the terrain's sharp drop in grade, AJC Architects Principal Architect Justin Heppler said at the meeting.
"There seems to be a lot of confusion about the height—at the highest point, the building really feels like a five-story building where the two masses come together. The 72 feet is not measured from River Street, it's from Trail Creek," Heppler said.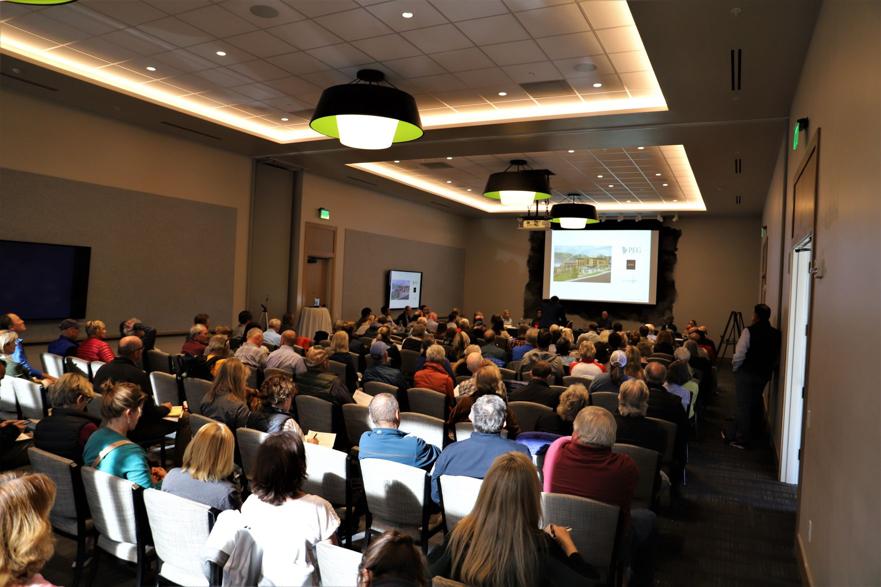 Due to this exceedance in allowed height—in the Tourist Zone, according to Ketchum code, proposed buildings can't rise above 35 feet—PEG is requesting a waiver from the city. This appeal comes along with three other waivers needed for the city to overlook a handful of diversions from code, which include building on a site two acres too small, positioning the development 10 feet too close to River Street and building with a total a floor-area ratio above the allotted 1.6.
Of the dissent expressed at both Monday's meeting and in nearly 200 letters sent to the city between Aug. 5 and Oct. 7, much centered around the impact those waivers would have on future developments in town.
"Simply speaking, waivers are intended for unusual or unforeseen circumstances. They should not be used to essentially rezone a property at the expense of neighboring properties," Ketchum homeowner Scott Hanson said.
Many of the 196 letters from individuals or joint households in opposition to the hotel—which came in at a rate of 3.3 per day from August through October—mentioned Kevin Livingston's Change.org "Stop the Marriott" petition, which has since amassed more than 2,000 signatures, and the 82 percent disapproval rate declared in the Mountain Express's poll on Sept. 18.
"I hope my petition speaks volumes," Livingston wrote.
Besides the negative implications of waivers' being granted, mentioned in 116 letters, the next-most frequently cited concerns included a disruption or "ruining" of city character (42 letters), increased traffic congestion and bottleneck (37 letters), a site too small for the hotel (32 letters) and insufficient demand for the hotel (21 letters).
"We are not Aspen or Vail. We are Ketchum, and are different. … Keep Ketchum a beautiful mountain town," Kristin Kefer wrote on Oct. 4.
Of the 16 Ketchum residents who wrote to the City Council in favor of developing the hotel, many believed the Marriott would increase downtown vibrancy, generate future partnerships with reputable developers and drive up the number of jobs and annual visits to Ketchum.
"The developer is investing in our community with this project, and has expressed interest in future investment in workforce housing apartments if this first project goes well," Ketchum resident Jay Emmer wrote on Sept. 16.
---
---
The design
Current PEG blueprints highlight a number of public amenities, from a terraced rooftop bar with 280-degree views of Bald Mountain to a sheltered restaurant patio at the intersection of Highway 75 and River Street.
While the rooftop bar will borrow elements from a speakeasy bar in Seattle, the hotel's exterior façade will take after its surroundings and incorporate the modern wood-and-steel design of the nearby Argyros Performing Arts Center.
"The Tribute brand is really about connecting community members and bringing together elements of the community and its history," PEG Chief Executive Officer Cameron Gunter said. "What we're hoping to do is bring in new guests to the area during shoulder season, as we've already done in Jackson Hole, where 70 percent of our guests the first year were newcomers."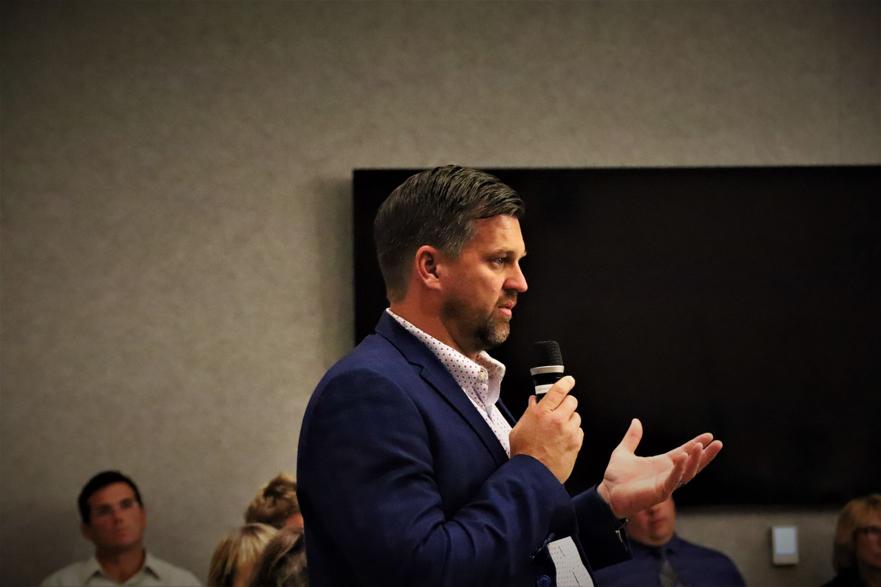 Blueprints also show a minimum of 30 beds (12 suites and two bunk rooms) along with 30 underground parking spots for employees, which with the rooftop amenities will contribute 20,000 square feet to the 140,000-square-foot development.
"With garage access, employees will be able to access their circulation corridors as if they're apartments and won't feel like they're intruding on the guest experience," Heppler said. "This accomplishes the goals of Ketchum by putting a variety of income levels closer to downtown, and allowing these individuals to get that downtown experience."
Councilwoman Courtney Hamilton acknowledged the positive impact of both the terrace and the employee accommodations.
"I can see [the terrace] as having some level of public good, since not many bars and restaurants in Ketchum can provide that kind of view … and I think the inclusion of employee housing is huge," she said.
Prior to members of the public lining up at the lectern to speak, a PowerPoint presentation delivered by PEG representatives outlined the economic and pedestrian benefits the hotel hoped to provide.
Despite the various benefits PEG promised throughout the night, such as at least $212,000 in annual property taxes and sidewalk improvements, Mayor Bradshaw said Ketchum residents need to speak up about what is actually needed in town.
"Who are we, Ketchum? What defines us? I encourage everyone to reflect on that and stay involved," he said.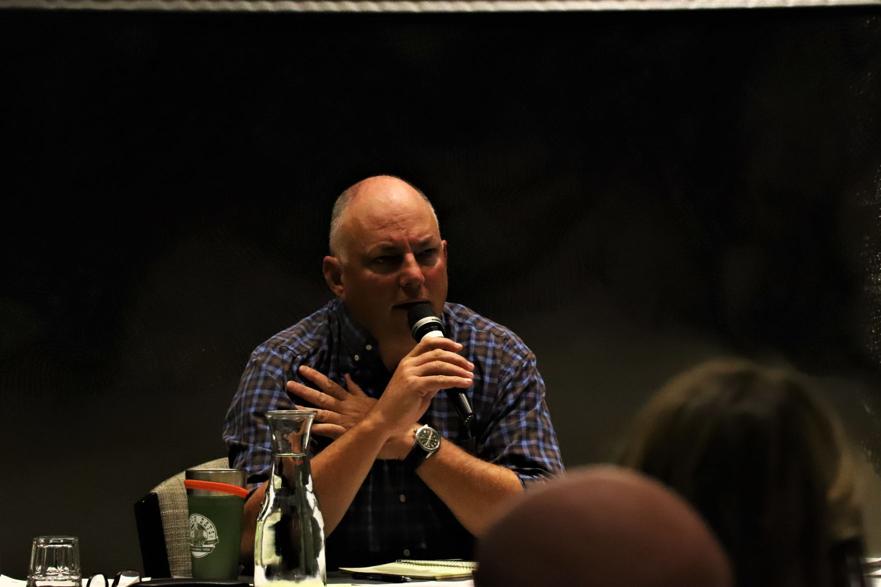 ---
The Marriott timeline
So far, PEG's floodplain permit—which under Ketchum code requires the building to sit at least 25 feet from the average high water mark of Trail Creek—has been approved by the P&Z, and the company has paid impact and building-permit fees and local-option taxes on construction materials.
In July, PEG submitted a traffic study prepared by Hales Engineering that concluded that shading of the highway, a contributing factor to road ice, would be minimal except during December.
This fall, PEG met with the Idaho Transportation Department and Ketchum city engineers about ITD's 2025 plan to widen northbound lanes to include a left-turn lane, protecting left turns onto River Street. Also discussed was a potential HAWK pedestrian-safety system, to activate upon cyclist or pedestrian approach at the intersection, and strategies to reduce overall traffic.
On Monday, PEG shared three amenities that could lessen the bottleneck impact on the highway: a complimentary guest shuttle to the airport, an employee carpool program and complimentary employee transit passes.
---