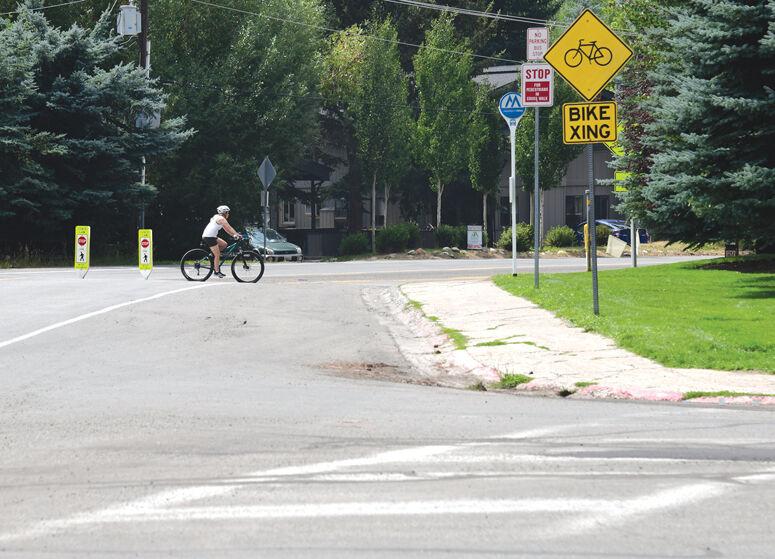 The city of Ketchum is moving forward with plans to study traffic patterns in a corridor that includes Main Street and Warm Springs Road to evaluate how to improve conditions for motorists, bicyclists and pedestrians.
City Council members informally agreed Monday to instruct City Administrator Jade Riley and staff to proceed with having Boise-based engineering firm HDR analyze and report on existing traffic volumes, future traffic volumes and alternatives for future improvement projects.
The analysis of Main Street will focus on the length of the thoroughfare, from River Street to Saddle Road. In a phased study, it will aim to determine whether changing the existing four-lane configuration to three lanes—with one travel lane in each direction and a center-turn lane—could allow for improvements to enhance public safety without hindering traffic flow. Associated improvements would include wider sidewalks, improved streetscapes and "bulb-out" features to bolster safety at crosswalks.
The analysis of Warm Springs Road will focus on the high-volume road's intersections with 10th Street and Lewis Street, as well as its Y-shaped intersection with Main Street. To date, recommended alternatives to improve safety and reduce accidents include installing traffic signals, realigning intersections, installing conventional roundabouts or adding an extended "dog-bone" double roundabout that routes traffic through both the 10th Street and Lewis Street intersections.
The city will also have the option to pursue "no-build" alternatives that would call for no significant changes.
If Main Street were to be reconfigured from four travel lanes to two, the city could build wider sidewalks to improve conditions for pedestrians, could provide safer on-street parking and could likely reduce the number of accidents, Riley told the City Council. However, the city will have to determine—through the HDR study—whether traffic flows will be significantly impeded, especially during peak commuting hours in the morning and late afternoon.
Councilwoman Courtney Hamilton noted that traffic congestion on Main Street can be "brutal" at rush hours and said she would be reluctant to pursue a project that might bring more delays for motorists.
Councilman Michael David, who has experience analyzing transit issues, said the three-lane configuration on Main Street—coupled with other changes, such as limiting left turns—could eventually improve traffic flow. He said state Highway 75, which serves as the main roadway through Bellevue, Hailey and Ketchum, is "bifurcating our towns." Crossing Main Street can be dangerous, he said, and motorists and pedestrians are sometimes discouraged from going to the opposite side.
One issue with Main Street, Riley said, is that the Idaho Transportation Department has jurisdiction over its configuration and maintenance. However, the ITD district engineer has indicated to the city that the agency could be open to changes, he said.
Currently, ITD is tentatively scheduled to rebuild Main Street through Ketchum in 2026, Riley said, and the city would have to coordinate any approved changes with the agency. Because 2026 is "a long way away," Riley said, he is trying to accelerate the timing of the project.
"I'm worried that sections of Main Street are starting to see pretty significant fail," Riley said.
The city has allocated $100,000 for the studies of Main Street and Warm Springs Road. HDR has estimated the total cost of the Warm Springs Road analysis and a three-phase study of Main Street at approximately $179,000. If the city were to delay contracting for the third phase of the Main Street study, the cost would be approximately $144,000.
Council members agreed to have the city use the $100,000 budgeted for the analysis—without currently pursuing the third phase of the Main Street study—and to inquire whether the Ketchum Urban Renewal Agency could provide funding to cover the difference.
Mayor Neil Bradshaw called the decision the "first of many steps," including getting input from citizens.
"We get it planned and then we push on funding," Bradshaw said. "This is a very important infrastructure project for our town."
The studies are the first official action taken from a new master transportation plan the city adopted in March. The plan includes more than $7 million in recommended projects to improve traffic flow, pedestrian facilities and bicycle travel over the next 10-15 years.
The plan, which was developed by HDR through a $50,000 Idaho Transportation Department grant, recommends street and intersection projects estimated to cost $2,275,000, pedestrian projects estimated at $4,780,000 and $448,000 worth of bicycle/multi-use projects. The projects are not funded.
Other recommendations in the master plan include studying alternative designs for—and continuing to evaluate a seasonal or permanent closure of—Fourth Street between Main Street and East Avenue, as well as implementing paid parking downtown.