Ketchum residents had the chance to take to the microphone on Friday morning, as Mayor Neil Bradshaw called for a community discussion around affordable workforce housing.
"We have a housing crisis, I think that's all well understood," Bradshaw said before opening up the discussion to the public, allowing for residents to stand at a microphone in Town Square and share their opinions, grievances and ideas around affordable housing in the town.
Before the comment period, Bradshaw laid out a myriad of potential short-term solutions that included renting rooms from local hotels for the summer and allowing parks and parking lots to be used for tents and RVs. Bradshaw specifically mentioned Rotary Park, on Warm Springs Road, as a park that could be used to house a number of tents, given that the park has public restrooms, and noting that the YMCA—across the street from the park—has showers.
Bradshaw said those solutions would be discussed in the future, noting that there would be qualifying criteria for campers and that temporary housing would not be given to visitors or people traveling through Ketchum. Vouchers and subsidies are also being considered, and Bradshaw said the city also encourages residents to open their homes to others if they have extra room available. In addition, the city could consider looking at rezoning to allow for higher-density housing or housing in nonresidential areas.
Affordable-housing activist and recently announced Ketchum mayoral candidate Reid Stillman started out the community comment period calling the tent housing in parks a joke, but thanked the mayor for finally identifying the housing situation as a "crisis."
Stillman said he and several of his friends have faced housing insecurity over the past several years, as rent prices continue to rise and the housing shortage remains.
"We are in a crisis now because we haven't done anything for four years," Stillman said, pointing to Bradshaw's tenure as mayor and the lack of community housing progress that has been made.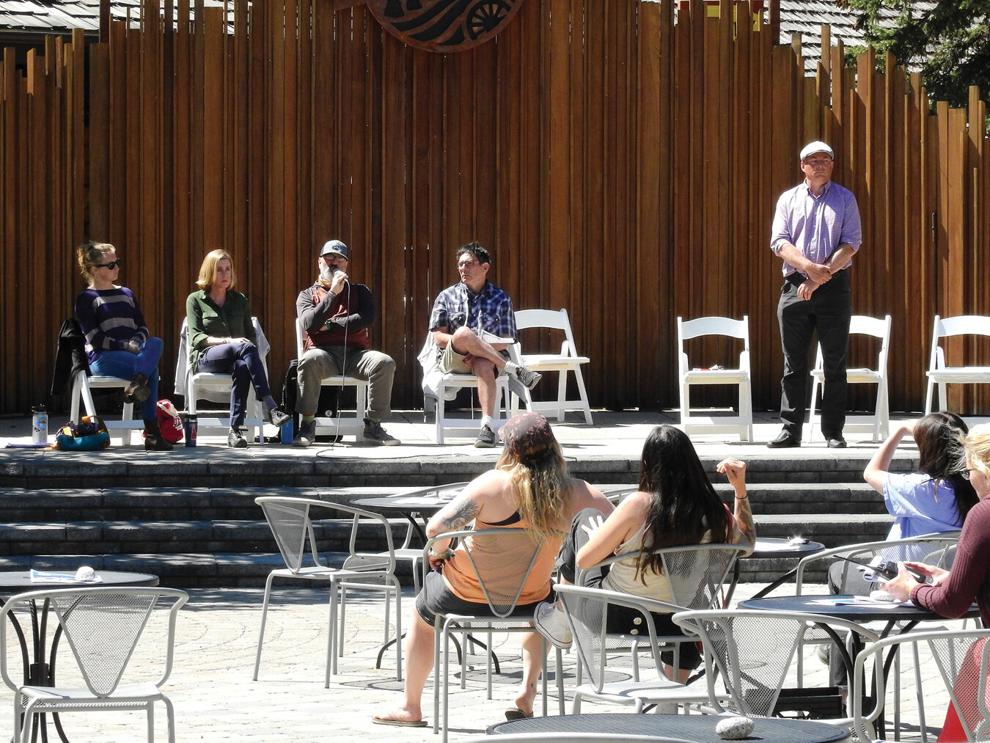 "To live in a tent in Rotary Park is a joke," Stillman said. "I just want to know what we're actively doing now."
Stillman asked why and how the Ketch buildings were sold, and what, if anything, the city is doing to remedy the problem.
"It's a shame that we had to put you [Bradshaw], for you to address this," he said, contending that Bradshaw "caters" to only the wealthy residents and business owners of the community.
In response, Bradshaw said he and the council are "incredibly" committed to housing and asked residents to continue showing up to public meetings for change to be achieved.
"The world is run by people who are showing up," he said.
Krzysztof Gilarowski, creator of the Facebook group Occupy Ketchum Town Square, was also in attendance during Friday's discussion at Town Square, and stated that the "hidden homeless population doesn't have a voice," which is why he started the group, and held a small protest on May 22 in Town Square.
Gilarowski shared the story of one resident who moved into a tent in Trail Creek in September when the person lost housing in the city. According to Gilarowski, the resident camped for 90-plus days, finally finding housing in January at a home in Hailey, which is now on the market for sale.
Concluding the two-hour community workshop on workforce housing, Bradshaw said the council will discuss how to move forward on some of the ideas shared during the workshop at its next City Council meeting on June 7.