The city of Ketchum is seeking public comments on a draft transportation master plan that recommends projects to improve roads, intersections and bike travel over the next 20 years.
Discussion during a City Council meeting Monday indicated that the city would like to get feedback in time for review and approval of the plan by the council in February.
The document replaces a 2004 Ketchum transportation plan by updating existing conditions and presenting recommendations based
partly on policies contained in the city's comprehensive plan and downtown master plan.
The strategy was developed by Boise-based HDR engineers, funded by a $50,000 Idaho Transportation Department grant obtained in 2016. It includes recommendations for $2.28 million worth of road/intersection projects, $4.78 million in pedestrian improvements and $448,000 in bike projects.
Among those recommendations, HDR suggested commissioning a $100,000 study of a potential reconfiguration of Main Street to have one lane of traffic in each direction and a center turn lane.
"Four-lane undivided highways, like Main Street, often have increased crash numbers as traffic volumes rise," the plan states. "The competition between stopped drivers seeking to make left turning movements and drivers traveling at normal speeds to continue through become more pronounced with higher volumes and congestion and conflicts increase. Additionally, with more pedestrians and bicyclists on the roads, communities desire more livable spaces, better pedestrian and bicycle facilities, and increased transit options, which are not easily accommodated by a four-lane undivided roadway.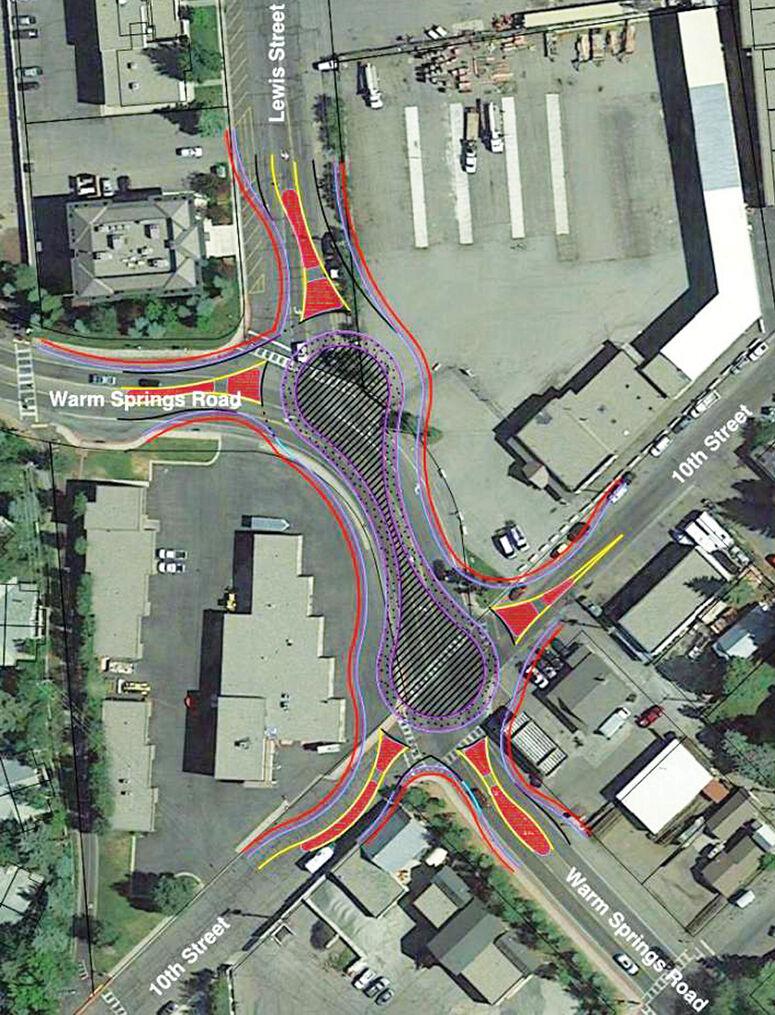 "Main Street could be a good candidate for this type of treatment because typical volumes on the street fall into a range that a three-lane section can typically serve."
The plan also proposes construction of a roundabout at Warm Springs Road and 10th Avenue or a "dog-bone" shape roundabout to create one intersection at 10th Avenue and Lewis Street, at a cost of $2 million.
Proposed pedestrian improvements include "bulb-outs" of sidewalks at corners on Main Street, First Avenue and East Avenue, as well as connecting sidewalks throughout town at a cost of $2 million.
Recommendations for bike travel include an addition to the Wood River Trail along state Highway 75 north of town to connect to the bike path along Saddle Road, at a cost of $296,000. The plan also recommends installing "sharrow" bike markings and signs along Second Avenue from Serenade Lane to First Street and protected bike lanes from First Street to Sixth Street, at a cost of $86,000.
It also states that the city should identify likely sources of funding for its recommended projects.
"This is a great document and a great start," City Councilman Michael David said Monday.