A free finger-prick test yielding coronavirus results within minutes will be available to Blaine County residents starting Saturday, a new organization called the COVID-19 Response Group announced this week.
The team—led by Ketchum pharmacists Cathy Swink and Paula Shaffer, local emergency physicians Dr. Brent Russell and Dr. Brock Bemis and nurse Ryland Mauck-Duff—will be carrying out antibody testing project from 10 a.m. to 5 p.m. in the Copper Ridge building next to the liquor store in Ketchum.
The idea is to reach as many Blaine County residents as possible, project manager Mauck-Duff said.
"We are providing free antibody testing to our community to help with peace of mind and to guide policymakers in making decisions moving forward," he said.
The project's stakeholders foresee it progressing into a full-scale study, Mauck-Duff said, which would involve passing on anonymous demographic data and symptom information to an accredited university for analysis.
For now, though, the focus is on testing. The group hopes to test around 3,000 people in the project's pilot phase.
That equates to about $150,000 in operational costs, which includes paying registered nurses and technicians hourly wages and securing more testing kits and personal-protective equipment, project director Cathy Swink said. As of Thursday, private donors had pitched in $30,000.
"We want to keep this a free test, but we're asking those that can to pay it forward," she said. "The cost of a test comes to $60 per person, so if people can give $120—$60 for their own test, $60 for the next person—that would be huge."
So far, Swink said 350 valley residents have been tested during the project's initial validation round to evaluate the accuracy of the test kits. Swink said she couldn't disclose what percentage were COVID-19 positive. As for the tests themselves, though, the results that she and Mauck-Duff have seen have been promising—the kits, manufactured by San Diego-based Confirm Biosciences, showed an overall sensitivity rate of 95 percent, they said.
"We expect that once our pilot phase opens, slots are going to fill up," Swink said. "I think people are hungry for information."
Registration begins today. Tests will be administered Tuesday through Saturday from 10 a.m. to 5 p.m. To book an appointment, visit the response group's website, Covid19ResponseGroup.com, and follow the registration guidelines outlined on the homepage. Those wishing to get tested will be referred to Apollo Contactless Triage, an intake system developed by Stanford University and Gauss Surgical in partnership with the COVID-19 Response Group.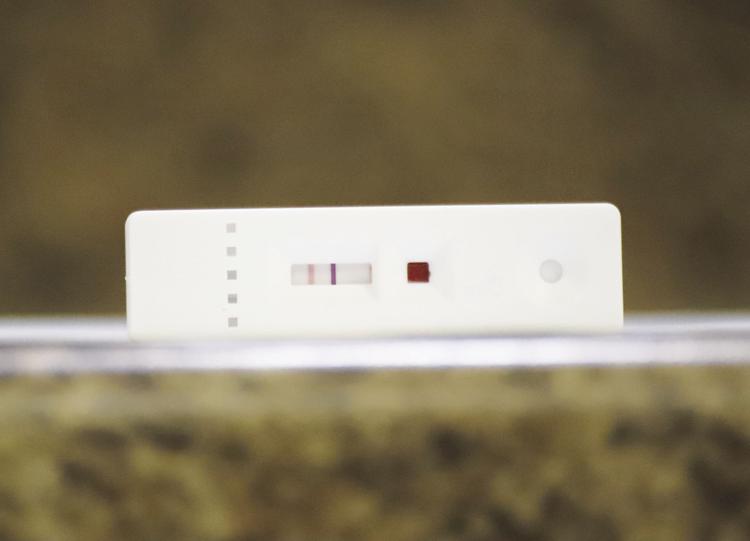 "The booking platform will be up for the foreseeable future, and we encourage people to register Friday. This will be on a first-come, first-served basis," Swink said.
Swink also noted that the project is separate from the Valley Apothecary, which has been "crushed" by phone calls related to the project. Anyone who runs into registration issues can send an email to info@covid19responsegroup.com, she said, and should not call the pharmacy
---
Understanding the test
To get a firsthand look at the test—known to scientists as a "lateral flow assay"—Swink booked me for a Wednesday afternoon appointment. First, Mauck-Duff cleaned my fingertip with an alcohol swab and pricked it with a lancet. Using a tiny glass pipette, he then placed two drops of blood on a small plastic reader that bore resemblance to a pregnancy test.
"We just need enough blood to cover the sample well, which isn't very much," he explained.
Next, Mauck-Duff added a few drops of buffering solution in the well, forcing the blood sample to migrate down the testing strip. A preexisting blue line changed to a pink shade, indicating the test was valid.
Ten minutes later, only the pink line remained: I was negative.
A lateral-flow test singles out two antibodies generated by COVID-19. If I had either of the two in my bloodstream, Mauck-Duff said, either one or two other colored lines would be present.
Like every participant, I was handed a flyer to help me interpret my test. Starting Saturday, Mauck-Duff said, participants will receive results within 30 minutes to two hours via the Apollo app.
In a Thursday interview, Bemis, the emergency physician, described the experience of collaborating with Stanford and Gauss Surgical on the Apollo app as "very exciting."
"Delivering an app-based experience and fast results—it's part of what makes this project so special," he said.
For more information on decoding the presence of IgG and IgM antibodies, see the Wednesday edition of the Mountain Express.