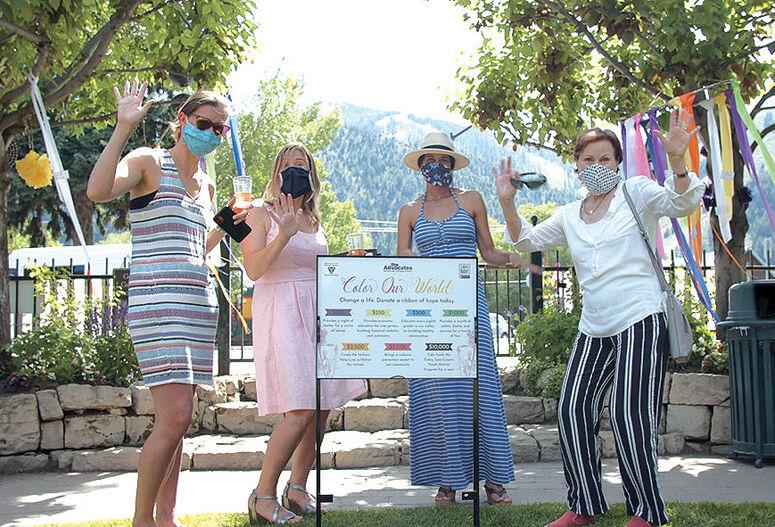 During June, The Advocates is organizing a fundraiser to create hope and help for victims of domestic abuse in Blaine County. Supporters of the nonprofit may purchase a "ribbon of hope" during The Advocates' Color Our World campaign. All donations will be represented by a colored ribbon in Memory Park in Ketchum from June 26 to July 2.
Advocates Director of Development and Engagement Shannon Nichols said that this year the goal is to raise $340,000. For the second summer, due to COVID, this extended fundraiser will take the place of the traditional Black and White Soiree.
"Last year the organization raised over $250,000," Nichols said. "This year the needs are even greater."
On Friday, July 2, The Advocates' supporters are invited to enjoy the Color Our World Summer Social at Memory Park in Ketchum for raffle prizes and refreshments, and to honor their shared commitment to ending abuse and domestic violence. The Summer Social will be sponsored by Dan and Micki Chapin and will follow all local COVID protocols.
By purchasing ribbons, donors can represent themselves or someone else they want to honor, Nichols said.
"This is a great visual representation of how our community supports victims of abuse and their children," she said.
The organization stated that on average, 570 victims of abuse seek services in Idaho every day. Locally, The Advocates answers 37 calls daily.
"Abuse knows no barriers and can happen in any relationship, regardless of income level, ethnicity, education, religion or sexual orientation," The Advocates said in a statement.
In 2020, The Advocates provided 693 people with safety and support, offering 24-hour services that included shelter, crisis counseling, hospital response, safety planning, transitional housing and support groups in English and Spanish. The organization also provided 4,272 youths and adults with training on creating healthy relationships and preventing violence.
Domestic violence is characterized by "willful intimidation, physical assault, battery, sexual assault or other abusive behavior as part of a systematic pattern of power and control perpetrated by one intimate partner against another," the organization said in the statement. "The frequency and severity of domestic violence can vary dramatically."
The release cites statistics from the National Coalition Against Domestic Violence stating that one in three women and one in four men have experienced some form of physical violence by an intimate partner in their lifetime. One in 15 children are exposed to intimate partner violence each year.
To support The Advocates through a business sponsorship or donation to Color Our World, contact Nichols at shannon@theadvocatesorg.org or 208-788-4191. For more information or to get help, call the 24-hour helpline at 208-788-4191.