The COVID-19 Response Group suspended its free coronavirus antibody testing project in Ketchum three days after its launch, the group said in a Tuesday statement.
"We chose to suspend operations beginning May 12, as we navigate the landscape of changing federal regulations," a sign outside the Ketchum testing site on Washington Avenue reads. "We will move forward in a way that provides the best testing project for our community. Your support is greatly appreciated, and we thank you for your involvement with this project."
The group had been using finger-prick lateral flow testing kits to screen patients for IgM and IgG antibodies generated by COVID-19. The kits had not yet received FDA approval, according to product seller Confirm Biosciences.
"Results from antibody testing should not be used as the sole basis to diagnose or exclude SARS-CoV-2 infection, or to inform infection status," Confirm Biosciences' website states.
To better understand the pros and cons of lateral flow testing, the Mountain Express spoke with Boise-based infectious disease specialist Dr. Sky Blue. According to a World Health Organization publication, the testing kits from Confirm Biosciences—manufactured by China-based Orient Gene Biotech Company—showed in preliminary studies an overall sensitivity, or true positive rate, of 83 percent, and specificity, or true negative rate, of 100 percent.
"You can think of specificity as the accuracy of a negative test, or how likely that someone is truly negative when they get a negative test result," Blue explained.
Though the Orient Gene test used in Ketchum had shown promising results in a Dutch study earlier this year, Blue said lateral flow tests, as a general rule, tend to be less accurate than two other COVID-19 blood tests on the market: ELISA (enzyme-linked immunoabsorbent assay testing) and CLEIA (chemiluminescence enzyme immunoassay testing).
The valley's other antibody test, a collaboration between the city of Ketchum, Blaine County Ambulance District and a pair of research institutions, utilizes ELISA testing. As of Tuesday morning, that study remains ongoing.
"ELISA and CLEIA tests have had more robust validation studies that have run thousands of samples," Blue said. "With the lateral-flow test, it's really been the Wild West out there."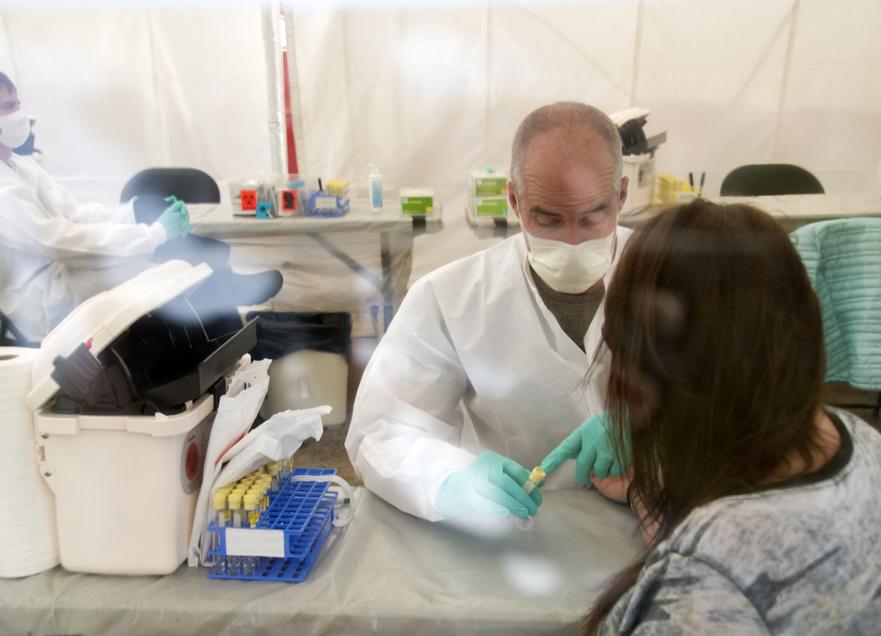 IgM vs. IgG
IgM is the first antibody that shows up after being infected with COVID-19, Blue said. He described it as a "star-shaped set of five different Y-shaped molecules" that is usually the first antibody to "stick."
"After IgM is pumped out, it will bind to the virus, creating a feedback loop to produce more of itself," he said. "IgM indicates recent or active infection, and IgG—which is much smaller and more tailored to the virus—will appear in the bloodstream later, indicating past infection."
IgM usually shows up three to five days after the onset of symptoms and IgG can appear in as soon as seven days, Blue said. But getting back a positive IgM lateral-flow test result could mean you're fighting another virus, like the common cold—not COVID-19—or could be a false positive, he said. And even if a test result is accurate, it's difficult to know what to do with that information.
"If someone is IgM-positive, they probably had [COVID-19] recently, but the lateral-flow test doesn't tell them whether they are still infectious or how severe of a case they will have," Blue said. "We hope—and you always hate to use the word 'hope' in the medical field—that IgG means you won't get a severe form of the virus again, but we don't know that."
That's because studies have yielded conflicting results, he said. In laboratory tests, monkeys infected with COVID-19 haven't gotten a severe form of the disease again, but virologists can't say that also applies to humans. And, unlike hepatitis B, Blue said, respiratory-based viruses—coronavirus being one—don't always produce IgG antibodies that offer long-term protection against future infection.
"Flu vaccines can produce IgG antibodies, for example, but they can't always prevent respiratory infection," he said. "What they can do is send IgG antibodies into the bloodstream to neutralize the virus once it gets there."
At the end of the day, Blue said, lateral flow testing has two potential applications: helping doctors treat patients with late manifestations of COVID-19 and helping policymakers or companies create appropriate reopening plans.
Blue added that if a patient with cardiac or blood-clotting issues receives an IgG-positive lateral flow test result, that could help doctors create a better treatment plan knowing the individual had had coronavirus.
"One benefit of lateral-flow testing is that it can pick up IgG long after molecular tests," he said.
Blue recommended that everyone follow CDC advice: Consider yourself potentially infectious for 10 to 14 days after symptom onset, regardless of what a test result might say. And, most importantly, always consider yourself and others susceptible to the virus.
"I worry that people who test positive and think they're immune may change their behavior and become part of the transmission cycle, because now they're not washing hands or wearing masks," he said. "Right now, people really need to think of others around them."