A nearly "landlocked" parcel of vacant land in Woodside subdivision may soon get some housing on it.
The Hailey Planning and Zoning Commission voiced general support Monday for the 21-unit Skyview Townhomes development on a 2.4-acre vacant parcel of land on Woodside Boulevard between Antelope Drive and Baldy View Drive.
Developer John Tanner presented a plan for the project that includes a narrow private road, sidestepping requirements in the city code that previous developers found troublesome.
City law generally allows for private roads only in developments of five units or less, but the P&Z Commission appeared ready on Monday to approve the development as planned due to its unusual constraints.
The parcel under review is surrounded on three sides by housing. "It's impossible to make a through-street with this parcel," said Community Development Director Lisa Horowitz on Monday.
Minimum public city street rights of way would take up a large portion of developable property. Minimum required distances from intersections near both ends of a city street through the parcel would provide another challenge.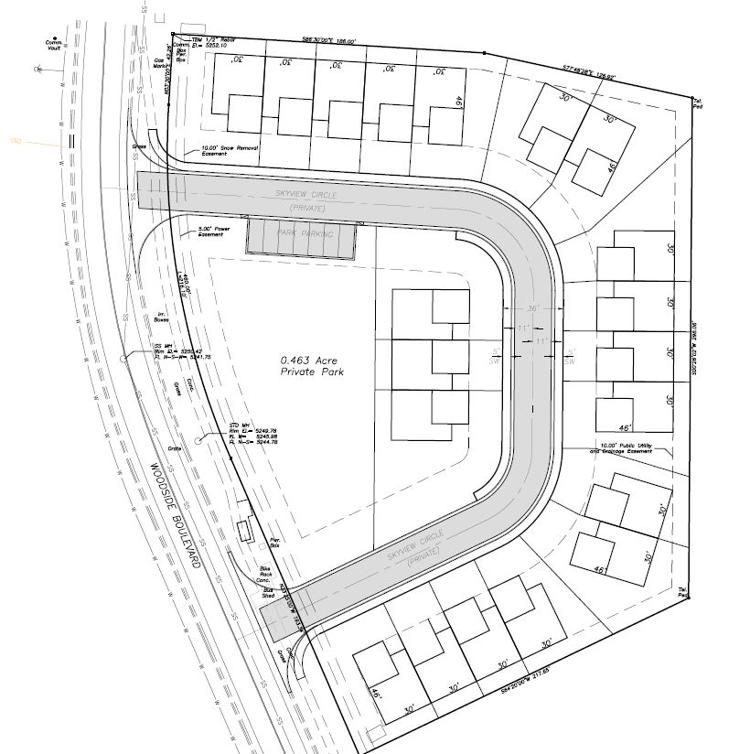 Horowitz suggested in 2017 to previous would-be developers of the property, Janine Bear and James Roberts, that they build a cul-de-sac access to driveways on the property, but the P&Z Commission sent their Wood Cross subdivision plan back to the drawing board for further details.
Tanner said in an interview that he would seek a variance to allow for the private road.
The new plan would require a homeowners association to remove snow and maintain the private road and a small park.
Several neighbors voiced opposition to the project, due to expected traffic impacts from the development.
Mary Robinson said Woodside Boulevard was already a "raceway" and "really congested."
Old Hailey resident Peter Lobb criticized the P&Z's apparent willingness to allow for higher density on the parcel than would be allowed following a stricter interpretation of city code.
P&Z Commissioner Dan Smith said private roads in Woodside have worked well for other developments.
"This is not the first time, and would not be the first time for that area," Smith said.
Commissioner Owen Scanlon said the narrower street would feel more like a neighborhood.
"And people would drive slower," Scanlon said.
The P&Z continued a public hearing and possible final decision on the application to May 20.