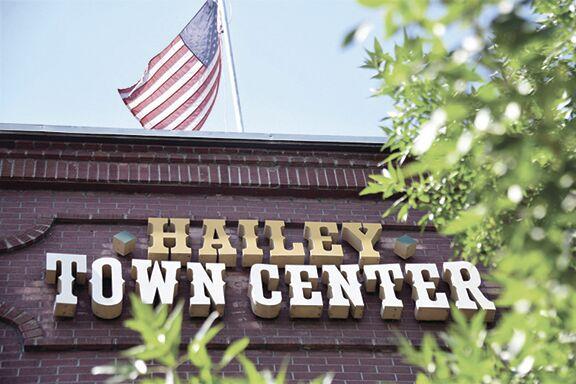 Citing a higher-than-expected revenue stream from development permits, local-option taxes and wildfire deployments this year, the Hailey City Council agreed Thursday to increase the city's fiscal 2021 budget by $818,000 for a grand total of $14,696,170.
The consensus reached during Thursday's special council meeting will need to be affirmed by vote on Monday, Sept. 27, four days before the new budget year begins.
Councilmembers previously voted last month to increase the fiscal 2021 budget by $1.2 million—raising it from about $12.7 million to $13.9 million—primarily to account for the city's $950,000 acquisition of 116 S. River St. in August.
The original 2021 budget set at $12.7 million last summer reflected concerns of major financial impacts from COVID-19. The council made over $1 million worth of cuts to the city's general fund, predicting a steep decrease in local-option taxes—some of that due to less car-rental activity in town—and building permit revenue.
"Intending to avoid putting the city's financial position at risk, the council adopted a [fiscal 2021] budget that was 6% below the pre-pandemic budget," City Administrator Heather Dawson stated in a staff report. "Revenues, especially local option tax, were estimated at less than the previous year."
But "between pandemic tourism and climate migration," a major turnaround occurred between last fall and this summer, she said. The result: "unprecedented" spikes in revenue streams, Dawson said.
"Development permits and the tourism tax are at the highest levels ever seen in the city of Hailey. This is bringing in unbudgeted revenue, some of which requires corresponding, also unbudgeted, expenses," Dawson said.
One example: a portion of Hailey's building permit revenue must be paid to the Idaho Department of Building Safety, which reviews new permits.
"As the permit revenue increases, so does the offsetting expense to the DBS," Dawson noted.
Overall, the city is anticipating a $130,000 revenue increase to its operating fund from building permits, encroachment permits and subdivision inspection permits; a $375,000 increase to its capital fund from robust local-option taxes; and a $143,000 increase to its capital fund from a mutual-aid payout to the Hailey Fire Department for four staffed deployments to regional fires.
Of the $130,000 from development permit revenue, the City Council is planning to allocate $45,000 for the acquisition of two new police cars; $18,000 to City Hall maintenance, window refurbishment and painting; $12,000 for a new turn lane at the Countryside and Woodside Boulevard intersection; $13,000 for tree maintenance; $10,000 for library phone, computer and hardware expenses; and $2,000 for the Wood River Valley Forest Enhancement Project.
Of the $375,000 increase in local option tax revenue, the City Council is planning to allocate $300,000 for a new snowblower to replace an aging 2006 snowblower and $75,000 for restroom improvements at the Hailey Public Library. The $143,000 received in Fire Department mutual aid from the city's four staffed deployments will help the city purchase a new fire truck and pay for repairs to its existing engines.
An additional $170,000 increase in the city's "1% for Air" local-option tax category will go to the Sun Valley Air Service Board to be spent on air service improvements at Friedman Memorial Airport, Dawson said.
Councilwoman Kaz Thea asked if the city could allocate more than $2,000 in local-option tax money toward the Wood River Valley Forest Enhancement Project, an ongoing effort to identify where hazardous fuel treatments are needed in Blaine County's urban-wildland interface. Dawson responded that the city is only allowed to allocate revenue from local-option taxes to emergency services, park acquisitions, road and sidewalk repair, transportation services, visitor information, city building improvements and economic development.
Thea responded that the project could help mitigate future wildfire emergencies, making it equally important as city promotion.
"They sure could use way more than $2,000. That is just a bone to throw to say, 'Hey we want to play with you," she said. "I'd love to see extra money go that way, to really show we're in this partnership."
Mayor Martha Burke and Councilman Juan Martinez said they preferred to stick with the $2,000 allocation.
"I don't want to take away from street maintenance on Woodside Boulevard," Burke said.
Martinez said he'd received several "angry phone calls" about city restrooms left in poor condition. In a public-comment session, Hailey Public Library Director Lyn Drewien said the library has seen a surge in overall usage during the pandemic and has experienced bathroom repair issues as a result.
"Our public restrooms are very popular. They accommodate our regulars, special events [visitors], people that stay in the library all day to work remotely or study and people who don't necessarily have permanent places to live, who are camping or living in their cars," she said. "We've definitely seen an uptick in that."