After three hours of discussion Monday, the Hailey Planning and Zoning Commission opted to table a set of urban-infill proposals from Larry Green, owner of L.L. Green's Hardware, and Matt Cook, owner of Hailey-based Silver Creek Ford, until further notice.
Cook and Green have partnered in a bid to develop 5.4 acres of vacant property at the north end of Main Street into a new car dealership, a two-story hardware store and one block of residential housing. The property comprises three lots bounded by Main Street to the west, McKercher Boulevard to the north and First Avenue to the east, all of which horseshoe around the existing AmericInn Hotel.
Silver Creek Ford—now situated along the bend at the southern end of Main Street—is planning to relocate its facility to a 2.4-acre corner lot at the intersection of Main and McKercher Boulevard, directly across from Stinker Gas. The two-story, 20,500-square-foot car dealership and auto repair shop would have a "natural stone and barnwood" look with steel display pods around the perimeter of the lot and 15 service bays, project representative Errin Bliss of Bliss Architecture said. The dealership would be accessed by three right-turn-only curb cuts, two on McKercher and one on Main Street.
Cook, the owner of five other franchise car dealerships in southern Idaho, told the commission that his relocation proposal came about as a necessity.
"Our [current] building is just tired and old and the parking lots need some love. It's not a building that services our customers the best," he said. "We felt the desire to just freshen it up, and it's very hard to do that on-site while staying in business."
Cook said the Hailey dealership is under contract to sell to another business and no other suitable properties were available at the moment.
"What we've attempting to do is sort of mirror what we currently have," he said.
Meanwhile, Larry Green of L.L. Green's Hardware is proposing to relocate his store to a new two-story, 16,200-square-foot facility that would sit on a 0.9-acre lot along McKercher Boulevard. The store currently occupies about 7,000 square feet of retail space at 101 N. Main St.
For L.L. Green's to successfully relocate, its proposed relocation lot, currently zoned as Limited Business and Limited Residential, would need to be rezoned for business use. Likewise, the corner lot slated to accommodate the dealership, currently straddling Hailey's General Residential and Limited Business zones, would need to be rezoned as part of the city's Business District.
Bliss noted that a vast majority of parcels along Main Street fall in the Business District.
"In my mind it's inevitable that these two parcels [along Main and McKercher] are going to get rezoned for business use, whether it's with this project or another project. It's a matter of time," he said.
The applicant team is also planning to develop up to 48 units of residential housing on a two-acre lot along First Avenue to help ease the transition from commercial to residential use, according to Bliss.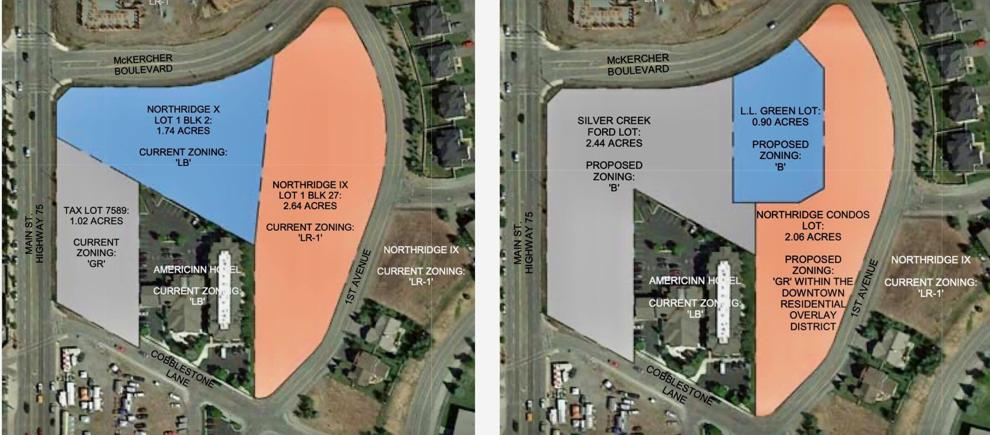 When asked by Commissioner Dan Smith if the housing was "more for financial viability on your part as opposed to suitability on the city's part," Cook responded that the team was "just trying to get as many units as we can legally have."
"Our desire … is to generate some housing that normal people can buy and still live and work in Hailey, Idaho," he said. "The intent is to genuinely and sincerely help solve Hailey's housing problem."
Renderings presented by Bliss on Monday showed the development, which falls within Northridge subdivision, comprising eight three-story residential buildings in a row formation. As proposed, one-bedroom units would be 750 square feet each with parking spots concealed on a private drive to the east, Bliss said, adding that the team "did feel that two-bedroom units are needed, too."
P&Z Commissioner Dustin Stone asked Cook if the applicant team would consider rent-controlled units in addition to condominiums.
"I'm open to anything," Cook said. "I just know that if we added some substantial number of units like this that it would help not just my business but the whole city."
The three-story Northridge condos would sit behind a new sidewalk along First Avenue, a four-foot landscape buffer and a "5- to 6-foot-tall" retaining wall, Bliss said, with the berm helping to "give that perception of two stories versus three." The units would take on a "Northridge architectural aesthetic" with earth-tone colors, gables and roofs sloped to the east so as to not block sunlight for residents on Winterberry Loop, he said.
Like the other two lots, the Northridge residential lot would need to be rezoned General Residential. It currently falls within the city's Limited Residential District designed to limit density.
---
Northridge neighbors object
Eighteen Hailey residents spoke during Monday's public comment session, a majority objecting to the proposed condominiums' appearance and proximity to Northridge subdivision. Those living along Winterberry Loop were primarily concerned about decreased property values, blocked views and water pressure issues. Others cited concerns over excess noise, light spillage and odors from the dealership.
"I'm looking out my window right now. With a 35-foot maximum height, [condominium residents] would literally be able to see everything in my yard, in my house," Northridge resident Renz Fankhanel said.
"If you all of a sudden put up 750-square-foot micro units within 100 yards of this neighborhood, you're going to devalue every single one of our properties whether you mean to or not," he told the applicants.
Though transportation engineer Ryan Hales said on Monday that a projected 928 trips created by the developments would not have a significant impact on traffic flow, others felt differently. Kathy Deal, owner of the AmericInn, said the Ford dealership would obstruct a "critical sightline" used by hotel guests pulling onto Main Street from the hotel and Wood River Middle School students trying to cross the street to Albertsons.
"One of the biggest appeals to us, moving here, was being able to walk to the grocery store, being able to feel comfortable with our kids walking down the street to the middle school," Northridge resident Kyle Young said. "Increased traffic is going to take away some of the charm that made us fall in love with this place."
Hailey resident Dirk Zondag said he was concerned that the northern entryway to town would adopt a look similar to Blue Lakes Boulevard, the busy, heavily commercial strip at the entrance to Twin Falls. The dealership, he said, would encourage unattractive development.
"Not one person has said, 'Wow, this plan is inspiring,'" he said. "Give us retail, give us restaurants, give us a good First Street buffer. We don't want to be Twin Falls. This is an identity-changer."
Cook pushed back against what he said was a "not in my backyard" argument, noting that the dealership was not trying to mimic Twin Falls' aesthetic.
"I suppose if people want a different use, they could buy the property," he said. "We're just trying to invest in the city and community and run a good business."
After a busy public comment session, commissioners asked the applicant team to clarify the condo-to-rental ratio for the residential units and bring back a water pressure analysis later in the spring. While P&Z agreed that the dealership and hardware store lots should be annexed into the city's Business District, Stone and Smith said the Northridge parcel was not destined to be high-density housing.
"It's logical to make Main Street an all-business zone," Smith said, "but I share the feeling that the residential component of this is too dense. People that bought their homes and did their due diligence have expected single-family homes across First Street, and obviously this proposal is anything but."