The emergency call came in like a potential water rescue: word of yips and yowls from Della Mountain, called in from the Big Wood River below.
What Wood River Fire & Rescue Captain Bass Sears found on the scene just past 6:15 p.m. on Saturday was a situation even more technically challenging. Some 500 feet up, where a steep draw turned into a sheer cliff, Sears saw Honey Bear—a six-month-old pit bull mix—perched on the edge of the mountain.
By then, the dog was five days missing from its Cedar Street home. Identifying it was easy—there were signs stapled along the Draper Preserve asking for help bringing Honey Bear back.
When Sears called Ron Bateman to the scene, the Wood River Fire chief knew all about it. Up until a week prior, he'd rented a studio apartment from Honey Bear's owner, Erica Exline.
Sears talked Bateman through it. Daylight was fading over Della, and staff was dispersed for the holiday weekend. Sears—who leads the department's technical rescues operations—had talked to some of the Wood River crew, Bateman told the Express. They asked Engineer/Paramedic Erin Griffin, the rescue team leader, how her group felt about taking it on. They felt good, she said. To do it, though, they needed a few things.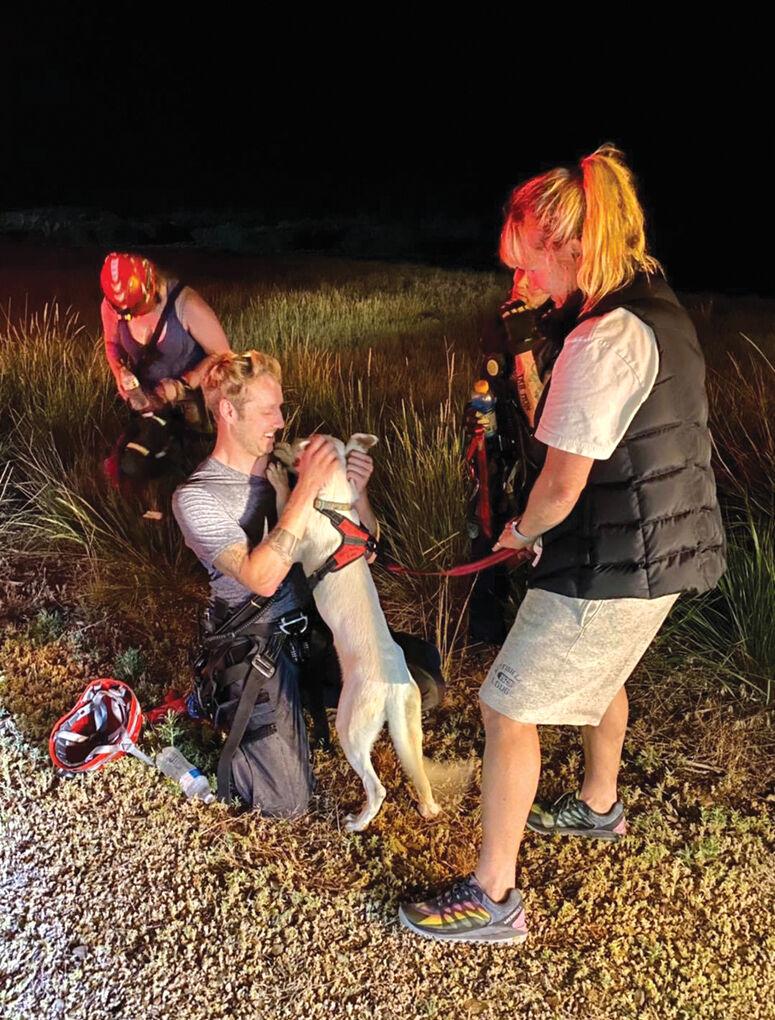 So Wood River put out a call for some help, Bateman said, "and some dog lovers from Ketchum answered." The south valley crew needed manpower and a dog harness—Wood River didn't have one, "but we'll look into getting one now," Bateman said. Together, they assembled a team of 12.
Sears got a spotting scope and some good binoculars and retreated to Wood River's downtown Hailey substation. The Fourth of July rodeo was ripping along next door when the rescue team got to the top of the mountain and radioed in.
From town, Sears directed the Wood River Engineer/Paramedic Trey Knox and Engineer Eli McNees over the ridgeline. They hiked down within 150 feet or so of the dog when the hillside got too steep and anchoring options disappeared. So, the pair set up ropes, fixing them to a stand of trees and redirecting around another. McNees tied himself in.
The rest of the rescue team then lowered McNees down to the dog. He reached Honey Bear past sunset, at 9:51 p.m. At 10:15 p.m. McNees and Honey Bear were safely back up on the ridge.
"The dog was pretty anxious, but also eager to accept the help," Bateman said. Bateman had been calling Exline every half-hour with updates, he said, urging her to stay away. They needed the dog to stay calm—and still. With the team safely atop the ridge, he called her again. This time, he told her to meet them out Croy Canyon.
An hour later, the crew was back at the bottom of the canyon by the Mountain Humane animal shelter, and Honey Bear was reunited with her owner.
"We could do this because we have a really, really high-quality team with technical expertise," Bateman said. "There's so much talent among them.
"I've been doing this job for 23 years. And in terms of the outcome—the sense of satisfaction at the end—this is one of the top calls I've ever been on."