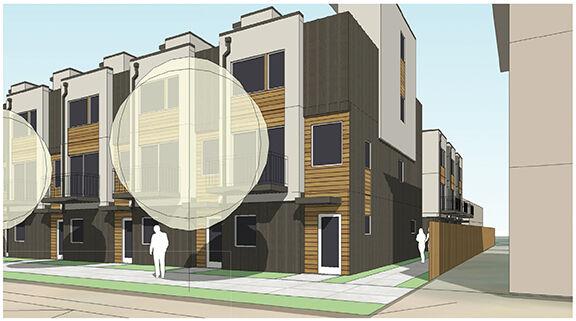 The Hailey Planning and Zoning Commission on Monday granted a developer preliminary approval to build a 12-unit townhome complex at 410 N. River St., sending a planned-unit development application to the City Council for final approval later this fall.
Kevin Cablik, a Boise-based developer with CK Property Group, plans to build 12 four-level single-family townhomes on an empty lot next to Silver River Residences.
In a presentation Monday night, project architect John King with Boise-based Pivot North Architecture said all townhomes would have attached one-car garages, rooftop deck space and covered parking spaces on the ground level.
The 14,400-square-foot vacant lot was originally reserved for River Street Apartments, a 12-unit residential complex that would have been built from refurbished metal shipping containers. But the plan fell through not long after the P&Z approved the development last September, when shipping container manufacturer IndieDwell, closed its doors in Caldwell, according to Community Development Director Lisa Horowitz.
In his presentation, King said each townhome would have four levels with floorplans 17 feet wide by 38 feet long. The ground level would have one bedroom and bathroom; the second floor would have an open floor plan with kitchen, living and dining space and a small balcony; and the third floor would have a master bedroom and guest bedroom. The fourth floor would be a private rooftop deck.
King said the roof decks have been a well-received feature in Cablik's other developments.
"You get great views of the mountains. The [decks] are something that people have been getting excited about," he said.
Parking would be accessed off a shared drive connecting to the existing alley, he added, and landscaping and snow removal would be the responsibility of the homeowners association.
Due to the project's limited lot size, the applicant team is asking for three waivers from the city: a waiver to a minimum lot size of 18,000 square feet, a waiver to a requirement that 10% of the lot be used as shared open space and a waiver to a requirement for park space. In exchange for all three, Cablik is proposing two deed-restricted townhouse units that would accommodate families making 100% of area median income, or AMI.
"A [planned-unit development] application allows you to consider tradeoffs, like deed-restricted units, in place of open space. Clearly, we'd never be able to get a park in here," Horowitz said.
Two deed-restricted units at 100% AMI would translate to a sales price of $375,000 per unit, she said. A family of four earning $75,000 per year would qualify at 100% of AMI.
Horowitz said prior to Monday that Cablik and city staff were considering an alternative of three deed-restricted units at 120% of AMI, but that put the sales price of the units between $459,000 and $470,000.
"That did not feel like affordable units to us. As you all know, we are deeply in a housing crisis," Horowitz said. "The sales price of $375,000 is a better solution for the community."
Cablik said he planned to give the city the first right of refusal to either purchase the units directly or to offer them to city employees.
"I've never done an affordable project before. This feels like the socially responsible thing to do," he said.
The townhome design received mostly positive feedback from commissioners.
"I didn't want to like this at first, but it's grown on me," Commissioner Owen Scanlon said. "King has shown us what can be done here. He's proved that we can have a nice project with adequate parking on a small lot.
"Take my word for it, this is a well-designed project."
Commissioner Dustin Stone said the 12 units would accommodate many types of buyers, from young career professionals to "empty nesters."
Commissioner Dan Smith disagreed. Two deed-restricted units would not be enough to make a dent in the housing crisis, he said, and a sales price at 100% AMI would not attract residents from a diverse socioeconomic background.
"On one hand you're giving us community housing," Smith told Cablik, "but you're also redefining what community housing is. Your objective is to maximize the return on your investment. My objective as a commissioner is to get the best bang for the buck on behalf of our citizens."
Smith suggested pricing one deed-restricted unit at 50% AMI and two at 100% as an "intermediate" compromise. Horowitz responded that according to Nathan Harvill, executive director of the Blaine County Housing Authority, the 100% AMI price point was "much needed" in Hailey.
The P&Z approved the application unanimously by a vote of 4-0, with Commissioner Dan Smith abstaining from the vote without giving a reason.
The City Council is scheduled to review the application on Oct. 25.