Amid a post-holidays uptick in COVID-19 cases, the Hailey City Council voted Monday to extend the city's emergency health order—including its mask rules—by another 30 days until Feb. 10.
The updated order, like its predecessor, requires masks or face coverings in indoor public spaces. It adds one requirement: that all businesses must post mask signage out front.
The city will print and deliver those materials starting this week, according to City Administrator Heather Dawson. At the recommendation of Mayor Martha Burke, the signs will include guidelines from the CDC to help reinforce COVID-19 prevention messages.
Burke also directed the city to double down on its educational efforts—"even putting masks on the sheep [statues]"—and to illustrate the CDC's new guidelines with sandwich boards in front of Atkinsons and the Hailey Post Office.
Burke said her main priority was to tackle asymptomatic transmission.
"One to three days before symptoms even appear you are contagious, so you might walk into dinner with friends saying 'I feel great,' then two days later have a sore throat and test positive," she said.
Councilmembers had a few options on Monday evening: to keep the mask order as-is, strengthen it with new provisions, scale it back to a mask recommendation or let it expire.
The council convened virtually. On Monday, the city announced that it would close City Hall for the month of January with exceptions for staff members running the meeting equipment and members of the public who aren't able to access the online GoToMeeting platform.
Councilman Sam Linnet opened the discussion with a few statistics presented by the South Central Public Health District last Wednesday. About 30% of regional COVID-19 tests had returned positive last week, he noted, and Blaine County accounted for half of the cases in the public health district despite making up only 20% of the population.
"Anecdotally it sounds like people are getting potentially less sick with omicron, but more people are getting it, so the net impact is similar to what we saw last September," he said. "The takeaway message is that things are serious. We're just not in a good spot right now."
Linnet said the recent surge has delayed health care for non-COVID patients and caused difficulty admitting ER patients at St. Luke's Magic Valley Twin Falls. The regional public health district has also been too short-staffed to complete contact tracing, he added.
"Everyone is concerned about resources and staffing shortages, just being able to provide basic health services," he said.
Linnet agreed with Burke that consistent public messaging, including across-the-board mask signage, was the "low-hanging fruit" that could help keep more kids in school and employees at work.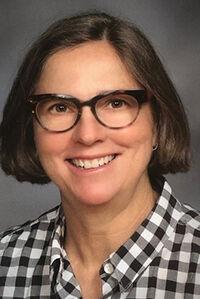 "We have really good compliance generally," he said. "I would just ask us to not focus on the very small minority of people who aren't complying with our ordinances and never will, and instead focus on the people who maybe forgot their mask in their car.
"I think it would be good public policy to have the city say, 'These are our local rules, this is what we expect of people,' especially with tourists coming in who may not be aware."
Councilwoman Heidi Husbands, a teacher at Wood River High School, also voiced concern about omicron cases inundating the St. Luke's system. Seeing "hundreds of kids out every single day" with COVID had increased that concern, she said.
"This is still alive and well in Blaine County and moving through the school system quickly," she said. "You are contagious whether you know it or not."
Councilwoman Kaz Thea said she supported mask signage in all businesses but was optimistic that Blaine County was "on the downhill side" of its COVID-19 surge. She recommended a 30-day mask extension, which Linnet and Husbands backed.
"I do believe that probably most people in this county have already had it or been exposed to it and this a way less intense version of COVID than delta. It doesn't seem to go deep into the lungs," she said. "I think that this might be the beginning of the end of COVID and we're going to be done with this by the end of January—it swept in from South Africa very quickly and is probably on its way out."
Linnet responded that the omicron variant "is still sending people to the hospital and taking up resources."
"The health district and hospital have not said we're on the other end yet. We just don't have the social safety nets to take care of folks right now," he said.
Burke also pushed back against "the idea that omicron is not as frightening as Delta, and that we can relax now."
"The question is the volume. Volume will lead to a certain number of hospitalizations and a certain number of deaths," she said. "You also have a smorgasbord of this to get sick from now—flu, strep throat.
"We are just asking our retail businesses and restaurants to protect our residents and [vice-versa]."
The council then moved into a discussion of whether more robust COVID-19 testing services could help address the valley's surge in cases. Linnet said rapid tests were not "the silver bullet the city is looking for."
"Testing doesn't necessarily change the behaviors that that we are advocating for, like staying home if you're symptomatic," he said. "I've been hearing stories about parents testing positive and sending their kids to daycare, people going into public spaces knowing that they have COVID. That's the kind of behavior that is going to keep us in this loop of case surges and mask requirements."
Burke filed Monday's discussion under "new business" and did not take public comment.
Councilman Juan Martinez did not vote or speak during the mask discussion.