Salt Lake City-based gas station operator Maverik Inc. has negotiated a purchase-and-sale agreement with Snow Bunny Drive-In for its site along south Main Street in Hailey, Maverik Real Estate Manager Joe Tonumaipea told the Express on Tuesday.
"I can confirm we are under contract but can't disclose price or any other detail of the deal," he said.
The total land area that Maverik hopes to acquire—0.89 acres—includes the Snow Bunny store location, parking area, drive-through aisle and landscaped area, as well as a city-owned parcel of land directly to the west.
"Snow Bunny was kind enough to give us an option to purchase their property," Tonumaipea told the Hailey City Council on Monday. "But we need [the city-owned] piece to make the expansion work."
Council members, however, agreed during Monday's meeting that they were unwilling to sell the city's 0.23-acre parcel of land at Maverik's suggested price of $250,000 and would not move ahead with hiring an appraiser.
"I don't think I'd even be comfortable with a $400,000 or $500,000 offer," Councilman Sam Linnet said. "If there were a need for a fueling station, that would be one thing, but I'm not convinced of that [need] at this time."
Linnet said that land, second to water, is Hailey's most important resource.
"So, anytime we're considering the sale of land, I want to make sure we're looking long-term, big-picture," he said.
Other council members concurred that selling the parcel was not in the best interest of the city, especially with ARCH Community Housing Trust's nearby 60-unit Blaine Manor project expected to break ground later this summer.
"With Blaine Manor coming in, we need to figure out a traffic circulation plan first," Councilwoman Heidi Husbands said. "The skate park area is already very congested."
Council President Kaz Thea cautioned against a cart-before-the horse approach and agreed that the city should hold onto the property until a traffic plan is agreed upon.
"I'm not against this business, but I would like to move slowly on this sale of land. We don't know what our values are going to be in years to come," Thea said. "And how many gas stations and convenience stores do we need in Hailey? I think we're already saturated with them."
Both Linnet and Thea pointed out potential safety and public health issues with a gas station so close to the Hailey Skatepark, Campion Ice House and rodeo grounds.
"With the curve in [Main Street] … I don't find it safe," Thea said.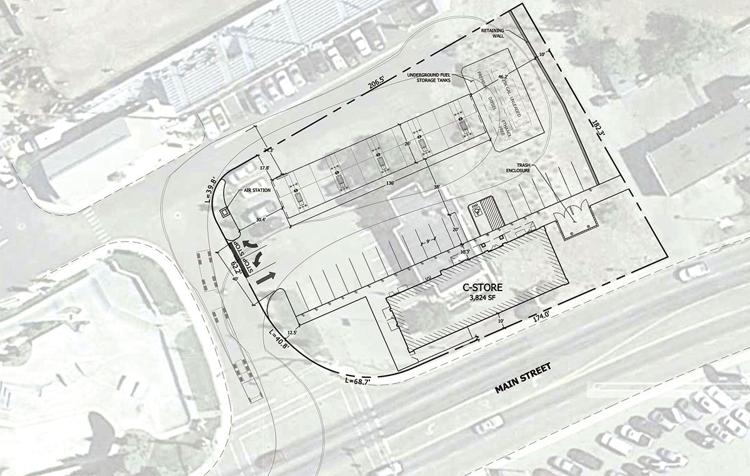 While Councilman Juan Martinez echoed council members' safety concerns, he said a convenience store could help boost local-option tax revenue.
"Maverik is right to pursue this piece of property," he said. "We've extended our LOT [collection] up to 2050—this would be a useful business that could create some revenue for our city. I've been to many Maverik stores with my teams, and there's really not a better place to stop."
Maverik representatives said the company, which has around 60 stores in Idaho, has been eying Hailey as an ideal expansion area for nearly a decade.
"Convenience stores don't always have the best reputation, but Maverik is a different experience," Tonumaipea said. "We'd be a good community partner. We're not just an operator."
Company representative Erik Anderson said that if the Snow Bunny property is successfully acquired, the store would be about 3,820 square feet with 24 parking stalls. The façade and interior would incorporate natural earth tones, he said.
"When you step into Maverik, you'll step into the great outdoors," he said. "It will evoke a sense of wonder and excitement."
Mayor Martha Burke remained unpersuaded.
"If anything, the city should try to buy the [Snow Bunny] site that Maverik is looking at. I don't think we can let this property go, and I don't want to lead on Maverik and continue this discussion," she said.
---
---
Traffic issues addressed
During a special council meeting last week, Chase Goulay of Ben Young Landscape Architects and Michael Bulls of Ruscitto Latham Blanton presented new circulation options to connect the ARCH Blaine Manor development to First Avenue and Airport Way.
One concern shared among council members was residents' attempting to turn south onto Main Street from Blaine Manor—an accident waiting to happen, they said. Another was growing congestion at the city's "rodeo grounds" area, which encompasses the rodeo arena, skate park, ball fields, Campion Ice House and Snow Bunny Drive-In along a bend in south Main Street.
Goulay said extending First Avenue from Hailey Elementary south to the ice house would create a clear path to Main Street. That would mean reorganizing the ball fields and elementary school play equipment, he said.
"A First Avenue connector would allow people to filter onto Main Street more easily," he said. "But this is challenging because we don't know what kind of traffic is going to come from the ARCH site. Maybe some of the elderly residents won't drive as much."
Bulls said a traffic light installed at the intersection of Elm and Main streets could also improve traffic circulation. According to Public Works Director Brian Yeager, however, that could be 10 years out.
"A stoplight at Elm is not on the ITD's radar in any way, shape or form," Yeager said. "Current traffic counts do not trigger a warrant for a light there. The need for a light really has to be excessive before they will even consider it."
A future road cutting through the Blaine Manor property and east along the ball fields could either be routed into the parking lot and out to the Airport Way light or up and around the rodeo arena, then back to the Airport Way intersection. The second option would require a new road between the Snow Bunny site and the rodeo area, Yeager said.
Councilman Linnet said any road cutting through the parking lot was "not workable" and pushed for the light at Elm.
"I don't know what it takes to get ITD to do something before it's desperately needed. Ten years is too late," he said.
Martinez proposed developing the dirt alley behind the rodeo arena or creating a new connection through the Snow Bunny site.
"I'll admit, I do love me some Snow Bunny," he said, "but as it relates to the city, that is a very crucial piece of land and could be a part of our solution."