Hailey's proposed 33-site campground out Croy Canyon once again generated controversy during a well-attended City Council meeting on Monday.
The city was awarded $710,840 from the Idaho Department of Parks and Recreation's Recreation Vehicle Program last month to fund the project. The campground is planned for 30 acres of city property west of Lions Park, where it would offer approximately 20 pull-in RV sites, picnic tables, vault toilets and other amenities for a nightly fee. The city has until Aug. 3 to either accept or reject the grant award.
Two dozen Hailey and Blaine County residents showed up at City Hall Monday while 30 others listened in virtually. Several Croy Canyon residents continued to cite concerns over wildfire danger, traffic, noise and impacts to wildlife.
"I cannot understand anybody endorsing this—it's dangerous," said Steven Garman, a Wood River Rural Fire District commissioner who owns a home in the canyon. "We'd have generators, safety chains on trailers, fireworks, cigarettes,"
Business owner Jane Drussel of Jane's Artifacts, however, said the campground would help put Hailey on the map as a tourist destination.
"This will be a beautifully planned campground," she said. "Please stop and consider that we depend on tourism and recreation in this community."
Mike McKenna, executive director of the Chamber of Hailey & the Wood River Valley, spoke on behalf of "numerous" business owners. He said that the campground has been on the community wish list for years. Garman's and others' concerns about wildfires originating from the site were unfounded, he said.
"This would be a dream come true, an asset right on the edge of town that was picked out years ago as an ideal camp spot. The fire concern seems to scare everyone, but I went to the Hailey Fire Chief [Mike Baledge], the assistant fire chief in Ketchum, and Forest Service firemen, people who combined have about 100 years of firefighting experience in our valley," he said. "They told me there's no issue, that the least likely cause of wildfire is a controlled campground like this."
McKenna added that he regretted that there will be no campground accommodations for the Mountain Classic Girls' Softball Tournament, coming to Hailey in two weeks.
"Girls are coming from all over Idaho. It breaks my heart that we can't [accommodate] their grandmothers and sisters. We as a community have dropped the ball on this for too long," he said.
The campground's proposed location along Croy Creek Road abuts the Wood River Land Trust's Simons-Bauer Preserve. Councilmembers, particularly Heidi Husbands and Sam Linnet, have advocated for protecting the parcel with the help of the Wood River Land Trust.
"If we do not permanently protect [the parcel], it's more likely than not that some development will occur there in the future," Linnet said last month.
The Land Trust hopes to acquire the Croy Creek Road property if the city decides against the campground. Keri York, lands program manager for the organization, said on Monday that the Land Trust still opposed the campground because the parcel "has significant value for our local wildlife."
"We are accepting pledges for [acquiring] this parcel and look forward to working with the city on the details of a potential acquisition," she said.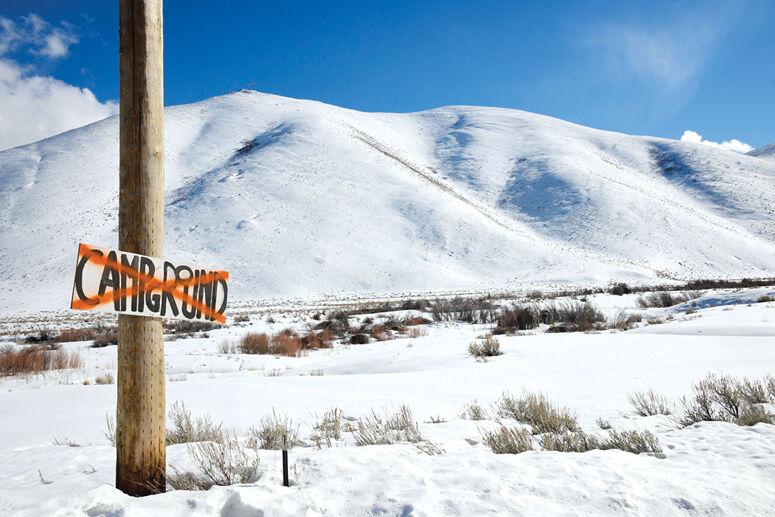 Mayor Martha Burke closed the public comment session after 30 minutes of public input.
"Ok, kids," she said. "I think we've established a deep understanding of your concerns."
---
City grapples with growth, impact fees
The City Council then moved into a discussion about a new development impact fee schedule, at which point nearly all attendees cleared out of City Hall. The city is looking at an average annual increase of 97 residential units per year and "about 50,000 square feet per year over the next 20 years," according to a development impact fee report presented by City Financial Consultant Dwayne Guthrie on Monday, The campground has been figured into the city's growth projections, he said.
With large incoming residential projects, the city is planning to approve higher development impact fees in the fall. Developers would need to pay about 27% more in development fees for residential projects over 3,000 square feet per unit, according to a draft fee schedule.
The new fees, which fund city wide improvements, will be approved by the council in September.