Officers from the Idaho Department of Fish and Game are planning to trap and euthanize a large mountain lion in Hailey that reportedly killed at least two domestic cats in recent weeks, the department announced Monday.
According to regional Fish and Game spokesman Terry Thompson, the department's Magic Valley office has received several reports from residents establishing the lion's pattern of bedding down—and hunting—within city limits.
Other domestic cats in Hailey have been reported missing, but no dogs or livestock have been reported as injured, missing or killed, he said.
Thompson said the lion will be euthanized out of concern for resident and pet safety, as well as its own.
"Relocating mountain lions (predators) is not something the department does by our established guidelines," he wrote in a Monday email. "Another factor is that lions are very territorial. While it may seem to some that relocation is an option, we have to realize that if we put another lion into another lion's territory, the odds are high are that one of them will be killed."
Since mid March, Hailey residents have reported seeing what Fish & Game officials presume to be the same large mountain lion wandering through various neighborhoods, from China Gardens and Little Indio subdivisions along the Big Wood River to Buttercup subdivision on the northeast side of town.
In late March, a large lion was sighted in Old Hailey walking toward the BCRD bike path, seemingly unafraid of two onlookers.
"Fish and Game biologists are concerned that this particular lion is becoming habituated to living within the community," Thompson stated in a Monday press release.
Family mourns cat's death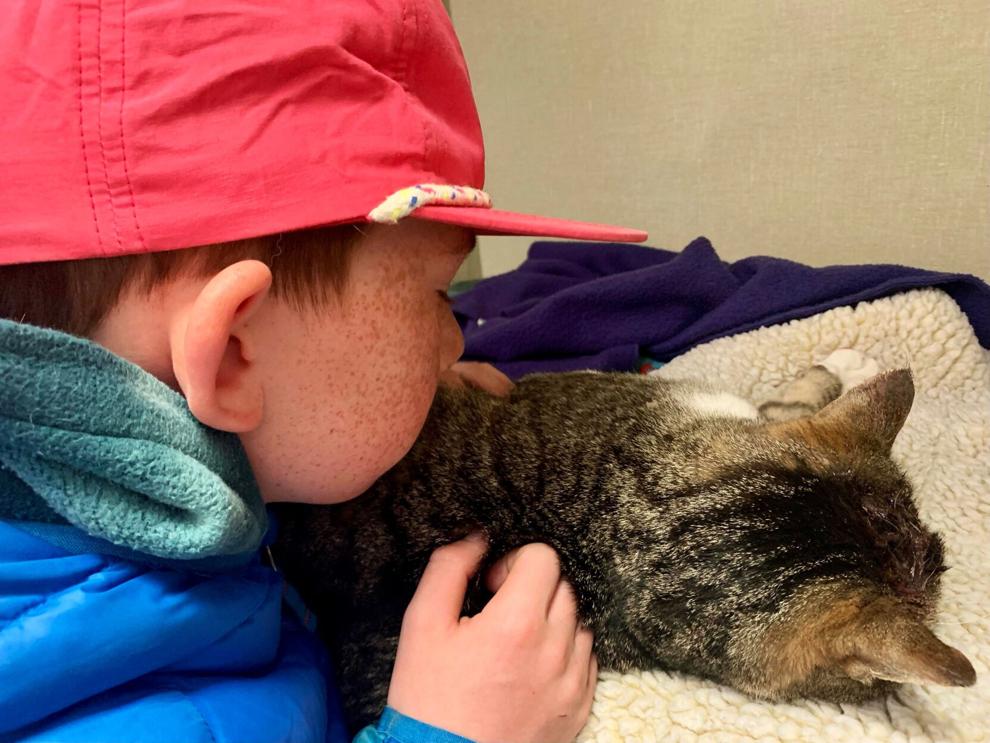 According to Susan Chizum, a China Gardens resident, her family's outdoor cat, Chunk, became the latest victim of a mountain lion attack on Saturday.
Chizum said she found Chunk on a neighbor's porch around 10:30 a.m. that morning, suffering from a skull fracture, "two side-by-side" puncture wounds through his skull and multiple other puncture wounds on his face and eyes. He'd been attacked earlier, around 2 a.m., in another neighbor's front yard, she said, based on yowling noises that the neighbor had heard.
"He had major trauma, swelling in his throat," she told the Express.
On Easter Sunday—24 hours after finding Chunk and rushing him to the Sawtooth Animal Center in Bellevue—the family made the hard call to say their goodbyes while he was under anesthesia. Chizum said Dr. Laurie Breedveld had offered to install a metal plate in the cat's skull, but there "was no guarantee" he would come out of surgery without brain damage.
"Chunk was seven years old and lived a beautiful life," she said. "Someone made a comment that we shouldn't complain if we leave our pets out. I'd like to think that we gave [Chunk] the best life we saw fit.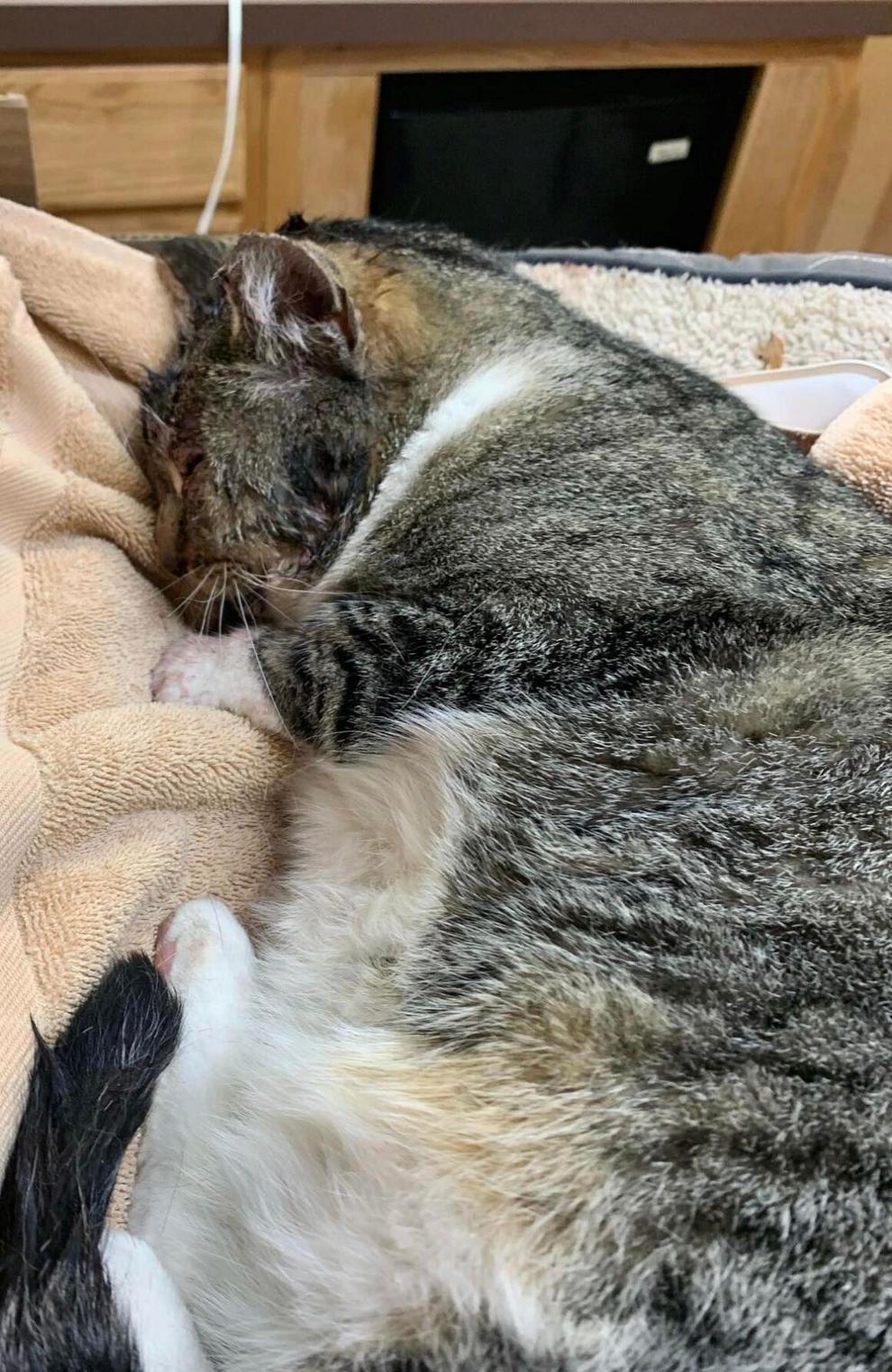 "I'm devastated with how his life ended," she added, "but I think he got to live his best cat life."
When asked about Fish and Game's plan to trap the lion, Chizum said she was on board with the decision as long as the animal was the "same cat that has attacked the others [pets]."
"We just want to know our families are safe," she said. "But to euthanize ... I think the tricky part is knowing if there is one mountain lion or five mountain lions at play."
Chunk's death was "heartbreaking," Chizum concluded, "but I know we live in their [mountain lions'] neighborhood—not the other way around."
South-county lions found dead, malnourished
Two other mountain lions have been found deceased or in poor health lately, according to Fish and Game—one "malnourished" young adult mountain lion found dead in Hop Porter Park on or around April 7, and a "young, abandoned" 30-pound mountain lion kitten found near death in the lower Broadford area near Bellevue over the weekend.
Thompson said the department euthanized the kitten because it also showed signs of malnutrition when examined by local conservation officers. The kitten has since been sent to the Fish and Game wildlife lab for testing, he said, noting that rumors of "possible feline distemper" have not been confirmed in either animal.
The kitten is the sixth mountain lion that Fish and Game officers have euthanized in the Wood River Valley in the past four years, and the only euthanasia unrelated to human-lion or pet-lion conflict.
In 2018, the department euthanized an older female mountain lion in Gimlet that had attempted to kill a dog and a young lion at Friedman Memorial Airport that had delayed a commercial flight by sitting on the runway. In 2019, officers euthanized two mountain lions in the Warm Springs area of Ketchum after the animals attacked and killed residents' dogs. In 2020, officers shot a large male lion in Hailey's Woodside subdivision due to the animal's proximity to children. No lions were euthanized in the Wood River Valley in 2021.
F&G asks residents to report signs of lion activity
According to Fish and Game, any mountain lion encounters should be reported to the Magic Valley Regional Office at 208-324-4359 during business hours, or the after-hours line at 800-632-5999.
Regional Conservation Officer Clint Rogers encouraged residents to also call Fish and Game if they find mountain lion tracks around their homes or come across caches—or carcasses covered in grass, leaves, and other debris.
"Our officers are always willing to work with local residents to make sure that they and their pets stay safe," Rogers stated in a Monday statement. "Our goal is to encourage mountain lions to live in wild habitats, outside of our communities."
To keep the predators away from city limits, Fish and Game is urging all valley residents to close up sheds, under-deck hideaways and other potential "daybed" spaces, and better secure their garbage to avoid attracting skunks, raccoons and other easy prey for mountain lions.
The department is also asking residents to practice the following safety measures:
Always keep dogs on-leash, whether in town or in the surrounding mountains.
Carry bear spray, a noisemaker such as an airhorn and a very bright flashlight if walking at dawn or dusk.
If you encounter a mountain lion, make yourself as large as possible and resist the urge to run or turn your back. Face the lion and yell, but do not scream, to avoid mimicking the sound of a wounded animal. Slowly back away while maintaining eye contact with the animal.
If you are attacked, always stay on your feet and fight back.