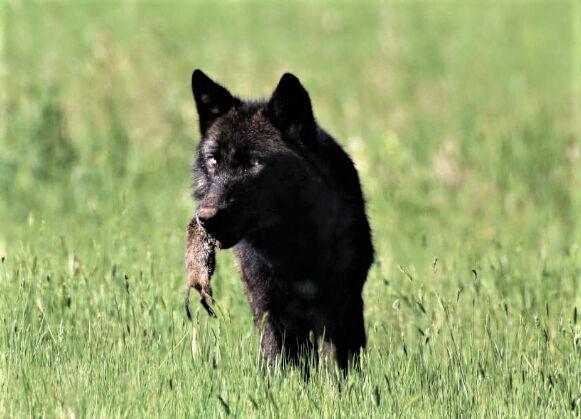 The U.S. Fish and Wildlife Service will review the status of gray wolves in the western U.S. in response to a pair of petitions filed earlier in the summer by dozens of conservation groups seeking Endangered Species Act protections for the species.
On Sept. 15, the agency determined that the two petitions, which were signed by 75 wildlife and research groups in July, had presented "substantial, credible information indicating that a listing action may be warranted and will initiate a comprehensive status review of the gray wolf in the western U.S."
Erik Molvar, executive director of Hailey-based Western Watersheds Project and the co-author of one of the petitions, said the status review was a step in the right direction.
"Wolves deserve immediate protection, today, to prevent further human depredations. … We expect that a thorough review of the best available science will show definitively that the gray wolf must be protected under the Endangered Species Act," Molvar said in a statement following the announcement.
The 63-page petition co-authored by Western Watersheds Project cites records obtained from the Idaho Department of Fish and Game detailing wolf mortality and trap-related injuries. It states that nearly 4,500 wolves were killed in Idaho between 2011 and spring 2021 with assistance from the Legislature's Wolf Depredation Control Board, "which it has earmarked over half a million dollars [to kill wolves] every year since except for one," the petition states.
This past July, Gov. Brad Little authorized hunters and private contractors to kill an unlimited number of gray wolves, allowing for the eradication of more than 90% of state's wolf population of about 1,500.
Agents from the U.S. Department of Agriculture's Wildlife Services killed 14 wolves in the mountains surrounding the Wood River Valley between July 4 and Sept. 16 as part of targeted depredation operations, according to wolf mortality data from Fish and Game supplied to the Express.
Those include seven wolves killed by shotgun and rifle just north of Blizzard Mountain in the Pioneer Mountains and seven killed by shotgun near Elk Mountain, about 12 miles east of Hailey. Both target sites were squarely on or within 2 miles of privately owned sheep-grazing land in Blaine County.
A 15th wolf was killed "incidentally" by Wildlife Services this past summer, Fish and Game records state. The animal was listed as a 110-pound male and was killed on a Forest Service road in the Fairfield Ranger District.
Wolves in Idaho were removed from the Endangered Species Act list in January 2021 following an October ruling by the Trump administration, switching them from a federally protected species to state-managed game animals this past winter.