Survey any Wood River Valley resident on the most star-filled night they've seen, and chances are that it was close to home—maybe even in their own backyard.
In much of central Idaho, bright constellations emerge just after sundown. From Hailey to Sun Valley, the Milky Way is seen as a vivid band across the sky. From the shores of Redfish Lake, planetarium-quality meteor showers play out year-round for anyone who gazes up.
As a group of young researchers found out last week, however, night views in the Wood River Valley and Stanley are an exception to the rule in the United States, where 99% of the population lives under obscured night skies.
"What we observed far surpassed anything we've ever seen," said Megan Potter, a senior pursuing an environmental science degree at the University of California, Los Angeles. "We were able to get photos of the stars on our iPhones—that's absolutely unheard of."
Potter is among five students from UCLA who were here last week to study the Central Idaho Dark Sky Reserve, which includes Sun Valley, Ketchum, Stanley and a large swath of the Sawtooth National Forest. The students are partnering directly with the reserve in an effort to better understand the year-over-year progression of light pollution within—and outside of—its boundaries.
Potter, along with two other members of her team, is working on using satellite remote sensing (SRS) and geographic information system (GIS) techniques to create detailed light pollution maps of Idaho. It's a sophisticated approach for a simple research question: Where, exactly, is light pollution coming from, and what can we do about it?
"We can look at the yearly changes in light pollution for each geographic area to help pinpoint what areas maybe are worsening in their pollution trends, or possibly getting better, and [compare] that with changes in local policy," she said.
The hands-on practicum is a collaboration between Professor Travis Longcore, a leading expert on the environmental consequences of artificial night lighting, and Steve Pauley—aka 'Dr. Dark'—a founding member of the Central Idaho Dark Sky Alliance. Over their spring break last week, Longcore's students also learned how to use sky-quality cameras, take inventories of lights within the reserve and develop dark-sky ordinances and policies.
"This is based on the idea of doing real-world work as a capstone experience for an undergraduate degree," Longcore said.
The Central Idaho Dark Sky Reserve—named by the International Dark Sky Association in 2017—was the first of its kind in the U.S. and the 12th in the world. At 906,000 acres, its size makes it the third largest dark-sky reserve on the planet, after Mont-Megantic in Quebec and Aoraki Mackenzie in New Zealand.
"People should take a trip down to L.A. or Malibu and realize how incredible and special this place is, and why it should be kept preserved," Potter said with a laugh.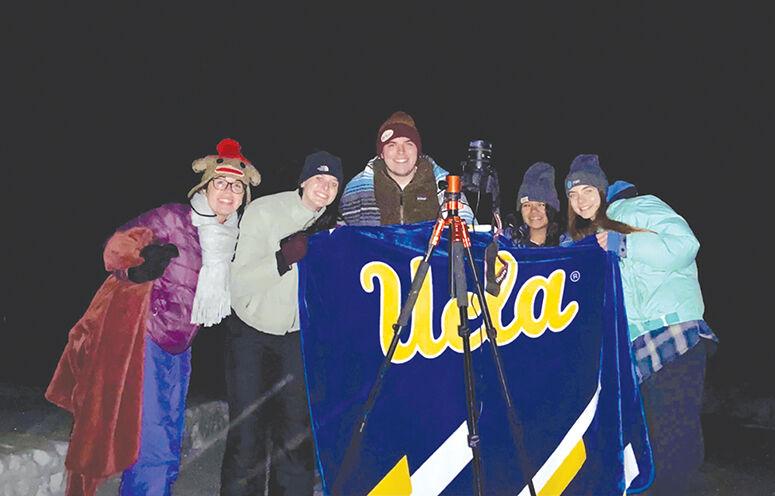 Though "no one is actively trying to leave their lights on," she said, "and of course, no one wants to mess up the sky," not everyone may realize that central Idaho is one of the last remaining buffers against light pollution. (Sun Valley, for instance, requires that holiday lights are shut off by March 15, though many trees remain lit.)
Over the next few months, the UCLA research team will be analyzing light pollution over the past eight years using imagery from the Visible Infrared Imaging Radiometer Suite, or VIIRS, a sensor onboard a satellite operated by the National Oceanic and Atmospheric Association. As student Shawn Fujioka explained, they'll be comparing data from the same months over the years—July 2012 vs. July 2019, for example—and tracking specific light output from the Wood River Valley's cities and unincorporated areas.
Another goal is to model future light pollution growth in the area as a way to guide future regulations, Fujioka said.
Though long days of number-crunching lie ahead, a few areas of concern have already stood out to the team. While the acres within the dark sky reserve are tightly regulated, the Boise and Twin Falls metropolitan areas are not—and given the high pace of growth in those areas, traveling sky glow could slowly stamp out the pristine night views enjoyed in central Idaho. Light output from the Thompson Creek Mine in Custer County has also noticeably grown over the course of just one year, contributing to potential sky glow in the reserve, Fujioka said.
"This is still something that we will be watching," she said, "but overall, everything that's been done­—all the efforts that been put into keeping the skies dark around here—have been paying off."
Passing on the torch
Steve Pauley, a retired ear, nose and throat doctor, has dedicated decades of his life to combating light pollution encroaching on Idaho's night skies. He first realized the importance of an unobscured night sky while sailing over 2,400 miles from Los Angeles to Kauai, Hawaii, using only the stars for navigation—a voyage that permanently linked him to the cosmos, he remembers.
"The stars become your friend after you do something like that. You get emotionally attached to them—I still am," he said. "You start to realize that we are made of stardust, of elements from exploded stars. I believe we have the memory of the universe within us, and we shouldn't lose that connection."
Pauley, who fell in love with the Wood River Valley and Stanley area nearly 50 years ago, hopes to inspire young people to become more active stewards of the night sky.
"After moving here, I quickly saw that we had a problem here, and if we didn't do something about it we'd be in trouble," he said. "Back in the '90s, hardly anybody knew what I was talking about when I'd say 'light pollution.' I was giving flashlight demonstrations in front of the [Ketchum City Council] with my wife to help spread the word," he said.
The journey to international dark sky preserve recognition has been a long one. It all began with Sen. Frank Church's conservation work in the 1960s and '70s, Pauley said, namely his sponsoring of the National Wilderness Act and Wild and Scenic Rivers Act. Then came the designation of the SNRA in August 1972 and the passage of Ketchum's dark sky ordinance in 1999, spearheaded by former city planner Tory Canfield and replicated by Sun Valley and Hailey. (Bellevue and Stanley have not established dark sky ordinances.)
"We protected the land first in order to protect the sky above. Without those things happening we wouldn't be where we are today," he said.
While Stanley has passed a resolution incorporating dark sky lighting standards into the building permit process, it doesn't carry the legal weight of an ordinance, Stanley Mayor Steve Botti told the Express on Thursday. The next step, he said, is to hold a community discussion about incorporating that language into an ordinance.
"Since the Dark Sky Reserve was created, people building new homes have all been very supportive about implementing the lighting guidelines," he said.
The town is planning to install a permanent sky quality meter somewhere in the area, Botti noted, and purchase a sky camera to photograph the sky each night, documenting the trend in sky glow from cities to the south. That data could supplement the UCLA study, slated to be released at the end of the semester on the Central Idaho Dark Sky Reserve website, idahodarksky.org.
"This information is so important to help make informed policy decisions," Ketchum City Councilman Michael David said. "In the future, I want to make sure this is something that city councils, mayors and county commissioners have access to, to continue that pressure."