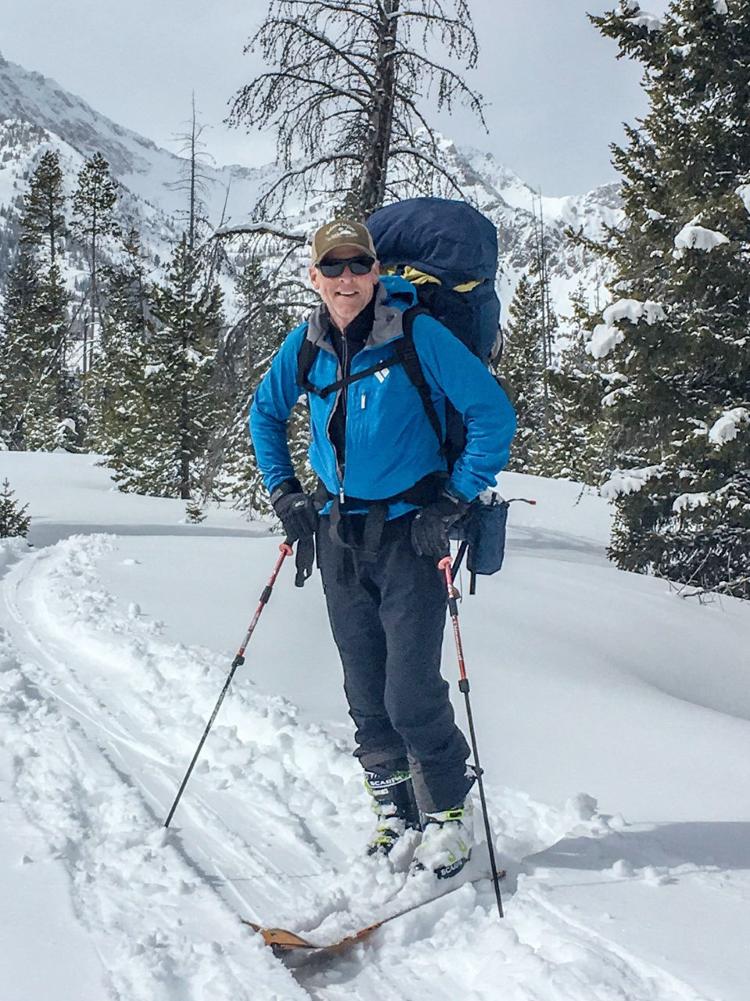 On Feb. 28, after 30 years on the job, Mr. SNRA—Ed Cannady—cleared out his desk, picked up his pack and dove into retirement.
During his tenure as backcountry recreation manager for the Sawtooth National Recreation Area, Cannady laid out the boundaries of the Boulder-White Clouds wilderness areas and brokered a truce between Wood River Valley snowmobilers and backcountry skiers. Former SNRA Deputy Area Ranger Terry Clark, who hired Cannady in 1991, said that as its public affairs spokesman, Cannady was "our voice and image to the community."
"On every [Forest Service] unit, one person is the unit in the eyes of the community," Clark said. "When I left [the SNRA in 1995] and came back in 2002, I discovered that Ed had become that person."
Since he retired, Cannady's been enjoying the area that he watched over so carefully for 30 years.
"One thing I promised myself is that in the first year after I retired, I would not plan anything," he said.
But his life during the past month is probably a good indication of what the future holds—he's spent at least half those days backcountry skiing. This summer, he said, he will take some extended backpacking trips into the "deep wilderness" of British Columbia and Alberta.
---
Wilderness apprenticeship
Cannady's first sustained immersion in the wilderness came at age 19 when he was offered a job as an apprentice hunting and fishing guide at a lodge in the Talkeetna Mountains of interior Alaska.
"I always knew I wanted to be in the mountains," he said. "I got offered the opportunity to work at the lodge, so I leaped at it."
The lodge was 70 air miles from the nearest town, Talkeetna, which he visited twice in three years. Part of Cannady's job was winter caretaker, so a main purpose of those visits was to stock up on canned food to last through the winter, most of which he spent alone.
Even though he and his seven siblings grew up in Oklahoma hunting or growing most of their family's food, he eventually soured on guiding hunters in Alaska.
"The wealthy Europeans left such a bad taste in my mouth," he said. "The lack of respect for the animals—all they wanted was a trophy."
Cannady said he hasn't hunted since.
After some world travel funded by overseas jobs, Cannady enrolled at Boise State University, where he earned a bachelor's degree in history. While there, he worked part-time for the Idaho Conservation League lobbying the Legislature, and spent three summers as wilderness ranger on the SNRA, north of Ketchum.
In 1991, he was hired as full-time backcountry recreation manager. His duties included oversight of winter recreation, outfitters and trails planning, as well as representation of recreational interests for proposed mining projects. One of his most cherished roles was monitoring Chinook salmon spawning redds on the Salmon River.
"I got to spend time with those fish, and to know the places in the river where the fish would be," he said. "That's the most magnificent species on earth, I think. What they go through migrating is utterly beyond human comprehension. When they're swimming back to Idaho, they're swimming against a 900-mile avalanche of water."
The data he collected was sent to the National Oceanic and Atmospheric Administration, to help determine the effectiveness of salmon recovery efforts.
"They're so few that they need optimum spawning conditions," he said.
Through it all, Cannady said, he managed to spend about a third of his time outdoors.
"He's a master of minimizing the time in the office in favor of being in the field," Clark said. "No one knows the ground here more intimately than Ed does."
All that time in the backcountry proved valuable when it came to providing information to decision-makers. When Rep. Mike Simpson, R-Idaho, began doing research for a Boulder-White Clouds wilderness bill, he turned to Cannady to help draw the boundaries. Cannady said he took Simpson out into the mountains eight times.
In a Feb. 26 speech to Congress honoring Cannady on his retirement, Simpson called him "a guide, a teacher and a friend to me and my staff."
"As we were determining wilderness boundaries, roads, trails, creeks, snowmobile areas and helicopter landing and ski areas, Ed was the one person who could always give me the answers I needed," Simpson said. "More importantly, I could always count on Ed to give me both sides of the issue in an impartial manner that was fair to all parties. He also identified potential conflicts for me with boundaries and uses so that we could resolve problems before they were locked into legislation. I can say with confidence that it would have been very difficult to write the bill without his help and expertise. …"
Cannady calls his involvement in that process "one of the proudest moments of my life."
He points to one other thing as a high point in his career—formation of the Wood River Valley Winter Recreation Coalition, a collaboration among the Skiers Alliance, the Sawtooth Snowmobile Club, the Blaine County Recreation District and the Forest Service to eliminate conflicts among recreational user groups. In November 2000, the Forest Service implemented a recommendation from the coalition to divide the northern Wood River Valley into use-specific areas.
"We came up with a plan that still works today," Cannady said.
He attributed that success to the fact that the plan wasn't a top-down directive.
"We're all part of a community, and if we have a problem, let's come together as a community and fix it," he said. "It's important to me that you have a good experience, too."
He said snowmobilers deserve credit for following their end of the bargain—very rarely is a snowmobile caught in a nonmotorized area.
Clark said Cannady was often instrumental in mobilizing public support for Forest Service projects.
"I think that what Ed did was build a lot of bridges with the community," Clark said. "I think more people trusted what we wanted to do than they would have if Ed hadn't been there.
"One of the things I'm most proud of was hiring Ed. He's one of my personal heroes."
---
---
Bethine Church Award
In June 2015, Cannady was one of two winners of the Sawtooth Society's Bethine Church Award. Then-Sawtooth Society President Paul Hill said Cannady "likely knows the backcountry of the Sawtooth NRA better than any other individual and has devoted countless hours protecting, promoting … and helping people understand it."
In a recent interview, Hill said Cannady was chosen primarily for his help on two projects. The first was shepherding the organization's volunteer program through the Forest Service bureaucracy.
"Ed just made the program work the way it was supposed to work," Hill said.
He said more than 600 volunteers helped maintain trails on the SNRA last year.
The second project was creation of information cards to hand out to trail users on how to avoid having to be rescued in the wilderness. Hill said Cannady "took it upon himself to help enormously" with that.
"That was above and beyond," he said. "He goes out of his way to make sure people enjoy the wilderness and are safe in it."
---
Photography
On his trampings throughout the SNRA, Cannady typically carries a camera. The resulting photos, he said, help him in his role as "kind of an evangelist for how remarkable the place is." He's done lots of slide shows, including at The Elephant's Perch in Ketchum, the Redfish Lake Visitor Center and REI in Boise. His photos are for sale at MESH Gallery in Ketchum.
Cannady's photos were included in "Idaho Wilderness Considered," a book published by the Idaho Humanities Council in 2016 with photos and essays by 26 Idahoans. It commemorates the 50th anniversary of the 1964 Wilderness Act and the establishment of three new wilderness areas in Idaho in the summer of 2015. The cover photo—of the front range of the Boulder Mountains—was taken by Cannady on the day that the Boulder-White Clouds were designated as wilderness.
Cannady said he expects to put a lot of time and effort into his photography now that he's retired.
---
---
Environmental issues
Cannady said he also expects to continue to be involved in the effort to protect anadromous fish in the Salmon River system and grizzly bears in the Yellowstone and Glacier park areas.
He has two main worries about the future of the SNRA—its dwindling budget and a trend toward "monster homes" built by newly arrived residents in the Sawtooth Valley.
"Our budget keeps getting strangled," he said. "Maintaining trails, things like that, are just getting more difficult."
The big houses, he said, are defeating the purpose of the SNRA. He calls one mid-valley house under construction near the base of the Sawtooth Mountains "an abomination," and said one owner of a large home told him he just doesn't feel comfortable in less than 10,000 square feet.
"That attitude, I think, is going to be one of the biggest obstacles to maintaining the character of the SNRA," he said.
He said the Forest Service has very limited mechanisms for prohibiting that kind of construction or controlling building designs.
---
Retirement
Cannady said he waited until age 62 to retire partly because of the financial benefits of the Forest Service retirement rules. He said he's got just about enough money to live and travel on—at least to the places he wants to go. He said the North American wilderness holds plenty of exploration opportunities for him, and he has no interest in traveling to exotic, faraway locales.
"I will never ski in Japan," he said, picking one example. "When you're jetting all over the world, you're contributing a lot of carbon to the atmosphere. I will not do that."
He emphasized that he doesn't fault globetrotting friends who disagree.
And, he adds, he's not leaving his home in the Wood River Valley.
"I had a really good career here," he said. "I'm part of the community—I'm not one of those Forest Service personnel who stay here for a while and get a promotion and go somewhere else. I'm not leaving this valley, I know that. I plan to be here and be part of this community for the rest of my life."