A bill passed by the Idaho Senate on Wednesday would allow hunters to kill an unlimited number of wolves using any method, potentially removing more than 90% of the state's wolf population.
The measure passed on a party-line vote of 26-7, with District 26 Sen. Michelle Stennett, D-Ketchum, voting against it.
The bill proposes hiring private contractors to kill wolves, opening year-round wolf trapping on private land and funneling an additional $190,000 to the Idaho Wolf Depredation Control Board. The latter agency within the Governor's Office uses taxpayer dollars, Fish and Game funding and other sources to finance lethal wolf-control operations and compensate ranchers for livestock killed by wolves.
Under the proposed law, "wolves may be disposed of by any federal agency, state agency or private contractor … or agency of another state." Idahoans could also purchase an unlimited amount of wolf tags, which are currently capped at 15 per person.
As written, anyone with approval from the Wolf Control Board, including out-of-staters, could become a private contractor and kill multiple wolves, bill sponsor Sen. Van Burtenshaw, R-Terreton, said during a hearing before the Senate Resources and Environment Committee on Tuesday.
One proposed "core" contractor at the moment is the Foundation for Wildlife Management, an organization based in Ponderay that pays trappers up to $1,000 per wolf killed.
"Let me describe it this way," Burtenshaw said as he read from behind a plexiglass barrier. "We border with several states. Say [people in] Wyoming are having depredation issues, but the wolves are coming back into Idaho. They can apply for a permit to pursue those wolves here."
The new bill would also consolidate wolf tags into a three-in-one format, making them simultaneously valid for hunting, trapping and snaring. It would allow hunters to pursue wolves on motorized vehicles, like ATVs and snowmobiles, in the same way they can pursue coyotes and other animals classified as predators.
---
Bill amplifies withdrawn House proposal
Senate Bill 1211 arrived at the Idaho State Capitol this week on the heels of House Bill 238, a similar piece of legislation presented in late February by former Republican Sen. Jeff Siddoway on behalf of Burtenshaw, who had contracted COVID-19. The House bill—since withdrawn—sought to reduce Idaho's wolf population down to 500 and change wolves' classification from game animals to predators, enabling hunters to pursue them year-round from motorized vehicles.
This week's Senate bill was pieced together by agricultural and sportsmen's groups starting in January, according to Burtenshaw. Those groups continued to refine the bill in mid-March with technical assistance from the Department of Fish and Game, he said, even after the Legislature shut down over COVID-19 concerns.
Wyatt Prescott, executive vice president of the Idaho Cattle Association, said the bill's primary authors—excluding his organization—include the Foundation for Wildlife Management, Idaho Trappers Association, Idaho Wool Growers Association and the Idaho Farm Bureau.
"The good thing about this legislation is all the legislators were out [for the COVID-19 recess]," said Burtenshaw, who is also a farmer, rancher and livestock dealer. "And so the industry went to work and developed this. They used sportsmen, outfitters, guides and trappers, a broad spectrum of people."
Committee reception to the bill fell squarely along party lines Tuesday, with six Republican state senators voting in favor of reporting the legislation and two Democrats—Sens. Ali Rabe, D-Boise, and Michelle Stennett, D-Ketchum—opposed.
Stennett pointed out that going from 1,500 to potentially 150 wolves amounted to a 90% population decrease.
"There's nobody in this group that wants to wipe out the wolves completely," Burtenshaw responded. "We want them to be not wiped out—that's not our plan here—but to be managed to a level that we can deal with the issues that are ahead of us, and that is depredation."
Rabe asked him if the stakeholders behind the bill had consulted with the Fish and Wildlife Service in their negotiations. He said they hadn't.
"I just wanted to make sure that vital partners were included in [earlier] discussions to give feedback on fiscal or legal impacts of this bill," Rabe said.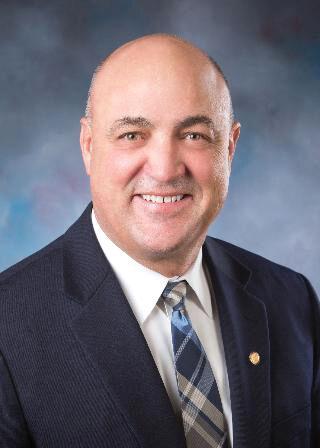 Both Stennett and Rabe said they felt the bill was sprung on them with little notice.
"This feels rushed to me. We've been here for 100 days so far," Rabe said.
"This has come to us awfully late," Stennett said.
---
Legislators hope to achieve minimum population
In 2002, seven years after gray wolves were reintroduced in central Idaho, the Legislature established a wolf management plan with a baseline of 15 packs to avoid having wolf management returned to the U.S. Fish and Wildlife Service. Wolves in Idaho have been overseen by the state Department of Fish and Game since 2011.
About 1,560 gray wolves currently roam Idaho, according to Fish and Game's most recent game camera survey. Burtenshaw said Senate Bill 1211 intends to cut that population to the state's 15-pack management goal. According to Fish and Game, the average pack size in Idaho is 6.4 wolves—meaning the wolf population could potentially be whittled down to just 96.
"All we took care of was maybe the pup crop from the year past," he said, referring to the 500 wolves killed in Idaho in 2019 and 2020.
Of those who testified before the committee Tuesday, several said livestock producers can't afford to lose more cattle and sheep to wolves. Prescott, who described wolf depredations on cattle as "incredibly emotional," said contracting with private individuals to kill wolves would significantly cut costs. More importantly, he said, hiring contractors would "enable the free-market system to take place," as right now only Fish and Game and the federal Wildlife Services are currently allowed to conduct large-scale wolf control operations.
Stennett asked Prescott if "any other wildlife is held to a free market standard."
"I'm not sure what your question implies," Prescott said. "We're hoping that there are contractors out there that can remove those wolves in a more efficient manner than the heavy burdensome layers of government bureaucracy."
When asked by Stennett if the bill would explicitly prohibit any wolf-killing methods, Burtenshaw said "all methods of take" would be valid. Those include "all methods utilized by the U.S. Fish and Wildlife Service and U.S. Department of Agriculture" and "any method utilized for the take of wild canines in Idaho," he said. Trapping rules would still apply on public land, he added.
Other bill-backers said wolves have decimated elk herds in Idaho, reducing the number available to hunters.
According to Fish and Game data, however, Idaho's 2020 elk harvest went into the books as the sixth highest of all time and the second highest in the past decade.
"We have more elk than we know what to do with in some areas and have not been shy about dispatching herds because of depredation [on hay fields]," Stennett countered. "And yet, somehow we have too many wolves? I'm just trying to figure out what problem we're dealing with here."
After being passed by the Senate, the bill was introduced in the House Resources and Conservation Committee on Thursday. A hearing there had not concluded by the Idaho Mountain Express press deadline Thursday afternoon.