Relying on a mix of plant ecology, carefully calculated ranch economics and an understanding of animal behavior, a Pahsimeroi Valley rancher has created a way to regenerate degraded rangeland while producing profitable cattle.
Alderspring Ranch is a certified organic grass-fed beef operation near the tiny town of May that sells via the internet and through some grocery stores, including Atkinsons' Markets. According to the ranch's website, the operation is one of the largest certified organic ranches in the U.S. Its operations include the Hat Creek allotment—46,000 acres of publicly owned rangeland managed by the BLM and the Salmon-Challis National Forest in the Salmon River Mountains.
Since 2005, the ranch has been owned by Glenn and Caryl Elzinga.
In a presentation hosted by The Nature Conservancy at The Community Library in Ketchum on May 2, as well as in an interview, Glenn Elzinga described the couple's frustration in being unable to promote regeneration of riparian areas and aspen stands while grazing their 350-400 head of cattle on the range. A former forest ecologist with the BLM, Glenn Elzinga said the couple spent long days in the saddle, driving cows away from environmentally sensitive areas, but when they returned the next day, the animals were back where they had started.
 Elzinga said he thought about how cattle were run in the old days on the open range. At that time, cattle were herded to good grass by cowboys who slept out on the range.
"In [painter] Charlie Russell's day, they were living with their cattle and staying with them," Elzinga said. "But that one little invention changed everything."
The invention was barbed wire. Since range allotments have been surrounded by fences, ranchers have typically turned their cattle out in the spring, let them roam wherever they want within that area, then gathered them in the fall as snow drove them down from the high country.
"Cows were behaving badly on their own, because there was nobody there," Elzinga said.
He said that more recently, livestock operators have moved to a "keeping out" management style, barring cattle from sensitive habitats such as riparian areas, primarily through fencing.
Elzinga said that since he started to become aware of stream conditions in various grazing allotments, he has noted that degradation increases the farther a section of stream is from a road—where building fences is more expensive and controlling cattle is more difficult.         In addition, he said that when cattle are just fenced out of the creeks, they cluster along an approximately quarter-mile-wide band on the hillsides right above them, denuding those areas and missing good forage higher up.
"Cattle like diversity [of forage], but they don't always know where it is," he said.
In addition to their lack of success in restoring streams, the Elzingas were losing cows to wolf depredation. They could hear wolves at night but had no control over the situation.
Glenn consulted sheep rancher Brian Bean, co-owner of Blaine County-based Lava Lake Land & Livestock and co-founder of the Lava Lake Institute for Science and Conservation, which administers the Wood River Wolf Project, a program that seeks to manage wolf-livestock conflicts without killing wolves. Part of the program is keeping herders with the sheep at all times, using lights and noisemakers to scare wolves off at night.
 Elzinga also came upon a book titled "The Art and Science of Sheepherding," about intensive herding techniques being used in the crowded mountains of Europe.
Based on their ideas, the Elzingas came up with a concept they call "inherding"—"intensive, intentional herding," Glenn said. "It's living with your cattle 24/7."
With financial support from The Nature Conservancy to hire a few cowboys, the Elzingas put the concept into practice with a pilot project beginning in 2015.
"Livestock were bedded at night using electric fencing with herders remaining camped nearby. During the day, cattle were herded in a single group to upland areas that have historically received very little grazing use. Sensitive habitats were completely avoided," the ranch states on its website.
Glenn Elzinga said the results are encouraging.
Before 2015, he said, about 70 percent of the allotment's 55 miles of stream showed signs of degradation by cattle; now, less than 1 percent does.
"We've seen creeks that would stop running in August and go underground, and now they're running," he said.
 He said beavers have returned and wolf depredation, previously affecting 4-8 percent of his cattle each year, has dropped to zero.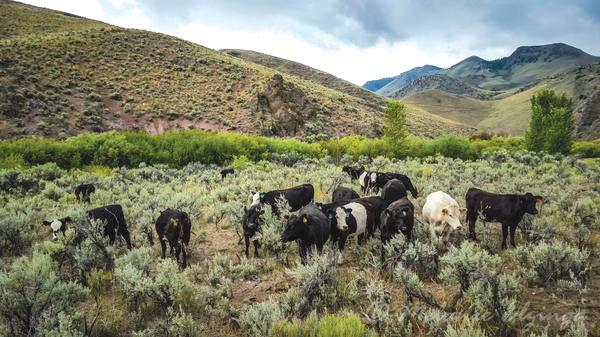 Mark Davidson, director of conservation initiatives for the Idaho office of The Nature Conservancy, said the organization wants to invest in projects that "go from the conventional approach to something that makes a difference for regenerative landscapes."
"I think it's something that could be really transformative," he said of the Alderspring Ranch approach.
Equally important to the ranching business, the Alderspring cows are fatter and healthier, and, Elzinga said, their meat tastes better, due to the more varied and nutritious forage they're being led to. He said that pre-2015, the ranch's cows were putting on about a pound per day; now, they're gaining an average of 1.4 pounds. They're fattened naturally without being sent to a feedlot.
"I think we can get it higher," he said.
Elzinga said it took some time for him and his herders to learn how to not only drive cattle to good grazing spots, but to get them to stay and eat. He said the animals need to feel secure to begin grazing, and they're very sensitive to signs that predators may be lurking nearby, such as the movements of their human handlers or their horses.
"There are really subtle cues that you start learning about," he said. "The traditional cow men have never learned that."
Elzinga said the difference in objectives between traditional herding and "inherding" is "making cattle do what you need them to do versus asking them to want to do what you need them to do."
"When you ask, there's no pressure, and they're comfortable with that," he said.
Elzinga acknowledged that more intensive herding costs money. However, he pointed out that the techniques he's now using have provided substantial savings: $18,000 each year due to fatter cattle, $21,600 per year due to no wolf depredation and $5,000 each year due to avoiding poisonous larkspur.
He said he calculated that he needs to run at least 439 cattle on his allotment to make the more intensive herding pay off relative to grazing on private land. He said that number would vary for different producers, depending on the kind of terrain they're operating in.
Elzinga said he's aware of the argument that if we really want to improve range ecology, the best way is to ban public-lands grazing. He counters that argument with several points:
One, if cattle weren't on the public lands, they'd be on private land in the valleys, which are more vulnerable to grazing impacts.
Two, it's important to maintain economically viable ranches as open space for wildlife habitat.
"We can say, 'Let's get rid of the ranches.' But do we really want to subdivide them?" he asks.
Three, "inherding" has the potential for targeted grazing to create proactive fire lines to protect certain areas from wildfires.
"The Swiss and French are doing this stuff right now," he said.
Four, rangeland can provide nutrient-dense protein, and unlike farming, undergoes little change to the environment if it's grazed properly.
Elzinga said he'd like to make the techniques he's been using transferable to anybody, though he noted that putting them into practice requires training in herding and plant ecology. He said the University of Idaho has expressed interest in learning more about it.
"We believe that this approach has the potential to be a game changer for livestock grazing in the Western states," Alderspring Ranch states on its website. "It is an approach that can break through the stalemate that defines the current conflicts between the various stakeholders of public lands management and provide a new tool for management of extensive privately-held rangelands."