Two separate attacks by mountain lions over the weekend resulted in the death of a dog and the loss of an eye by another.
The first attack occurred Saturday evening. Mike Cullen, a resident of the Meadowbrook condominiums at the corner of Bird Drive and Wood River Drive in southwest Ketchum, said he had just returned from the Sun Valley tree-lighting ceremony and let his 2-year-old miniature Australian shepherd, Riley, out onto his rear deck at about 7:30 p.m. Cullen said he then walked into his kitchen.
"It happened so fast you wouldn't believe it," he said. "All of a sudden I hear him screaming. I thought, 'Wow, it's a dog fight!' I ran outside screaming."
Cullen said he saw Riley being dragged away just about 10 feet from the deck. But the animal grabbing him dropped him when it saw Cullen.
"I looked under a tree and I saw this thing that in two leaps ran through the snow onto Bird Drive. Then I saw it run down the street and I thought, 'That's not a dog, it's a lion!'"
Cullen said Riley came into the condo with his eye hanging out and puncture wounds on his head. Cullen said he immediately took him to the Sun Valley Animal Center south of Ketchum, where a veterinarian removed the eye. Cullen said a puncture wound in Riley's skull had narrowly missed his brain.
"[The vet] told me I was very lucky to have this dog," Cullen said.
He said a Fish and Game officer stopped by Monday and confirmed from the tracks in the snow that it had been a mountain lion in the yard.
Cullen said he picked Riley up from the vet on Monday afternoon. On Tuesday, he said Riley did not appear traumatized and was following him around normally and was able to jump into his truck.
"He's doing everything that a dog does," Cullen said. "He went out where the attack took place and was just looking around. He's a good damn dog and I'm lucky I have that boy."
On Sunday evening, an 8-year-old, nearly 100-pound pudelpointer was killed by a lion in a yard on Canyon Drive, off Gimlet Road south of Ketchum.
Erin Harmon, one of the dog's owners, said she let Blitz out at about 8 p.m. into their yard, which is surrounded by a 6-foot aluminum fence. When Blitz didn't come back when he was called, Harmon said, she and her husband went to look for him.
"We saw the broken fence and quite a bit of blood and immediately knew what happened," she said.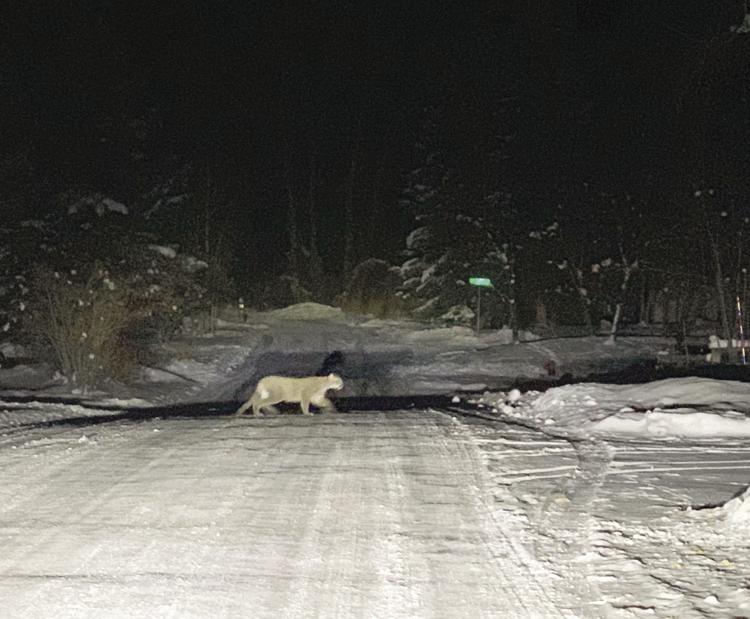 They found Blitz dead and bloody in a corner of the yard, where the lion had dragged him. His neck had been broken.
"I'm not sure Blitz knew what hit him," she said.
Harmon said she and her husband knew that a mountain lion could get into the yard if it wanted to, but they hoped the fence would be a deterrent. She said they will have to be even more careful in the future.
"We have two young kids," Harmon said. "I'm glad it wasn't my 5-year-old."
The department reported that it will set a trap out to capture the cougar on the property where the incident occurred.
"Once a lion gets a food reward from a kill, they will often return to the site," Regional Conservation Officer Josh Royse said.
The department stated in a media release that once it is caught, the lion will be killed to protect the public and pets.
It also stated that at this time, no action will be taken to capture the lion involved in the west Ketchum attack.
"Mountain lions typically prey on deer and elk, as well as small animals such as rabbits and hares," the department stated. "The Wood River Valley has many resident deer and elk living in close proximity to neighborhoods, which increases the chances of mountain lions coming into local neighborhoods in search of food. Lions are opportunistic predators, meaning they may prey on whatever they encounter, which can include pets."
Cullen said he has lived in the area a long time and has seen bears here but never a mountain lion. He said rabbits have been living under buildings around his condo and that could be what drew the cougar.
The Department of Fish and Game cautioned residents to not leave their pets outdoors unattended and to be aware of potential encounters with wildlife, especially mountain lions, during evenings or early in the morning. It also urged people to not feed pets outside. Pet food or their dishes left outside can also attract other small wild animals, which can bring more prey into a neighborhood for lions to pursue.
According to Fish and Game, anyone who encounters a mountain lion should follow these guidelines:
Stay calm. Either hold your ground or back away slowly. Do not turn your back on the lion.


Do not run. Running may stimulate the lion's instinct to chase.


Do not approach a lion, especially one that is feeding or has kittens.


Never crouch down or bend over. Make yourself appear as big as possible. Aggressively wave your arms.


Make loud sounds that do not sound like those made by prey.


If attacked, fight back. It's critical to protect your neck and throat.