For 20-year Ketchum Fire Department veteran Seth Martin, the first few days on scene at the LNU Lightning Complex Fire in California felt apocalyptic.
"The fire behavior was about as intense and erratic as it gets," Martin recalled on Monday through radio fuzz. "Those first few days we lost upwards of 1,000 homes."
After arriving in California wine country two weeks ago, Martin—an experienced wildfire task force leader—wasn't just focused on saving homes, restaurants and wineries. It was the residents who hadn't yet evacuated that concerned him the most, he said.
On Aug. 19, the LNU complex west of Sacramento was estimated at around 12,000 acres. The following day, multiple fires had fused together and the entire complex had grown by 90,000 acres. It was during that period of exponential growth that Martin's task force—made up of five engines from Oregon and Alaska—encountered a handful of residents who hadn't heeded mandatory evacuation orders.
"We had one guy who had refused to evacuate, and then a family of four that just didn't realize that the fire was coming their way so quickly," he said. "The main fire front [leading edge] of the wildfire was right in front of us at that point."
By the time Martin's team persuaded the family to leave, they had less than a minute and a half to get out.
"As they pulled out of their driveway, where they'd been a minute ago was completely engulfed in flame," Martin said. "All four would have perished."
As for the other resident, "you can't make somebody leave," Martin said, "but we stayed at his house as long as we could until we got pushed out by fire front."
When the crew returned after the fire front blew by, they found part of the man's home up in flames and quickly worked to save both the structure and his life.
"He came out soon after that, so we knew he was OK," Martin said.
As of Tuesday, the LNU Complex Fire had killed at least five people and scorched over 370,000 acres, making it California's third-largest wildfire in history. Fortunately, the fire is over two-thirds contained now, said Martin, who plans to return to the Wood River Valley on Thursday.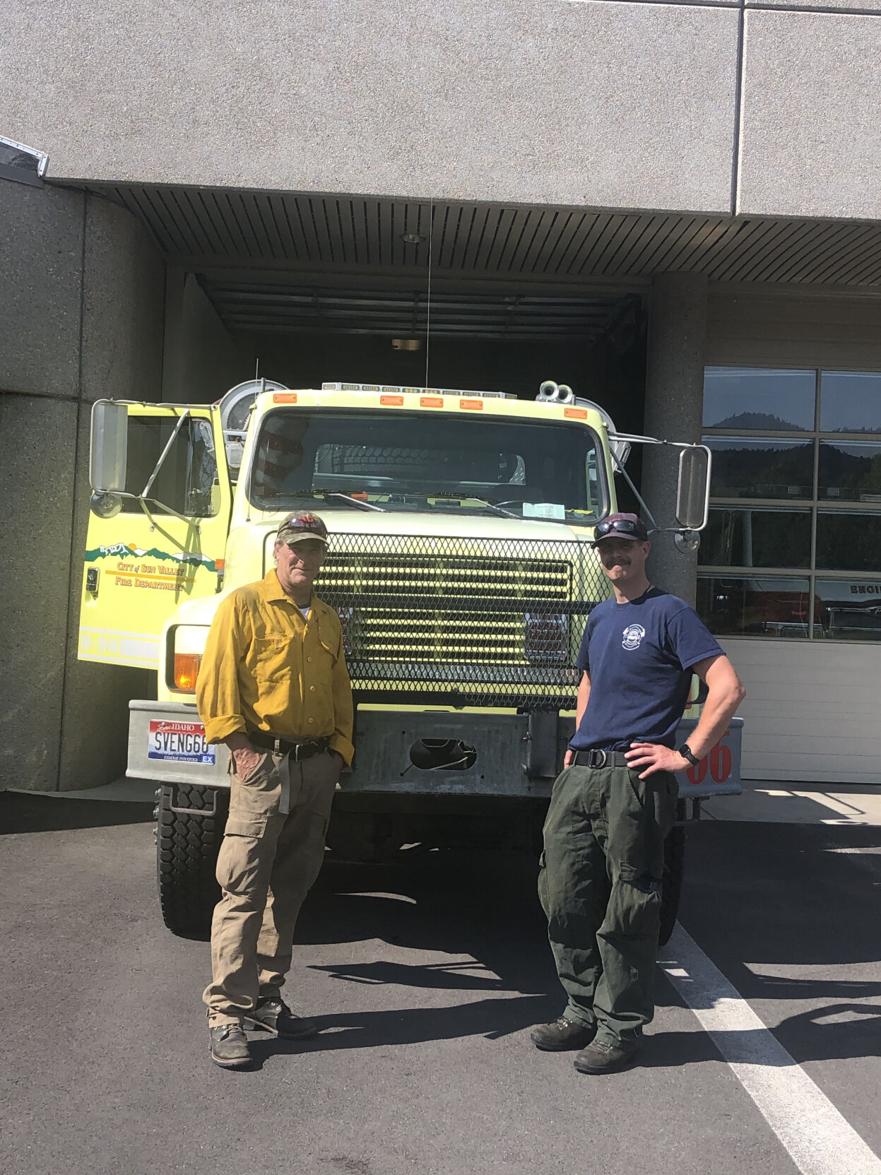 Martin added that without the support of the city of Ketchum, he wouldn't be able to fight out-of-state wildfires as a single resource.
"Thanks to the city, I'm allowed to make arrangements to hit the road, drive to an incident and continue to work full time with full coverage," he said. "It's gracious of [the city] to allow that, so firefighters can gain experience with different fuel types and command structures and bring back that knowledge to better protect our own community."
Sun Valley Fire Chief Taan Robrahn said four of his firefighters have worked or are working to contain wildfires across the western U.S. in California, Utah and Colorado.
Sun Valley Capt. Reid Black and Engineer Chris Seldon recently returned from a two-week deployment after fighting the Pine Hollow Fire in southern Utah and the North Complex and Loyalton fires in California's Sierra Nevada region, Robrahn told the Express. The pair took out the department's Type 4 brush engine and were initially assigned to create breaks in vegetation, he said.
"The last few days, they were actively engaged in fire attack," he said.
Currently, Sun Valley firefighters Mike Curry and Brian Tierney are deployed on the Cameron Peak Fire in northern Colorado with the department's Type 6, or pickup-style, brush engine, Robrahn said. The 23,000-acre fire has been difficult to contain due to dry, breezy conditions, according to the National Wildfire Coordinating Group's incident website.