The Forest Service closed a slew of popular recreation sites around Alturas Lake on Wednesday to aid firefighters working on the 380-acre Jakes Gulch fire burning near the lake in Blaine County.
The fire, believed to be human caused, sparked Sunday afternoon about 3 miles southwest of Alturas Lake in the Sawtooth National Recreation Area. It added around 60 acres to its southwest boundary on Tuesday and Wednesday and was backing towards the Alturas Lake Creek Trail on Wednesday, prompting crews to remove vegetation from the trail, BLM Fire Information Officer Ryan Berlin said.
Around 1 p.m. Thursday, the Jakes Gulch fire was 10% contained and expanding to the southwest, moving away from Alturas Lake and toward the North Fork of Ross Fork, he said.
Wednesday's order signed by Forest Supervisor Jim DeMaagd closed all public access to Alturas Lake, Perkins Lake and surrounding campsites and trails until Oct. 30.
The closure area includes North Shore, Smokey Bear and Alturas Tent Campgrounds; Camp Smokey Lodge, Camp Perkins and Luther Heights Bible Camp; the Cabin Creek, Alpine Creek, Alturas Lake Creek and Johnson Creek Trails; Leah Lake, Logjam Lake and Jim's Lake; and about six miles of the Idaho Centennial Trail.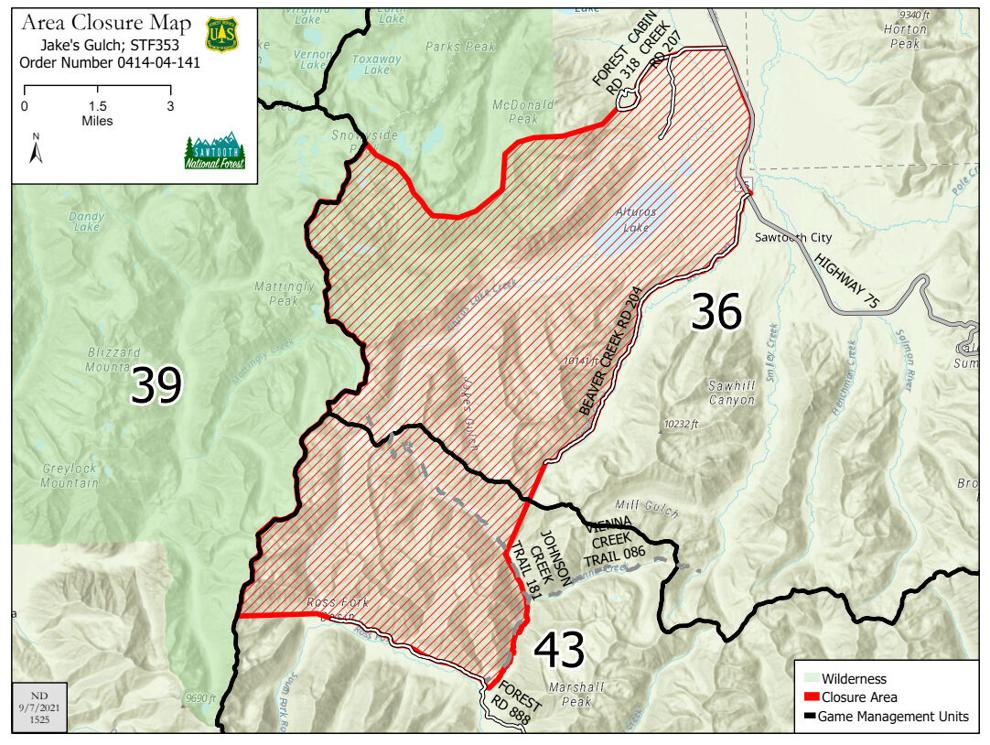 Heavy dead and down fuels have been feeding the blaze, which continues to consume lodgepole pine, subalpine fir and Douglas fir stands in steep and mostly inaccessible terrain, Berlin said. Seventy wildland firefighters were directed to the fire on Tuesday; by Thursday, 135 fire personnel and five helicopters were on the scene.
Berlin said a smoke inversion on Tuesday proved helpful to firefighters, trapping cooler air in the area and "holding the fire in place." Activity was minimal on Wednesday, he said, but the fire had increased its margins on Thursday due to stronger wind gusts from the southwest, above-normal temperatures and "near-Red-Flag" conditions with very low relative humidity, he said.
"It's a bit more active than yesterday and is putting out more smoke. The winds are picking up and it's hotter and dryer, as predicted," Berlin said Thursday. "We're just hoping that weather comes in cooler tomorrow, which will help us out."
Hikers and campers near Alturas Lake were asked to pack up and evacuate from the area on Monday and Tuesday. On Thursday, the Idaho Department of Fish and Game and the Forest Service asked elk and antelope bow hunters to stay out of the area.
"For public and firefighter safety, please adhere to all closures and restrictions," the Forest Service stated Thursday.
Full containment of the Jakes Gulch Fire is expected by Sept. 20. A virtual community briefing on the fire is scheduled for 4 p.m. today, Sept. 10; to RSVP, contact d50harve@blm.gov.