If budgets permit, the U.S. Forest Service will undertake an aggressive campaign to control noxious weeds on the Sawtooth National Forest, greatly increasing the acreage now being treated.
The effort would primarily involve ground-based and aerial spraying of herbicides, along with some biological control agents and manual clearing of infested areas. The herbicides planned for use include some that have become controversial due to having damaged croplands or allegedly caused cancer.
In a decision issued March 14, Sawtooth National Forest Supervisor Jim DeMaagd chose a plan of expanded "integrated weed management" over continuing the current limited effort or implementing a plan without the use of herbicides.
The decision is part of a plan to treat invasive plants on both the Sawtooth and Boise national forests, including within the Sawtooth, Hemingway-Boulders and Cecil D. Andrus-White Clouds wilderness areas, though not in the Frank Church-River of No Return Wilderness.
Michael Haney, Sawtooth National Forest environmental coordinator and project team leader, said the last analysis for noxious weed treatment on the forest was written in 1989, though it has been updated on several occasions since then.
"This incorporates additional [herbicide] chemicals and adds emerging concerns, like aquatic plants," Haney said.
The record of decision notes that noxious weeds infest about 64,000 acres on the Sawtooth National Forest, including more than 26,000 acres on the Sawtooth National Recreation Area and 2,286 acres on the Ketchum Ranger District.
"Invasive plants and noxious weeds have been identified as a major threat to the biological diversity and ecological integrity within and outside the [Sawtooth National Forest]," the decision states.
Adverse environmental effects include displacing native plants and reducing habitat for wildlife and forage for livestock.
"A weak or inadequate invasive and noxious plant control response will fail with severe consequences," the decision warns.
Under current management, weed treatments on the forest between 2011 and 2015 averaged about 8,500 acres per year. The decision notes that the current level of treatment is much less than the extent of infestations.
"New invaders would continue to establish populations on the [Sawtooth National Forest] and likely increase in size unless a more aggressive noxious weed management program is developed and implemented," the decision states.
Under the new plan, treatment would increase to as much as 40,000 acres annually—up to 20,000 acres outside of areas burned by wildfire and an additional 20,000 acres that have recently burned.
"The forest has experienced large, uncharacteristic wildfires over the last decade, leaving thousands of acres at very high risk for infestation by invasive plants," the decision states.
Haney said the forest now spends between $150,000 and $200,000 per year on containing invasive plants. He said the Forest Service can only speculate on how much additional money will be provided to implement the new weed treatment plan.
"It's based on appropriations from Congress," he said. "It can vary from year to year, so it's hard to guess what we'll get."
Haney said the 40,000-acre maximum was set for the purpose of evaluating potential environmental effects.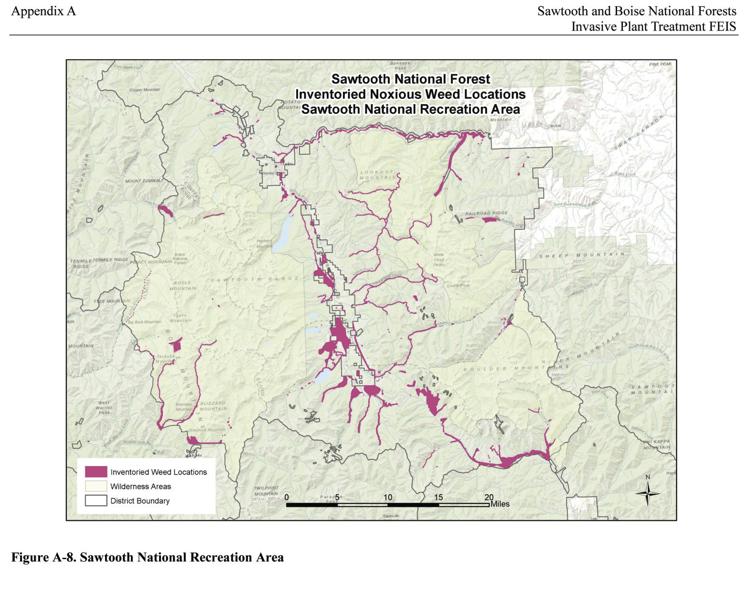 Blaine County Weed Superintendent John Cenarrusa said the presence of noxious weeds on public lands "definitely impacts the people and the properties in Blaine County. Some of our largest infestations of noxious weeds are on federal ground."
Though he did not endorse any particular strategy, Cenarrusa noted that "these plants are going to move, whether it's with wind or livestock or wildlife or just people moving, so it's important that they get in and fight it."
An environmental impact statement issued last month in conjunction with the record of decision states that while treatments would be prioritized for noxious weeds, sites may be treated for other invasive plants like cheatgrass.
Under the new plan, the emphasis is on using herbicides. The Forest Service would treat up to 8,000 acres annually with aerial spraying, up to 8,000 acres with ground-applied herbicides and up to 2,000 acres each with biological and manual treatments.
The record of decision notes that the forest does not currently have approval for aerial application of herbicides or treatment of aquatic invasive plant species.
Under the newly approved plan, aerial application would be done using helicopters where ground application is impractical due to topography, restricted access, personnel safety or other factors. Aerial spraying would not be done in wilderness areas.
"For several noxious weeds found on the [Boise National Forest] and [Sawtooth National Forest], no effective mechanical and/or biological controls are available," the EIS states. "Other areas have extensive infestations where mechanical treatment is not physically possible. The cost of mechanical treatments, such as hand-pulling or mowing, would be prohibitively expensive, and not enough acres could be treated to address the Purpose and Need. A 'No Herbicide' Alternative does not comply with the Agency's Integrated Pest Management direction and is not consistent with regulations that noxious weeds be managed on [national forest system] lands."
The record of decision contains five pages of guidelines and restrictions for herbicide application. Those include:
Use treatment methods that minimize potential exposure to the public within areas of special concern, such as developed recreation, trailheads, campsites and other high human-use areas.


No spraying will occur if precipitation is occurring or is imminent (within 24 hours of application).


Use a spray pattern that avoids applying herbicide to nontarget species.
Despite the guidelines, use of certain herbicides has prompted some concern. The list of 13 herbicides planned for use on the forest includes:
Glyphosate (Roundup), which faces allegations of causing non-Hodgins lymphoma in people who applied it. Two lawsuits in California against product manufacturer Monsanto—the most recent decided on March 27—resulted in $80 million damage awards to each of the two plaintiffs. The jury verdicts came despite a draft human health risk assessment issued by the Environmental Protection Agency in December 2017 that said glyphosate was most likely not carcinogenic to humans. Bayer, which bought Monsanto last year, is appealing both verdicts, saying multiple studies have shown no link between Roundup and cancer. According to Bloomberg News, the company faces more than 11,000 similar lawsuits across the U.S.


Sulfometuron methyl (Oust), whose use was discontinued by the BLM after the chemical allegedly damaged more than 100,000 acres of crops in southern Idaho in 1999 and 2000 when it was sprayed on adjacent public land to kill cheatgrass.


Dicamba, which has also been blamed for destroying crops. According to a Nov. 13 online story by The Center for Investigative Reporting, recent EPA approval of the chemical's use ignored extensive research that showed dicamba can evaporate into the air and ruin crops miles away. The approval was based on studies by the companies that manufacture dicamba, which independent scientists said were seriously flawed, the story stated.
"The forest should be banning dicamba and many of these other chemicals across all USFS lands—not releasing an EIS to drastically increase their use," said Katie Fite, public lands director for Hailey-based conservation group Wildlands Defense.
The Forest Service's EIS states that the general public would not be exposed to harmful levels of any herbicides.
"Few plausible scenarios exist that exceed even the most conservative threshold of concern for public health and safety," the EIS states.
The record of decision states that the analyses included "numerous toxicology reviews for oral, dermal, inhalation, and eye contact, for both acute and chronic toxicity, for all the proposed chemicals[,] and concluded only minimal risk providing the necessary label precautions are followed."
The decision also states that only "minimal adverse effects" from herbicide use are expected on wildlife and sensitive plant species.
Haney said the Forest Service doesn't carry out risk assessments for the chemicals itself but uses "neutral third-party sources."
Fite said those technical reports should be posted on the Sawtooth National Forest website so the public can review them.
According to the record of decision, neither Roundup or dicamba would be applied by aerial spraying.
The EIS states that the public will be notified whenever herbicides are used.
"When you get to a trailhead, it would be clearly marked," Haney said.
He said the herbicides used in areas frequented by the public have short residual lifespans.
In addition to her concerns about herbicides, Fite contended that the spread of noxious weeds will not be adequately curtailed until the Forest Service more strictly regulates livestock grazing.
"They refused to analyze and take steps to control livestock spread of weeds," she said. "Cows and sheep spread weeds through mud on hooves, seeds lodged in hair or wool, and in their guts—depositing seeds in manure. Plus, they weaken native vegetation and trample and churn soils, creating ideal sites for weeds to take root."
The EIS briefly addressed a potential project alternative that would concentrate on preventing conditions that favor invasive vegetation. It stated that that alternative was not analyzed in detail because making changes to permitted activities goes beyond a program to treat noxious weeds and is therefore "outside the scope of this analysis."
Ketchum District Ranger Kurt Nelson acknowledged that livestock grazing does play a role in the spread of noxious weeds, but said there's "a whole host of factors" involved—including people hiking, driving and mountain biking. He said he's not aware of any analysis done to determine the relative contribution of livestock grazing.
Release of the record of decision last month triggered a 45-day objection period, open to entities that have already submitted comments during the project's planning phase. The objection period will end April 29. If any objections are filed, the Forest Service then has 45 days to meet with objectors and try to resolve issues. The project can be put into effect following completion of that phase.
Fite said her organization, Wildlands Defense, plans to file an objection.