With the help of nearly two dozen volunteers, a 50-foot seine net, 5-gallon buckets and electrofishing equipment, the local Trout Unlimited chapter joined Fish and Game employees on Friday morning in an effort to save thousands of fish stranded in dry sections of the Big Wood River.
By afternoon, the group had relocated over 17,000 rainbow and brown trout from dry pools below the Diversion 45 canal in Bellevue to deeper pools above the diversion. Smaller species, like sculpin and suckers, were also counted.
"We had a number of simultaneous rescues occurring at different locations using different techniques of electroshocking, seine netting and dip netting fish into buckets," said Ed Northen, member of the Hemingway chapter of Trout Unlimited.
Four Fish and Game employees electro-shocked, or temporarily stunned, about 5,000 trout before relocating them upstream. Meanwhile, volunteers from Trout Unlimited and the Wood River Land Trust seine-netted and dip-netted 12,000 trout, transferring them into buckets and pouring out the buckets north of the diversion dam.
The multi-hour rescue was one of many operations that Trout Unlimited has led this year. Prior to the weekend, the organization had netted and relocated 15,942 fish from critically low points along the Big Wood and from irrigation canals this summer, according to Northen. He expects Trout Unlimited to conduct two more rescues later this fall once the south-valley diversion canals shut down.
Last year, Trout Unlimited saved and relocated 14,001 fish, Northen said.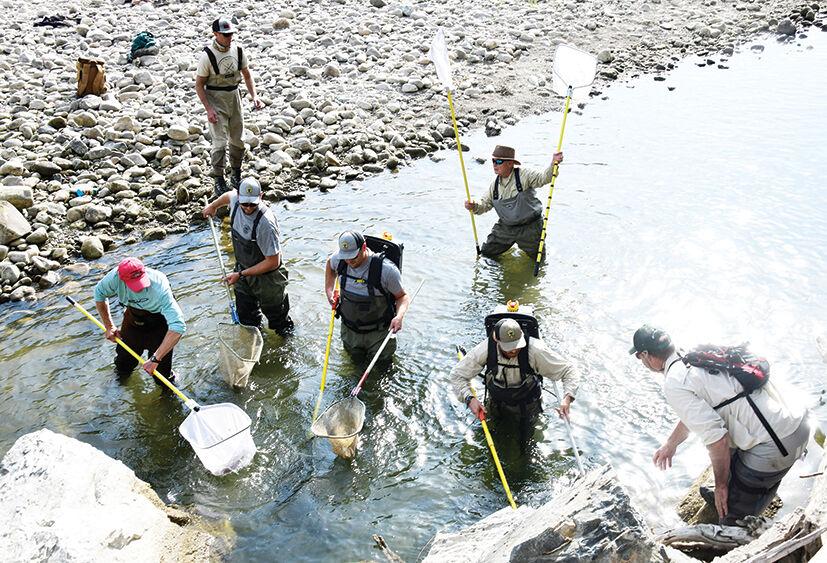 Many trout below the diversion haven't been so lucky this summer. Fish and Game expects scores to perish in the weeks ahead due to this year's low flows and warm river temperatures brought on by exceptional drought conditions in Blaine County. Some will be snatched by pelicans, herons and other waterbirds that have descended upon the area to stake out claims.
On Saturday, Fish and Game lifted bag and possession limits from the Diversion 45 canal to the Glendale Road bridge until the end of the month. Fish can be taken by any method, except by firearms, chemicals or electric current.
"With drought conditions continuing, flows … have continued to rapidly decline, putting both irrigators and fish at risk," the department stated. "Magic Valley Regional Fisheries staff will continue monitoring water conditions and fish population impacts on the Big Wood River."
Fish 'census' to begin this week
Starting today, Idaho Fish and Game staff will begin the department's triennial fish population survey on the Big Wood River. Three sections of the river will be surveyed: the upper reach north of Ketchum on Sept. 15 and 22, the Gimlet reach on Sept. 16 and 23 and the Hailey reach on Sept. 17 and 24.
"If you see fisheries crews sampling and operating electrofishing equipment, please stay out of the water for your safety and the safety of the crew," Fish and Game stated.
Population data and length, weight and growth measurements taken by the crews this week and next week will allow biologists to assess the overall health of the fishery and may prompt the reevaluation of bag and possession limits.
Additional reporting by Tony Evans.