The Idaho Legislature passed a bill on Tuesday that—if approved by Gov. Brad Little—will allow hunters and private contractors to kill an unlimited number of wolves using any method they choose, potentially removing more than 90% of the state's wolf population.
Senate Bill 1211 passed 58-11 on a mostly party-line vote one week after Sen. Van Burtenshaw, R-Terreton, introduced the legislation in a senate committee, and six days after it cleared the Senate. District 26 Rep. Sally Toone, D-Gooding, was the only Democrat vote in favor of the bill.
The proposed law, formulated by agricultural and trapping groups starting earlier this year, would allow the state to hire private contractors from within or outside of Idaho to kill wolves, open year-round wolf trapping on private land and funnel an additional $190,000 to the Idaho Wolf Depredation Control Board—an agency that uses taxpayer dollars, Fish and Game funding and other sources to finance lethal wolf-control operations and compensate ranchers for livestock killed by wolves.
"I represent our cattlemen, our woolgrowers and outfitters—this bill has been crafted by them," Burtenshaw said during the bill's first reading last week. "This is legislation put together by that industry, for that industry. There were no legislators invited to those meetings."
As written, anyone with approval from the wolf control board, including out-of-staters, could become a private contractor and kill multiple wolves. One proposed "core" contractor is the Ponderay-based Foundation for Wildlife Management, an organization that pays trappers up to $1,000 per wolf killed.
District 35's Burtenshaw, an east Idaho farmer, rancher and livestock dealer, said last Thursday that one goal was to allow hunters to pursue wolves on "ATVs, UTVs, and snowmobiles" in the same way that they can pursue coyotes. Wolf hunters could also use night vision equipment and spotlights as aids, he said.
The problem, according to Burtenshaw, is that ranchers have lost too much money due to wolf depredation on sheep and cattle.
"Depredation hurts," he said. "We need help [from trappers and hunters], more tools in there to help."
Under the newly passed bill, "wolves may be disposed of by any federal agency, state agency or private contractor … or agency of another state." Idahoans would also be able to purchase an unlimited amount of wolf tags—currently capped at 15 per person—and tags would be consolidated into a three-in-one format, making them simultaneously valid for hunting, trapping and snaring.
"SB 1211 is not a perfect bill, but the legislation starts the conversation for balanced wildlife management," Toone wrote in a Thursday email to the Express. "Our state agencies, wildlife associations, and industry must work toward a solution for all of Idaho."
---
Support, opposition strong
After gray wolves were reintroduced in central Idaho in 1995, the Legislature established a wolf management plan with a baseline of 15 packs to avoid having wolf management returned to the U.S. Fish and Wildlife Service. The canids have been overseen by the state Department of Fish and Game since 2011.
A maximum of 1,560 gray wolves roam Idaho today, according to a recent game camera survey conducted after pup-rearing season by Fish and Game. Senate Bill 1211 intends to cut that population to the state's 15-pack management goal. According to Fish and Game, the average pack size in Idaho is 6.4 wolves—meaning the wolf population could potentially be whittled down to 96 under the terms of the legislation.
The bill arrived at the Idaho State Capitol on the heels of a similar, now-withdrawn piece of legislation, House Bill 238, presented in February by former Sen. Jeff Siddoway, R-Terreton. (Siddoway, who operates Siddoway Sheep Company and an elk and bison hunting preserve in Terreton, previously sponsored a bill in 2012 that would have allowed the use of live bait, including dogs and sheep, to trap wolves.)
Several livestock producers gave emotional testimony before the Senate committee on April 22, saying they can't afford to lose more cattle and sheep to wolves.
Terry Jones, a dairy farmer in Emmett, spoke two minutes over his allotted time about how wolves have forced hundreds of elk onto his property.
"We were told that the re-introduction would contain the wolves to central Idaho wilderness," he said. "Somehow the wolves did not get that memo."
If made law, the legislation would strip most of the power to manage Idaho's wolves from the state Department Fish and Game. Last week, department Director Ed Schriever spoke in opposition to the bill on behalf of the Fish and Game Commission.
"We share the bill's stated objectives to reduce Idaho's wolf population, wolf predation on livestock and domestic animals and to reduce negative impacts on Idaho's game populations," he said. "Unfortunately … the proposed amendments represent a significant downside to the state's ability to manage our wildlife responsibly."
---
Local officials raise concerns
Voices out of Blaine County—a Democrat enclave home to numerous wolf advocates—broadly opposed the measure.
On April 20, when the bill was introduced on the Senate floor, Sen. Michelle Stennett, D-Ketchum, and Sen. Ali Rabe, D-Boise, raised concerns that the bill was sprung upon them with little notice. Rabe noted that stakeholders behind the bill hadn't consulted with the Fish and Wildlife Service in their negotiations, which Burtenshaw confirmed.
"This has come to us awfully late," Stennett said.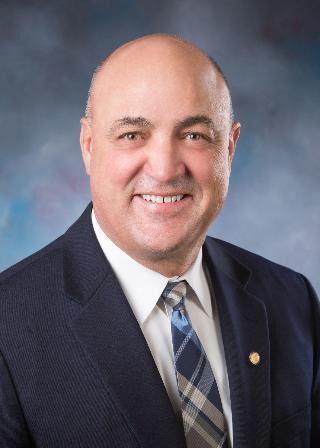 House floor sponsor Rep. Mike Moyle, R-Star, opened and closed the debate in favor of passing the legislation on Tuesday.
"When I was younger [in Ola], people had a lot of opportunity, a lot of elk and deer to look at before they decided which one they wanted to take home," he said. " That area now is a desolate wasteland."
Bellevue Mayor Ned Burns stood in for Rep. Muffy Davis, D-Ketchum, during the debate. Burns said he had "significant concerns" about the bill's allowance of night hunting.
"I've spent my entire life hunting elk and deer in some of the most wild and beautiful areas of Idaho," Burns said. "My concern is that if this bill passes, and ethical hunters grow accustomed to hearing shots at night, that we will begin to have bad actors believing that it's OK to take a deer or an elk or a moose at night, because now no one bats an eye anymore or calls Fish and Game if a shot rings out in the dark."
In a letter dated April 28, the Blaine County commissioners urged Little to veto the bill, which they said would jeopardize public safety and the state's reputation.
"SB 1211 ignores any role of the Fish and Game Commission and the fact that the state's elk herds keep growing, livestock depredation is minimal, and the state is paying millions of dollars to ranchers for hay depredation," the commissioners stated. "It also ignores the fact that there are programs to address wolf and livestock conflicts with non-lethal methods … [W]e believe the state of Idaho should adopt policies and programs that reflect its modern economic growth, increases in outdoor recreation, its tourism industry."
Around two dozen wildlife managers and biologists from Fish and Game, the U. S. Forest Service, U.S. Fish and Wildlife Service, Bureau of Land Management and the Nez Perce Tribe sent a similar letter urging Little to veto the bill. The measure violates "longstanding wildlife management practices and sportsmen ethics," they said, highlighting that Idaho's 2020 elk harvest went into the books as the sixth highest of all time.
Numerous wolf conservation groups, too, have spoken out against the legislation, claiming that wolves play an important role in the ecosystem as top-level predators.
"Wolves … protect the health of elk and deer herds by culling diseased animals from herds," Hailey-based Western Watersheds Project stated in a letter to Little. "And, wolves are known to kill, out-compete and displace coyotes, a carnivore that causes far more livestock losses than wolves."
Outside the Wood River Valley, though, the measure has found support. District 8 Rep. Dorothy Moon, R-Stanley, represents a cluster of five counties north of Blaine, including Custer County.
"We have more wolves here than you can shake a stick at," Moon said. "Wolves are now walking down the center of dirt roads. That means there's too many of them."
---
Wolf debate puts Idaho in crosshairs
On April 25, Sun Valley-based Living with Wolves program director and documentarian Garrick Dutcher discussed the bill in a live broadcast with BBC News reporter David Eades. Dutcher said one belief fueling the bill—that wolves are attacking elk, deer and cattle at unacceptable rates—is disproved by looking at numbers. Idaho has "2.5 million head of cattle, which far outnumber the people here," he told Eades. Of that fewer than 200, or 0.008%, were killed by wolves last year, according to Dutcher.
"We have rancher senators that are exaggerating what's going on and using a lot of hyperbole to create this really hostile policy, which undermines Idaho statute that specifically assigns the authority of wildlife management to the Fish and Game Commission," Dutcher told the Express in an interview. "Fish and Game is staffed with biologists. The legislature is not."
If the bill becomes law, wolf hunters would be able to run down wolves with snowmobiles, Dutcher said, a practice some use to kill coyotes in Wyoming.
"How can you call wolves a big game animal in Idaho if they have none of the protections that the state's roughly 3,000 to 4,000 mountain lions and 20,000 black bears have?" he asked.
---
What's next?
Now that the bill has passed through both houses, it will go through a review process for accuracy and be submitted to House Speaker Scott Bedke, R-Oakley, and President Pro Tempore Chuck Winder, R-Boise, for their signatures, before heading to Little's desk.
Little then can sign the bill, veto it, or take no action. If he does nothing, the bill becomes law without his signature after five days.