The National Weather Service has warned that a potentially historic heat wave with extreme temperatures that moved into south-central and southeast Idaho on Tuesday could last through the Fourth of July.
The Weather Service office in Pocatello on Monday issued an "Excessive Heat Watch" for the Wood River Valley and a vast area of Idaho to the north and southeast of Blaine County. The Weather Service has also issued an "Excessive Heat Warning" for a wide-ranging area to the west and south of Blaine County, including Shoshone and Twin Falls.
The Pocatello office has never issued an "Excessive Heat Watch" for the region and has only once issued an "Excessive Heat Warning," in 2018.
An "Excessive Heat Watch" is issued "when conditions are favorable for an extreme heat event in the next 24 to 72 hours," according to the Weather Service. It advises people to be prepared for scalding temperatures, although the timing is uncertain. An "Excessive Heat Warning" is issued "within 12 hours of the onset of extremely dangerous heat conditions," with maximum temperatures expected to be 105 degrees or higher for at least two days and nighttime temperatures staying at or above 75 degrees. People are advised to "take precautions immediately when conditions are extreme," or risk serious illness or death, according to the Weather Service.
The long-duration heat wave is expected to deliver daily high temperatures that range from 93 to 102 across south-central and southeast Idaho. Sun Valley is expected to have a high of 93 degrees on Wednesday, while Shoshone is expected to reach 100 degrees. Nighttime will offer "poor" relief, the Weather Service stated, with low temperatures in the 60s and 70s across the region. Records for daily high temperatures or streaks of days above 90 or 95 degrees could be broken, the agency stated.
Highs on Monday reached 88 degrees in Sun Valley and Hailey.
"Outdoor activities will be greatly impacted," the Weather Service stated. "There will be a high threat of heat-related complications and illnesses if preventative measures are not taken."
The combination of high temperatures, long duration of the heat and poor overnight relief are expected to cumulatively increase during the week, escalating heat stress on humans and pets, the Weather Service stated.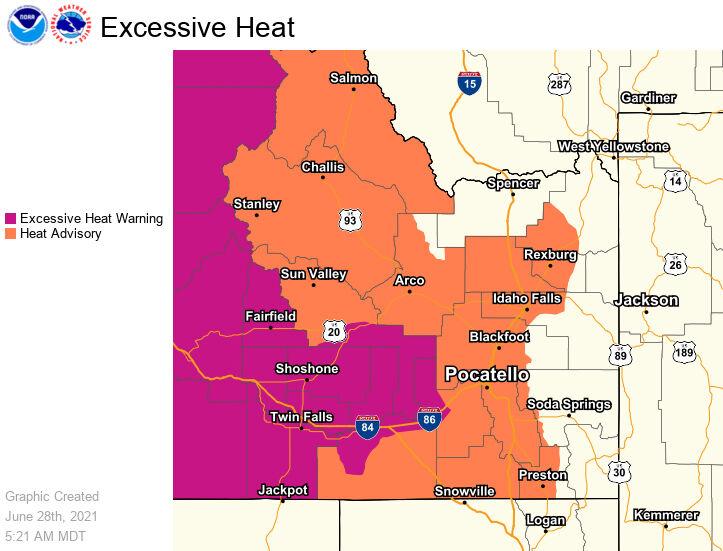 The South Central Public Health District—which serves eight counties, including Blaine—on Monday also issued a public health advisory for extreme heat this week. An advisory is issued when heat is expected to become an inconvenience for much of the population and a danger for some people.
"Heat stress, including heat exhaustion and heat strokes, is not uncommon during extremely high temperatures," the district stated in a news release. "If you see any signs of heat exhaustion or stroke, seek medical help immediately."
The heat wave is part of an unusually intense hot-weather system over the Northwest that has set all-time record highs in Washington and Oregon. Portland recorded an all-time record high of 108 degrees on Saturday. It broke the all-time mark again on Sunday, and then again on Monday, when the mercury reached 115 in the afternoon. Seattle broke its all-time high of 103 degrees on Sunday, when temperatures climbed to 104 degrees. The record fell again on Monday, with thermometers soaring to 108 degrees.
During the heat wave, the Weather Service advises that people:
• Check frequently on family, friends and neighbors. (The elderly, children, pregnant women and people with health issues are most at risk for heat-related illnesses.)
• Never leave children or pets unattended in vehicles.
• Consider rescheduling outdoor events entirely or rescheduling them to cooler times in the early morning or late evening.
• Frequently spend time in air-conditioned areas.
• Wear loose-fitting, light-colored clothing.
• Avoid strenuous activities and take breaks from all activities in the heat.
Dr. Martha Taylor, a St. Luke's Health System physician based in Twin Falls, said people should take extra time to get used to high temperatures, use extra sun protection and drink extra fluids with electrolytes.
"Some of the biggest risk factors for any exertional heat illness is lack of acclimatization—so you've gone from relatively temperate weather to very, very hot in a relatively short period of time," she said.