With severe drought conditions setting in across a large swath of Blaine County, it's anticipated that local growers will experience significant water shortages and pasture loss this summer.
Most of Blaine County's northern half is in "severe" drought, according to federal monitoring by the National Oceanic and Atmospheric Administration. Northeastern Blaine County, including Trail Creek Summit, and the Big Lost drainage in Custer County are experiencing "extreme" drought—NOAA's second-worst classification, above "severe."
Last summer, many growers operating in and south of Bellevue turned to supplemental groundwater wells to keep their pastures green after irrigation canals were shut off due to low flows on the Big Wood River. Fish salvage orders were issued by Fish and Game for thousands of trout stranded in shallow pools below Magic Reservoir. And many farmers south of the reservoir harvested half of what they normally do at the end of the growing season.
Farmers and ranchers in Shoshone, Richfield and Dietrich, however, have long said that upstream users in Blaine County are simply allowed to pull too much water from the river—and when they turn on their groundwater pumps, growers below Magic Reservoir are adversely affected.
Compounding the situation, surface water users in the Bellevue Triangle area, which covers the mostly agricultural area south of Bellevue and north of U.S. Highway 20, have groundwater rights 100 years junior to the senior surface water rights held by those south of Magic.
To address ongoing tensions between Wood River Valley and Magic Valley water users, Idaho Department of Water Resources Director Gary Spackman has initiated an administrative proceeding concerning water rights in the Bellevue Triangle area, the IDWR announced in a Wednesday press release.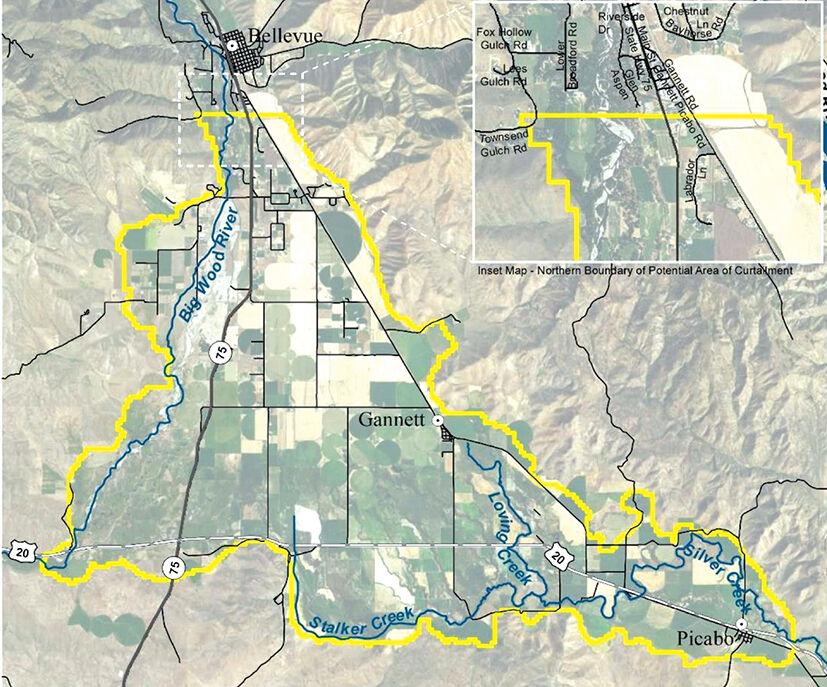 Over the course of a five-day hearing in Boise next month, Spackman will hear testimony from water users to "determine whether ground water rights in the Bellevue Triangle should be curtailed in the 2021 irrigation season," according to IDWR officials.
"Based on model runs … curtailment of ground water rights in the Bellevue Triangle area during the 2021 irrigation season would result in increased surface water flows for the holders of senior surface water rights on Silver Creek and its tributaries," the IDWR stated.
Water rights in Idaho operate under a seniority system. When water can no longer be delivered effectively from the Big Wood River, those with later-established, or "junior," water rights are instructed to shut off their diversion canals and send that water to senior water right holders.
A Big Wood Ground Water Management Area Advisory Committee was formed last year to jumpstart the conversation on managing river water, canal water and groundwater as one collective resource. Following committee meetings, the Wood River Valley's Galena and South Valley groundwater districts put together a settlement package to compensate downstream senior water rights holders from the Big and Little Wood Water Users Association for financial losses. However, they couldn't come to an agreement, and Idaho Department of Water Resources Water Compliance Bureau Chief Tim Luke reported to committee members last month that those negotiations had failed.
Irrigation canals that divert water from the Big Wood River are usually shut off or turned down when the river drops under a flow of 400 cubic feet per second. On Thursday, a U.S. Geological Survey gauge near Lions Park in Hailey recorded a flow rate of 425 cfs, less than half the median flow for that date.