More than two months after Idaho Department of Fish and Game biologists first treated and radio-collared a sick cow moose in Hailey, the animal continues to fight a severe case of conjunctivitis that has made her more likely to charge, according to the department.
Fish and Game took another trip to the Wood River Valley on Monday after receiving a tip from a Hailey resident that the moose was bedded down in their backyard. The team, including large-herbivore expert Sierra Robatcek—a regional wildlife biologist for the Magic Valley Office in Jerome—darted the cow and treated her eyes with an antibiotic cream and spray. Staff also found and removed a band of twine wrapped tightly around her muzzle, which "luckily was above her nose and mouth," department spokesman Terry Thompson said.
"We are definitely seeing more moose in neighborhoods throughout the Wood River Valley this year," Robatcek commented in a Monday press release. "This is a great reminder for everyone to watch out for these big animals. We want to keep everyone safe when living near wildlife."
Since early December, the moose and her calf have been spotted traveling through populated areas, such as the Hailey Albertsons parking lot, as they make their way to Carbonate Mountain. (A video of the pair passing the store entrance went viral on Facebook and Twitter over the holidays.)
As Fish and Game continues to monitor the moose via GPS over the coming weeks, residents and visitors should grant the animal and her calf a wide berth, the department said. Dogs should also be leashed and kept away from the cow, as her vision is diminished—an indicator she could react unpredictably.
"Approaching wildlife is an invasion of their space and can be especially detrimental to an animal's health during the winter months, when conserving energy reserves is important for survival," the department stated Monday.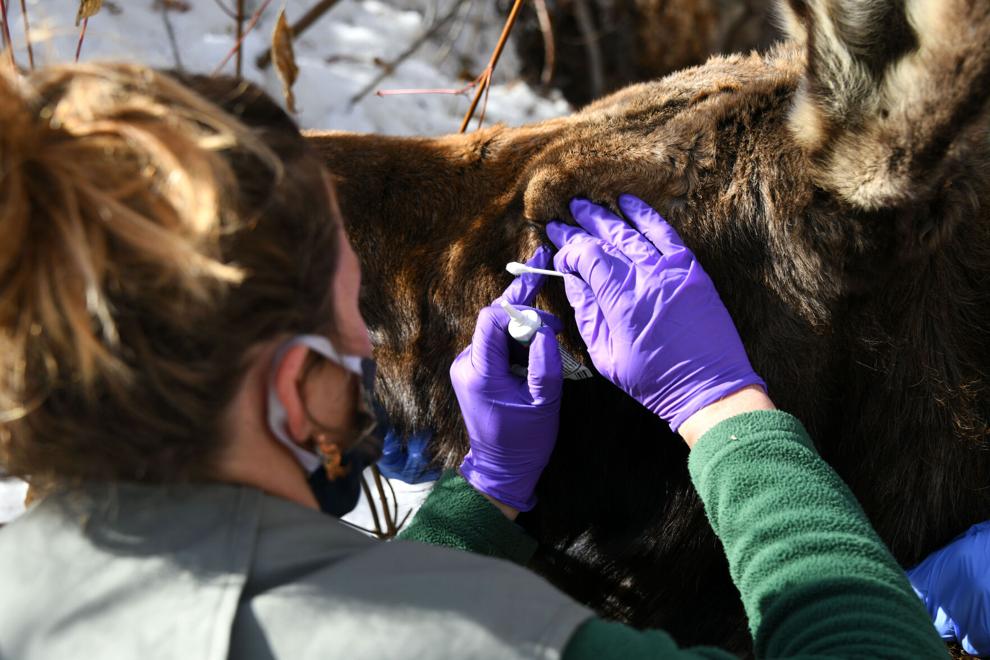 While it appears the first round of antibiotics helped, Fish and Game is hopeful that this week's second treatment will reduce the moose's swelling and clear up her vision.
Thompson, who encountered the animals frequently while living in Alaska, told the Express in a previous email that urban moose-sightings are "not something we like to see." Though seemingly docile, the ungulates can strike out quickly with their front hooves and run up to 30 mph. Moose are stressed as it is by depleted food sources in the winter, he said, and adding a calf into the equation only amplifies perceived threats.
"Don't put yourself between a cow and calf. That is probably the quickest way to get a moose to charge," Thompson said. "The best course of safety if you find yourself too close to a moose is to put something between you and the moose, like a tree, or if you're near a vehicle, that works well too."
Laid-back ears, raised neck hair, grunting and stomping are all signs of imminent charge, he said.