The forests in and around the ski slopes on Bald Mountain are under attack by Douglas-fir beetle, dwarf mistletoe, white pine blister rust and other infestations. A combination of deadfall and canopy overgrowth has increased fire risk, as wide swathes of trees have died and gone brown in the last few years.
The landscape, in other words, is struggling. But a new, multi-faceted initiative aims to aid it in its fight.
The Bald Mountain Stewardship Project—which includes the U.S. Forest Service, Sun Valley Resort, the National Forest Foundation, the Bureau of Land Management and a number of concerned citizens—is in its first full year of operation on what could be a ten-year process to reduce fuel loads and fire risk, restore forest health and protect and enhance recreation opportunities on the valley's flagship peak.
On Tuesday, members of the coalition took the news media went to the top of Baldy to see how they're fighting back against these threats in hopes of restoring the forest to a safer and healthier condition.
There, a high-tech logging machine crawled up and down a steep slope on the River Run side of the ski mountain to thin living and dead trees, scattering woody debris in its wake. One massive dead Douglas fir tree was left standing.
"That's what's called snag," said Zach Poff, the recreation and program manager for the Ketchum Ranger District and administrator of the permit issued to Sun Valley Resort to operate the ski area. "Trees like those are left to provide habitat for animals, including migrating birds."
Seedlings of lodgepole and ponderosa pine will be planted under the remaining Douglas fir trees. Sawtooth National Forest Forester Nelson Mills said they would likely regenerate themselves. At some locations on Bald Mountain, naturally occurring blister-rust resistant white bark pine seedlings will also be planted, Mills said.
"White bark pines in the forest that have shown a natural resistance to blister rust are used for pollen samples, studied for their characteristics and then used for seed collection," Mills said.
Last winter, students from three local schools took to skis and distributed chemical pheromone packets on trees to deter bug infestations.
The multi-pronged approach to forest health taking place on Bald Mountain is the result of years of planning, permitting and community building led by the National Forest Foundation in the wake of two major fires in the last twenty years that nearly swept across Bald Mountain and into many Wood River Valley neighborhoods.
Mills said the Castle Rock and Beaver Creek fires have pushed Douglas fir beetles and other pests onto Bald Mountain, where they have contributed to the loss of 80% of its large trees like Douglas firs and 20% of all species.
Taking the cut wood off the mountain and distributing it—200 cords last year alone—has been a challenge. Some of it is being donated to the Shoshone-Paiute Reservation at Duck Valley for firewood. The rest is auctioned off by the Sun Valley Resort to local firewood sellers.
On the recreation front, the tree-thinning operation will provide a bonus in the form of new terrain, according to Sun Valley Resort Mountain Operations Manager Peter Stearns.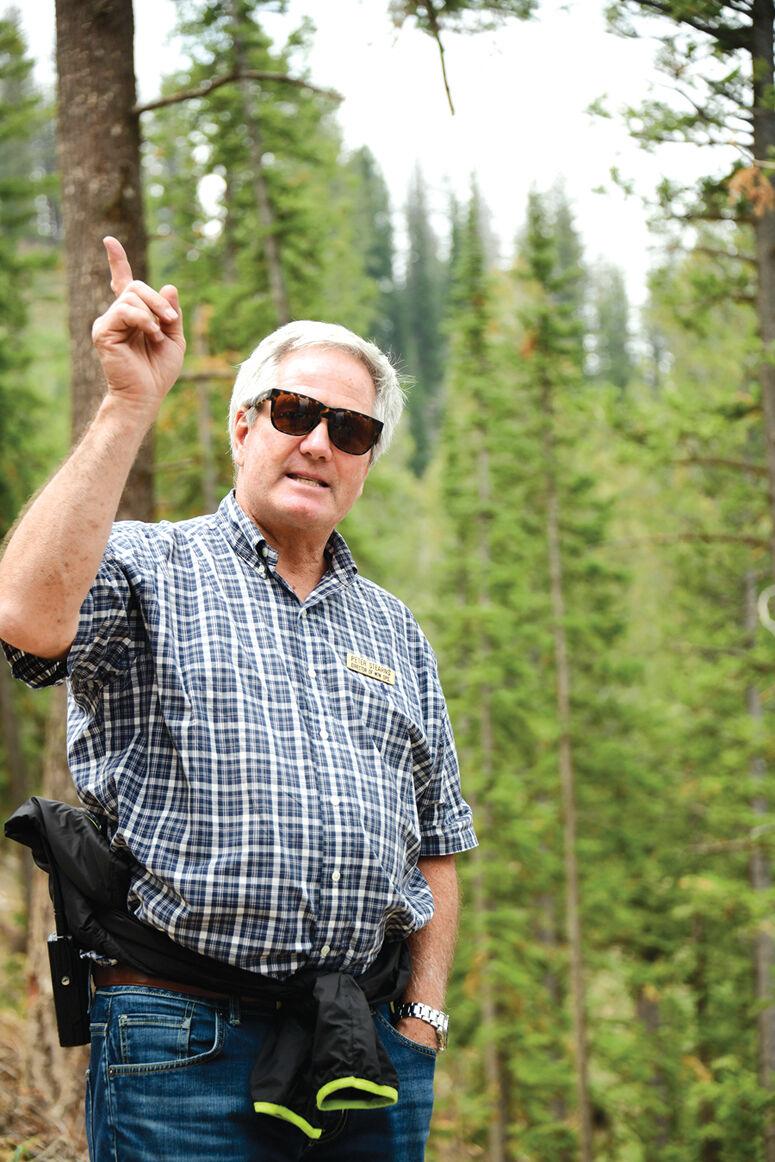 "Some of these thinned areas will provide fabulous skiing," said Stearns. Since he arrived in the valley in 1980, Stearns has seen an "astronomical" reduction in skiable terrain due to increased deadfall and canopy overgrowth, he told reporters. Stearns said there are about 2,500 acres of skiable terrain in the resort's 3,000 acre-permit area.
The work of the Bald Mountain Stewardship Project is taking place on a 6,000-acre permitted area that includes sage slope as well as forest. About 1,000 acres of diseased and dead forest needs work within the project area. Only about 70 of those acres have been culled and replanted so far.
Stearns said the new approach to logging steep terrain with advanced equipment supplied by Miller Timber Services replaces road building, mastication and other traditional logging methods that took place several years ago on Frenchman's slope, leaving the area scarred.
"That was a learning lesson," Stearns said.
Lee Miller, the owner of the Miller Timber Services, said his goal this summer is to "treat" 21 acres in the project area at a cost to the stakeholders of about $10,000 per acre, $210,000 total.
Poff, who works closely with the resort, said he would like to see 150 acres of forest on Bald Mountain get treated every summer, but that trails closures for biking and hiking will be an ongoing balance to strike.
"How much will this impact the community?" he said.
Dani Southard, the Northern Rockies Manager of the National Forest Foundation, said the collaboration got a boost on Tuesday afternoon when seven individuals donated $10,000 each to the effort. The $70,000 will be multiplied five-fold by partnering organizations and open up $350,000 more in funding to be used, perhaps as soon next summer.
Southard said her nonprofit organization was invited to organize community-based restoration efforts in 2014 by local resident Lynn Campion. The committee that supports the Bald Mountain Stewardship Project is now made up of 30 members and organizations, Southard said, including the Sun Valley Resort.
The National Forest Foundation serves as the group's fiscal sponsor for tax-deductible donations, she said, and is now eying a $2.3 million federal grant to step up the work on Bald Mountain.
"I hope to have this project completed in under five years," Southard said.