An intensifying heat wave this week will make existing fires and possible new blazes much more difficult to contain, according to the U.S. Forest Service.
On Tuesday, the National Weather Service issued a red flag warning for the entirety of Blaine County and much of the Sawtooth National Forest indicating "critical fire weather conditions." The region scored 6 out of 6 on the fire-predictive Haines Index, the Weather Service said. The Haines Index measures the dryness and stability of air over a fire.
Fire danger will only increase heading into the weekend as highs in the low 90s build to a blistering 100 degrees in the southern Wood River Valley and much of southeastern Idaho, further drying out timber and sagebrush.
Crews put out two fires in the Sawtooth National Forest over the weekend, according to the Forest Service.
Last Thursday, the Aspen Gulch Fire was spotted by a firefighter pilot near Mormon Hill, a remote area about 17 miles northeast of Hailey. The fire—located in Blaine County's "exceptional drought" zone—grew to 65 acres by Friday afternoon. Helicopters, military aircraft and single-engine air tankers began suppression efforts on Friday using fire retardant, and additional crews arrived Saturday to improve the containment line around the fire and put out hotspots.
The blaze was cut back to approximately 37 acres and declared "contained" around 10 p.m. Saturday, Sawtooth National Forest spokeswoman Julie Thomas said. Its cause remains undetermined, she said.
A second, human-caused fire in the Sawtooth National Forest ignited over the weekend along Yellow Belly Lake, between Pettit and Redfish Lakes. The approximately one-acre fire was first observed burning in lodgepole and fir stands around 5:30 p.m. Friday. Firefighters established a containment line around the fire by 7:30 p.m. Saturday and fully controlled the fire on Monday afternoon, Thomas said.
"Full containment" indicates that fire personnel have established a fuel break around the perimeter of the fire but does not mean the blaze itself is out, while "full control" means that crews have mopped up spot fires and the fuel break is secure.
---
Crews fight Salmon-Challis fires
Two lightning-ignited fires in the Salmon-Challis National Forest should take longer to contain due to their more erratic behavior. Those include the 140-acre Fritzer Fire and the 4,050-acre Mud Lick Fire, ignited on June 22 and July 8, respectively. Both fires are burning about 20 miles west of Salmon.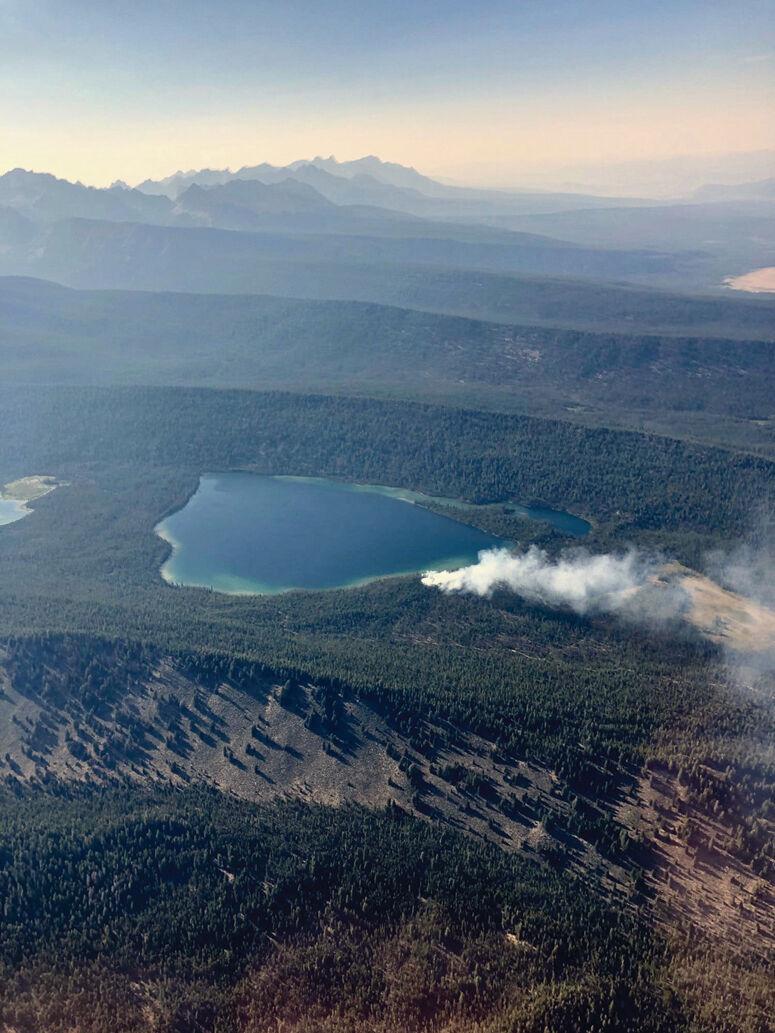 Two-hundred fifty fire personnel are now on the scene of the Mud Lick Fire, which has caused a five-mile airspace closure due to its uphill runs and "extreme" fire behavior. The fire was 0% contained as of Tuesday morning and is not expected to be contained until Aug. 31, according to federal management site InciWeb.
Meanwhile, the Fritzer fire is 80% contained and its fuel break line should be finished by July 31. Several smaller one-acre fires continue to burn or have burned in the forest.
Amid the recent fire activity, the Salmon-Challis National Forest outside the Frank Church-River of No Return Wilderness announced on Monday that it will implement Stage 1 fire restrictions on Thursday. The restrictions, already in place in the Sawtooth National Forest, ban campfires and smoking with a few exceptions—campfires can be built on existing Forest Service grills if signs say so, and smoking is allowed inside enclosed vehicles and buildings.
"If you are in an area where campfires are allowed, if you light it, be prepared to fight it," the Salmon-Challis National Forest stated Monday. "Should you start a wildfire, even if it's by accident, you could be held liable for damages and firefighting costs."
---
Smoky week ahead, DEQ says
Wildfires hundreds of miles away in Oregon and California have already left their mark in the Wood River Valley. On Friday afternoon, smoke created a thick haze over Bald Mountain, and air in Ketchum was rated "unhealthy for sensitive groups" at 119 on the Air Quality Index.
On Monday afternoon in Ketchum, air quality was still considered "unhealthy for sensitive groups" range at 115 on the index. By Tuesday afternoon in Ketchum, air quality had degraded to an "unhealthy" AQI of 163.
The "unhealthy" rating suggests that the general public should avoid intense outdoor activity. The "unhealthy for sensitive groups" rating suggests that those with medical conditions should avoid intense outdoor activity, according to the EPA, which oversees the index.
"It's OK to be active outside but take more breaks and do less intense activities. Watch for symptoms such as coughing or shortness of breath," the agency suggests. "People with asthma should follow their asthma action plans and keep quick relief medicine handy."
Central Idaho can expect a smoky week ahead, according to Sally Hunter, smoke analyst at the Idaho Department of Environmental Quality.
The region will see a combination of smoke coming from larger fires in the Pacific Northwest, such as the 154,000-acre Bootleg Fire in southern Oregon, and more regional smoke from Idaho, Hunter said in a Monday forecast.
Smoke may also move south and east from the 78,000-acre Snake River lightning complex fires near Lewiston and the 17,200-acre Dixie-Jumbo lightning complex fires east of Riggins.
"There may be brief periods of clearing over southern Idaho," Hunter said, "but it will be temporary."