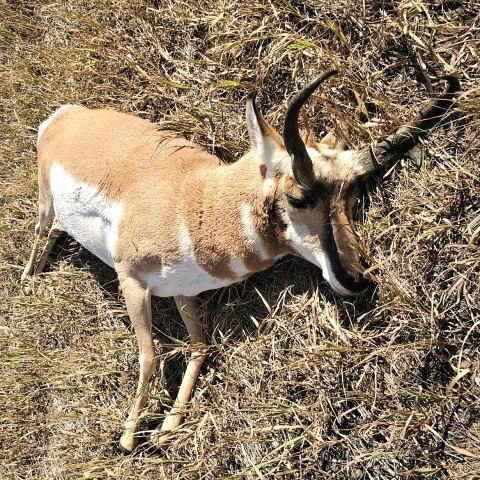 A series of wildlife crimes uncovered by Idaho Department Fish and Game officers after a pronghorn buck was found poached near Pettit Lake two years ago led to stiff sentences for two Missouri men this past summer, Fish and Game reported Thursday.
A lengthy investigation initiated by Fish and Game in 2019 determined that Missouri residents Dylan Davidson, 25, and Grifen Whiteside, 21, illegally killed two pronghorn antelope, two red foxes, two ground squirrels, three chipmunks, a Chinook salmon, an osprey and a duck in Blaine and Custer counties in August 2019. The pair was accompanied by Sydney Wallace, 20, also of Missouri.
Two anonymous callers familiar with the suspects shared knowledge of the crimes with Idaho's Citizens Against Poaching hotline shortly after they occurred, Fish and Game said. Their tips, both rewarded with $1,100, prompted Fish and Game officers and Missouri Department of Conservation agents to interview the suspects in Missouri and Idaho and seize and search their phones.
"Extensive" evidence of the trio's summer poaching spree in the Sawtooth National Forest was collected through the interview process and phone searches, which turned up video and photo documentation of the kills, according to Fish and Game. Further evidence of poached animals surfaced during dog and drone searches of both counties.
Fish and Game's investigation was first sparked with the Aug. 14, 2019, discovery of a dead pronghorn buck near Pettit Lake Road by conservation officers John Beer and Malcolm Clemenhagen, who "soon discovered a small caliber bullet hole in the hide, but no bullet," Fish and Game said.
"The shooter also left the entire carcass, leaving no physical evidence that would connect them later to the crime. No bullet, no boot tracks or shell casings," the department stated.
Davidson later admitted to Missouri conservation agents that the three had "shot at 15 pronghorn and about 10 deer," including the pronghorn found near Pettit Lake, and no efforts were made to see if any animals had been wounded or killed.
"It seems the three shot at anything that moved," Clemenhagen stated. "It was a shocking reminder of what some people are capable of."
For the animals poached in Custer County, Davidson and Whiteside each received a sentence of 14 days in jail, 10 years of probation, a fine of $2,325 and a 15-year fishing and hunting license revocation.
For his role in shooting the pronghorn in Blaine County, Davidson was charged with two felonies in 5th District Court—unlawfully killing, possessing or wasting species, and unlawfully killing big game with damages amounting to over $1,000—and sentenced to 30 additional days in county jail, a $7,700 fine, a three-year probation extension, and a lifetime ban from hunting, fishing and trapping in Idaho.
While Davidson's court case was ongoing in Blaine County, he violated conditions of his release by harvesting "a deer and multiple ducks in Missouri," leading to a lifetime ban from hunting, fishing and trapping in all 50 states. Davidson was ordered to complete jail time this month, according to court records.
Wallace received a one-year hunting, fishing and trapping license revocation and was fined $715 for her accomplice role. Davidson and Whiteside racked up nearly $12,400 in restitution fines and two months of jail time.
"I believe it is extremely important that the public is aware of the serious consequences of poaching," Blaine County Prosecutor Matt Fredback said in a statement to the Express.
Anyone with knowledge of any illegal wildlife activity is encouraged to contact the Citizens Against Poaching Hotline at 208-632-5999.
"The teamwork between Idaho and Missouri led to a successful prosecution, but the citizens who reported the crimes are the real heroes," Clemenhagen stated. "Without those calls, this case would not have been made."