Democrats and incumbents swept Blaine County on Election Day, a final unofficial vote count from the county elections office shows, with current county commissioners and state legislators holding onto their seats.
Commissioner Jacob Greenberg, Sen. Michelle Stennett, D-Ketchum, and Rep. Sally Toone, D-Gooding, will all remain in office after defeating respective challengers Kiki Tidwell, Eric Parker and Bill Thorpe.
Rep. Muffy Davis, D-Ketchum, Sheriff Steve Harkins and Commissioner Dick Fosbury ran for re-election unopposed. Matthew Fredback, the sole candidate seeking the Prosecuting Attorney's office, will succeed current Prosecuting Attorney Jim Thomas.
Bellevue Mayor Ned Burns was also re-elected; his challenger, Jared Murphy, was found dead two weeks ago in an apparent murder-suicide. Three incumbent Bellevue Aldermen—Tammy Davis, Doug Brown and Greg Cappel—will continue to serve on the city council.
More than 87 percent of registered voters in Blaine County cast ballots in the Nov. 3 election, according to the county's unofficial vote tracking dashboard—a significantly higher turnout than the 78 percent of registered voters who cast ballots in the 2016 general election. About three-quarters of the 13,409 people who voted in Blaine County this year did so via mail-in ballot or early voting, the dashboard shows.
---
County commission
Greenberg, a Democrat, won his seat over Tidwell, an Independent, with 72 percent of the vote.
"I'm excited by this resounding show of support from the community," Greenberg said in a statement late Tuesday night. "I'm looking forward to getting back to work with my sole focus on the job at hand."
Greenberg, the sitting chairman of the commission, has served as a county commissioner since 2008. He is a financial analyst and was formerly a small business owner. He lives in Hailey.
---
District 26
Stennett and Toone had similar support in Blaine County, with Stennett winning just over 72 percent of Blaine County votes and Toone receiving just under 69 percent. The two races were closer overall, however, with Republicans Parker and Thorpe both receiving the majority of votes from the other three counties in District 26: Lincoln, Camas and Gooding.
Across District 26, Stennett received 56 percent of votes overall to Parker's 44 percent, and Toone received 55 percent to Thorpe's 45 percent.
Stennett, who serves as minority leader of the Idaho Senate, is a member of the Senate State Affairs and the Resources & Environment committees. She was first elected to the Senate in 2010, filling the seat previously held by her late husband, Clint Stennett.
"It is an honor to represent Blaine, Lincoln, Gooding, and Camas," Stennett said on her official Facebook page Wednesday. "As your state senator, I will continue to work hard on your behalf alongside Representatives Sally Toone and Muffy Davis."
Toone, a rancher and retired math teacher, has served in the Idaho House of Representatives since 2016. She serves on the House Agricultural Affairs Committee, the House Resources and Conservation Committee, and the Joint Finance-Appropriations Committee.
"Thank you, District 26, for putting your trust in our legislative team," Toone wrote on her official Facebook page Wednesday. "We represent all of the district and look forward to serving each of you."
---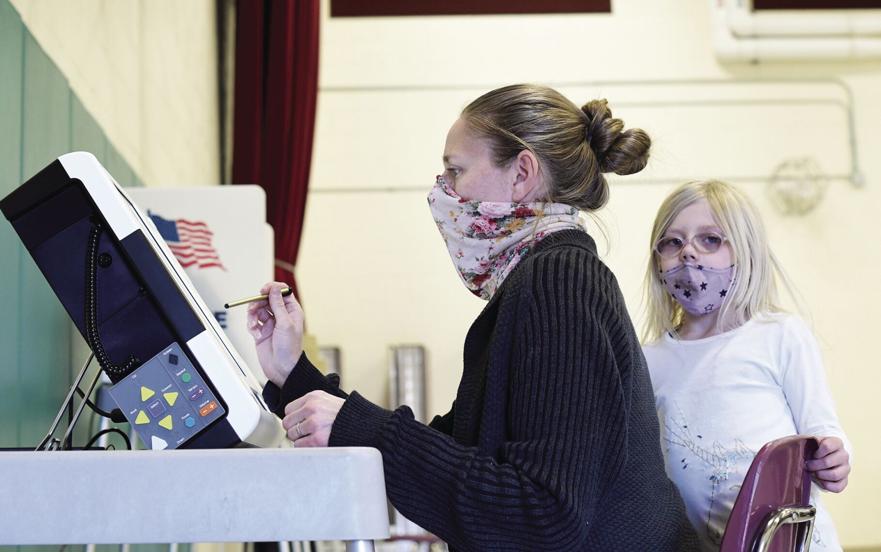 ---
Bellevue
Burns received 82 percent of the 1,063 votes cast in the Bellevue mayoral race. In a Facebook post on his official page Wednesday, Burns wrote that he was "struggling to come up with how I want to convey my thoughts" on his re-election in light of his opponent's death.
"It's been a rough couple of weeks for Bellevue, and there will continue to be difficult weeks ahead," Burns told the Mountain Express in an interview. "We need to be mindful of our folks that are still hurting and healing, and we need to continue to be there for them."
Burns said he is "anxious" to get back to doing the work of moving Bellevue forward.
"We've got a lot to get done and I plan on wasting no time accomplishing our ambitious agenda," he said. "There is a long list of things that are somewhere in the hopper that need completion, as well as the new things that we are going to try to do to modernize systems and infrastructure. Pay attention as we'll be getting a lot of great things done in short order. The work that was done in the first term is laying the groundwork for a noticeably better Bellevue in this coming term."
Four candidates were on the ballot for three seats on the Bellevue City Council. Those seats went to the three candidates who received the most votes: Davis with 824 votes, Brown with 746, and Cappel with 634. The fourth candidate, Robert Bradford, wasn't far behind Cappel, with 622 votes.
"With the election behind us, it is time for the council to steer Bellevue into an era of growth and prosperity," Cappel told the Mountain Express. "Much should and will be accomplished toward this end over the next two years."
---
Statewide and national
Blaine County voters' support for Democratic candidates extended to statewide and national races on the ballot. Blaine was one of three counties in Idaho—along with Teton County and Latah County—to support former Vice President Joe Biden in the presidential race; President Donald Trump won in the remaining 41 counties and nearly 64 percent of the statewide vote.
In Blaine County, Biden received 67 percent of the vote; Trump received 30 percent. Libertarian candidate Jo Jorgensen came in third with 168 votes—just over 1 percent—while Constitution Party candidate Don Blankenship brought in 47 votes and Independent candidates Rocky De La Fuente, Brock Pierce, and Kanye West brought in 34, 36, and 53 votes in Blaine County, respectively.
Blaine County voters also favored Democratic candidates for U.S. Senate and Idaho's Second Congressional District, both of whom ultimately lost to Republican incumbents. Senate candidate Paulette Jordan, a Democrat from Plummer, received 66 percent of the vote in Blaine County but 33 percent of the vote statewide against Sen. Jim Risch.
Democratic congressional candidate Aaron Swisher of Boise similarly won in Blaine County with 59 percent of the vote, but ultimately lost to U.S. Rep. Mike Simpson, who earned 64 percent of votes across District 2.
---
HJR-4
A majority of Blaine County voters—and Idaho voters statewide—voted to amend Idaho's Constitution to set the number of legislative districts, and the number of state senators, at 35.
The Idaho Constitution currently allows the state to have a minimum of 30 districts and a maximum of 35. Idaho has had the maximum number of districts, 35, for roughly 40 years. Supporters of the amendment said it would ensure that the number of districts aren't reduced during the state's upcoming redistricting process; some critics expressed concern that 35 districts wouldn't be sufficient to represent all Idahoans if the state's population continues to grow.
In Blaine County, 66 percent of voters were in favor of the amendment, as were 68 percent of voters statewide. The amendment required a simply majority to pass.
---
Additional reporting by Tony Evans.