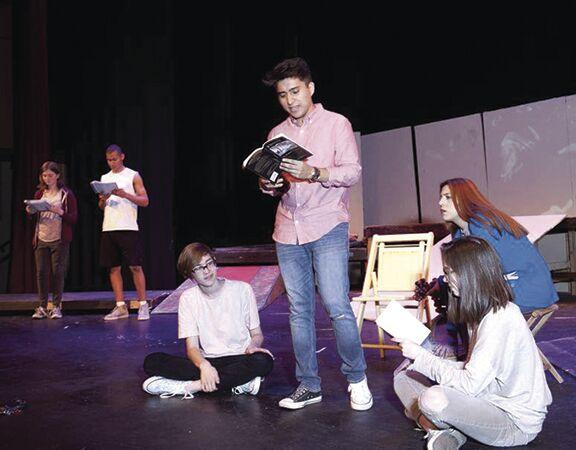 Sun Valley is world renowned for its arts. But it must start somewhere, and local schools do a great job of inspiring students to follow their artistic passions. Both Wood River High School and Middle School have stellar band and theater departments, with much to offer this upcoming year.
Patrick Herb leads both the middle school and high school bands in Hailey. 
"I try to be myself no matter what," Herb said. "They know me as the goofy band director that tries to have fun during class but also demonstrates that if you work hard toward something ... you can be successful."
The Sun Valley Music Festival invited band students from Wood River High School and Middle School to their Summer Camp Aug. 2-6, giving students the opportunity to be coached by prestigious musicians. 
Later in the season, students will have the chance to perform at the Sun Valley Jazz Festival. Throughout the year, the Sun Valley Center for Arts will send clinicians to schools in the district, too. 
"It's a great opportunity for kids to see these unique ensembles come through town and get to hear them work, rehearse," Herb said. "Sometimes they'll coach our students on things they're working on."
The drumline hopes to perform in the Trailing of the Sheep Parade. Select students get to march in the Rose Bowl Parade in Pasadena, California, on New Year's Day. 
After 15 months away due to the COVID-19 pandemic, the pep band looks forward to playing more football and basketball games. Statewide and district-wide festivals are coming back, once again allowing the kids to work with other directors, teachers and professionals from around the state. 
In terms of theater, Wood River Middle School's Christine Leslie and Wood River High School's Karl Nordstrom work in tandem. 
"I'm a graduate of Wood River High School, and we didn't really have a drama program when I was in high school," Nordstrom said. 
Coming of age, Leslie used theater as a way to break past her introversion. 
"In middle school and high school kids are discovering themselves," she said. "For me, personally, I found myself on stage in middle school in my first play."
Leslie encourages her students to improvise and write scenes to gain confidence in the theater, keeping an ongoing conversation about what interests them.
Early in the school year, Nordstrom will direct the play "Almost, Maine," a series of vignettes exploring love and loss. He has prepared this production for almost a decade. It will show late September or early October. 
In the fall, high school drama students will have their District 4 competition, an event sanction by the Idaho High School Activities Association. Following Christmas break, they plan to have a spring musical. (Rumors are circulating that it could be "Grease"—but you didn't hear that here.)
This production will allow all students, middle and high school, those in drama classes and those not, to audition. If you show up and you have the time, Leslie says, you're in the show. Besides acting, there are many chances for students to get involved, including set design, costumes, makeup, lights and sound. 
After the spring musical, the drama department will do a speech competition and a potential participation in a one act festival.
"It's an opportunity for kids to use their creative minds and to work together as a team to create art," Herb said. "So many of the things we look at in schools today are so individual, like test scores. This is really about a group... accomplishing something together and using their work habits...to make something beautiful and meaningful."