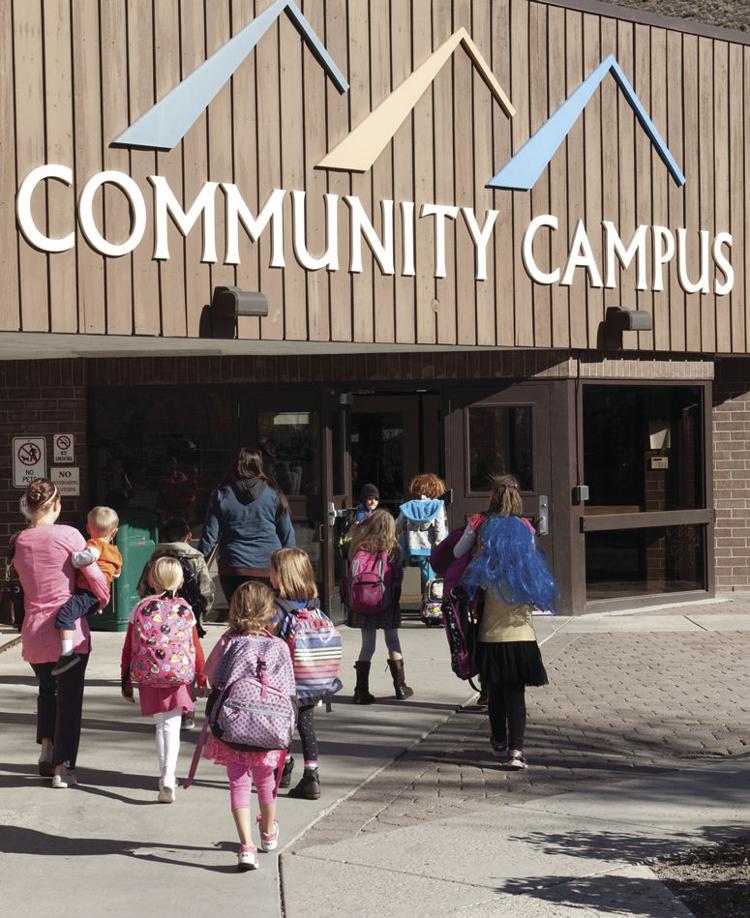 The Blaine County School District's board of trustees met Tuesday night at the Community Campus in Hailey to discuss, among other things, the future of that building.
With an eye toward keeping its budget in balance, the trustees continued to look at the district's inventory of buildings, hearing a report on possible savings by repurposing or consolidating non-student buildings—including, potentially, portions of the school-owned Hailey facility.
The public, led by the building's tenants, offered a resounding answer: Look elsewhere.
Fortunately for them, the numbers said much the same.
With a replacement value of $19.3 million, the Community Campus comprises the most valuable non-school building on the district's ledger, according to a cost analysis prepared by Superintendent GwenCarol Holmes, Finance Manager Bryan Fletcher and Director of Buildings and Grounds Howard Royal.
Its seven tenants—anchored by the Blaine County Recreation District and College of Southern Idaho—collectively pay $247,202 in rent each year. That's below market rate, according to the district; in 2017-18, the district paid $276,935 to cover the costs of the building, which also houses the Wood River High School Performing Arts Theater, VOICE II program and the Residential Construction and Medical Technology academies.
Consolidating other district operations inside would present only modest long-term benefits, according to Fletcher. His model found that even under ideal conditions for recouping value, it would take about a decade to realize savings from moving the district offices and technology department, which are now housed in separate stand-alone buildings.
That's in large part because of the estimated $3 million build-out required to retrofit the old high school for staff—about $1 million more than Fletcher figures the district could fetch selling the district and IT offices.
Assuming an annual cost increase of 3.2 percent, the district could save a collective $384,219 over 10 years, he said.
"From a financial perspective, [the outlook is] fairly muted," he told the trustees. "It's not strong enough to say do it, and it's not long enough to say don't."
But that's more than enough for the representatives of the Blaine County Recreation District, College of Southern Idaho, NAMI, The Hunger Coalition, Footlight Dance Centre, Sun Valley Music Festival and Wood River Performing Arts Academy, all of which spoke in favor of maintaining the status quo.
"The thought of this wonderful facility broken up in a way that would take the soulfulness and magic away from kids makes me think there must be money in this tony valley to get you what you need," said Cathy Reinheimer, speaking in support of the drama program.
The district has never considered selling the building; due to its proximity between Wood River and Silver Creek high schools, offloading it to another entity could be "dangerous" for students, Holmes said.
And, she added, it hasn't sought to force out tenants.
"We're not pushing out the BCRD, CSI—any of those kinds of partners," she said.
Still, both those groups sent representatives to address the trustees during the meeting.
"Our lease was crafted in the spirit of collaboration and shared vision for the Wood River Valley," said Todd Schwartz, chief academic officer for CSI.
In 2017-18, CSI paid $90,188 to rent 23,087 square feet—a facility that Schwartz called "nearly perfect" for its programs.
"Our ability to remain in the Wood River Valley is dependent, in part, on the benevolence of the community," he said. "It's a simple fiscal fact."
Since CSI moved into the Community Campus 15 years ago, Schwartz said, more than 10,000 residents have enrolled in classes at the extension campus.
"This facility goes beyond the bottom line," said Hilarie Neely, founder and director of Footlight Dance Centre, which rented about 2,000 square feet for $8,875 in 2017-18. "The spaces here have been utilized, and there are many, many success stories. … It's the only facility in the valley that reaches all ages in academics and wellness—I think that's very important."
With the budget season looming, the trustees broadly agreed Tuesday night.
"This is the gem of our community, as far as I see it," said Trustee Ryan Degn, an electrician by trade who helped wire the auditorium. "It's like home to me. We've got to keep this going—but we've also got to make the numbers work. There's no lack of money in this community."
One option, pitched by Trustee Kevin Garrison, could be moving the district technology offices in while looking into other options for administration.
That has a lower build-out cost, and quicker payback, depending on how much the old office commands on the market.
"The case for moving tech over here is very solid," Garrison said.
Tuesday's report was merely informational; the board didn't take any action on it. The general consensus: Trustees need a clear picture of the options available.
Trustee Ellen Mandeville said she would consider remodeling "lightly used" portions of the building, but would like to see it stay mostly intact.
"I really think it's fantastic that 15 years ago the superintendent and school board had the vision to foster education beyond K through 12," she said. "In no way do I want to negatively affect all the good that's happening here."