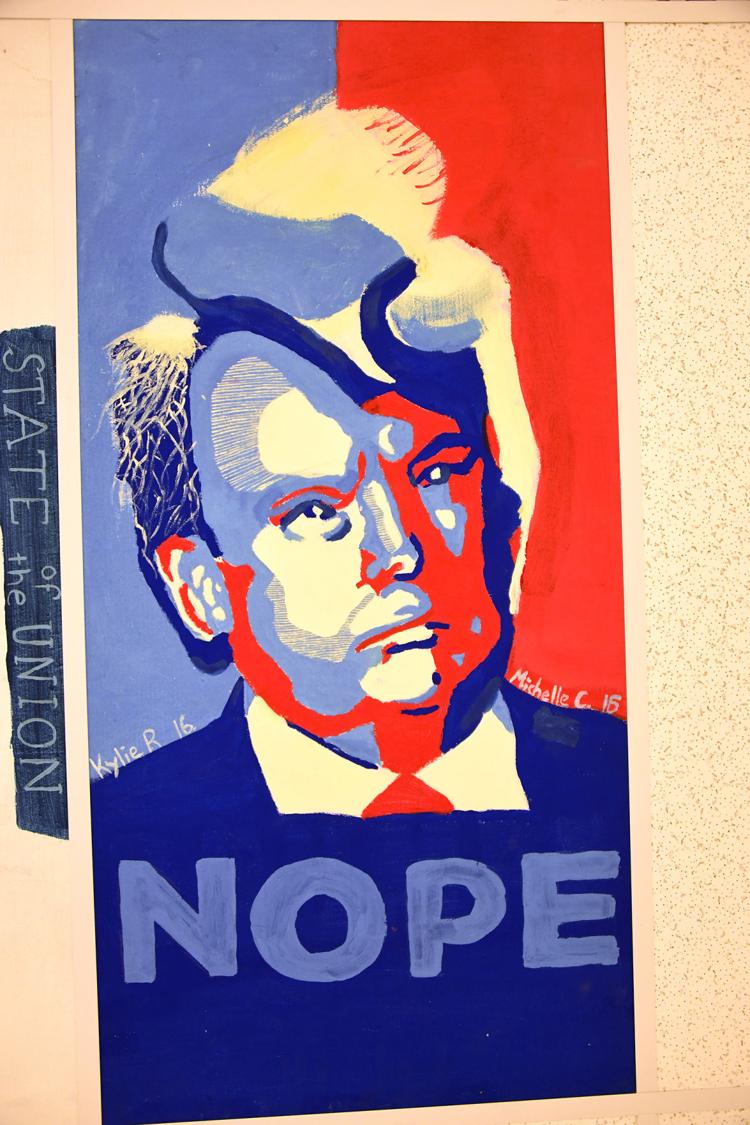 Pro-Obama and anti-Trump images painted on ceiling tiles at Wood River High School sparked outrage among conservatives when a former Republican legislative candidate posted photos of the paintings to her Facebook page on April 12.
Glenneda Zuiderveld, of Jerome, published a set of photos she said were taken by Steven Stewart of Hailey on April 12, including a representation of Barack Obama's red, white and blue "Hope" campaign poster alongside a painting depicting a windblown Donald Trump reading "Nope" in the same style.
Those images, two of the hundreds that students have painted on Wood River's ceiling since the 2011-12 school year, were done as optional extra-credit assignments by students taking Advanced Placement classes following the completion of the exams in May, according to Director of Communications Heather Crocker.
Other images posted by Zuiderveld, who ran in the 2015 Republican primary to represent District 25 in the Legislature, included a political cartoon lampooning Trump's proposed wall on the Mexican border; another showing a startled DACA recipient with a Ph.D. "leaving" the country while a goofy, toothless Trump supporter stays; and, a red tile reading "Keep Calm and Overthrow Your Government" in a style emulating the famous World War II-era British morale poster.
The last one, signed by students from the class of 2015, would have been painted during the Obama administration.
"If this isn't evidence that there is more indoctrination than education going on," Zuiderveld wrote, urging followers to contact Idaho Superintendent of Public Instruction Sherri Ybarra about the paintings.
Later, Zuiderveld followed up with images displaying less obvious ideological slant, including the flag of the Albany Plan, a popular representation of the American colonies in the 1750s; a cartoon showing inflation pulling money from an unsuspecting wallet; and a cartoon critical of the banking industry's role in the economic downturn of 2008.
"My issue is these are a little over the edge and if it was the other way around it would either not be allowed and be hateful," Zuiderwald said in a separate post. "Everyone says they are just expressing themselves through art. Then pick a different topic for them to draw."
As of Monday morning, 604 people shared the post, reaching the Blaine County School District, Ybarra's office and elected officials.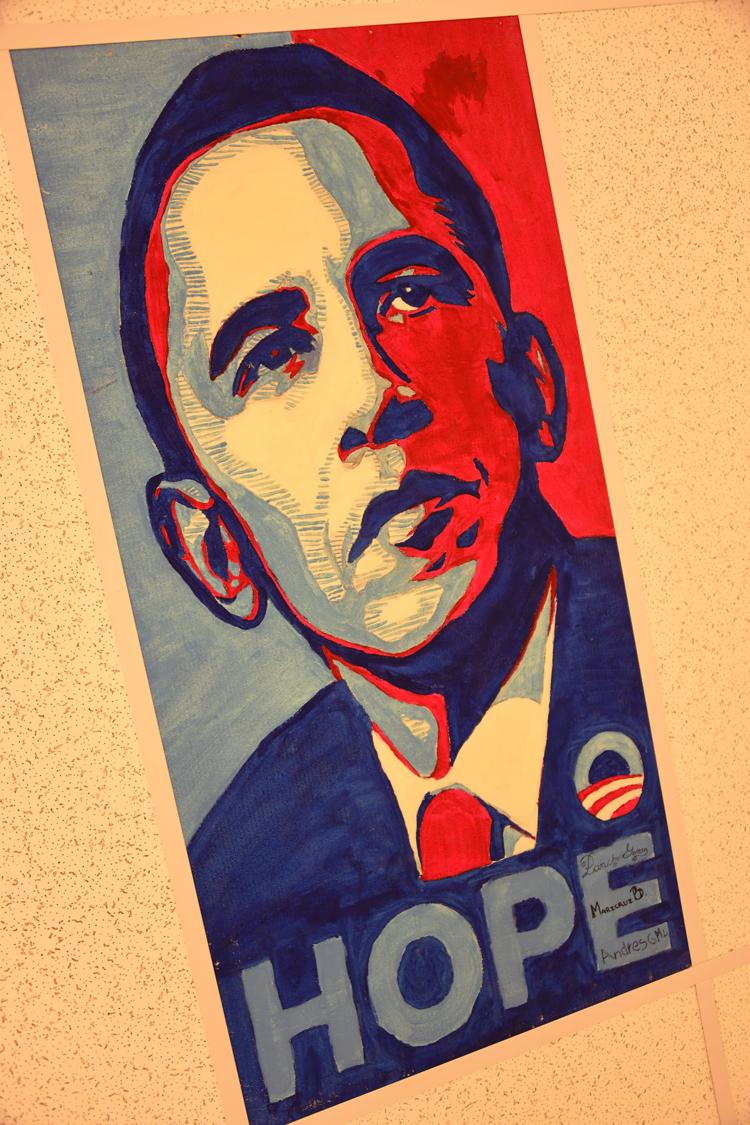 "Can [sic] the school. Call the principal. Call the superintendent. Cal [sic] the teacher responsible," responded Christy Zito, a Republican representative of District 23 from Hammett.
The next day, District 24 Rep. Lance Clow, R-Twin Falls, reached out directly to BCSD Superintendent GwenCarol Holmes via email about "what has become a hot issue."
In response, Holmes wrote to Clow in an email on Monday, April 15, that "[i]n the English hallway, you see lots of book covers, in the science hall the tiles focus primarily on science, etc. In the social studies and government hall you see tiles that focus on a wide array of topics including those that might be considered political from human rights, to issues in other countries, to government officials in the U.S."
Students who choose to paint a tile pick a subject that interested them based on what they'd learned the past year, Holmes said.
"The students have to justify why their topic resonated with them," she wrote. "I am sorry that the person posting the pictures didn't take time to note that there are tiles of all persuasions and viewpoints."
Holmes attached a portrait of Abraham Lincoln, and a pro-Trump political cartoon showing the president freeing a balloon labeled "business" from sandbags of "regulation."
Participation fluctuates year-to-year, according to Principal John Pearce. What started as an art project transformed into a post-exam project for AP government, history, economics and English classes, among others.
"It's been going on at Wood River High School for a while now, and it has morphed into a unique thing," Crocker said of the tiles. "Students get a chance to share something that spoke to them during the course. There are some political ones, but they run the gamut."
Students pick the subject, and then defend its merits in a presentation to their teachers, Pearce said.
"They can come at it from any direction," he said. "It's their choice—it's very student led. Any number might be considered conservative or liberal, Republican or Democrat. When you're talking about classes at the AP level, you're building on high-order thinking processes. These kids are sharp. They have their own ideas—they're not just vessels being filled. They're taking things from their homes, from their communities, and bringing it into the classroom. They can't help but be topical.
"We want our students to express themselves—they have that right. We don't quell that. There's space for that in America, and, we think, there's space for that at Wood River High School, as well."