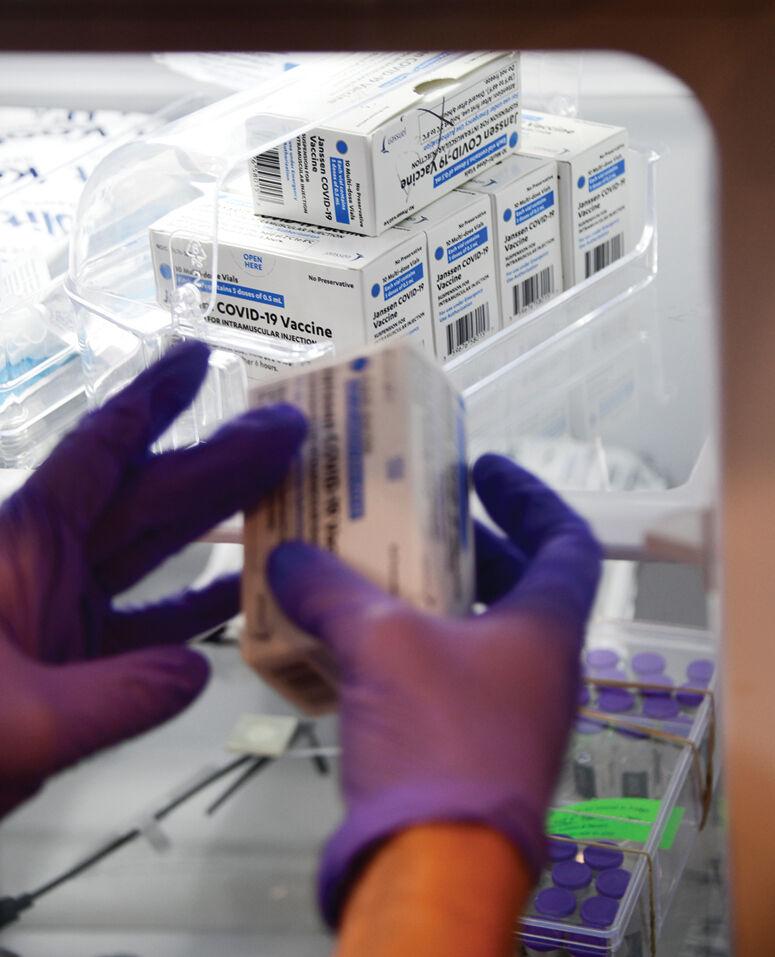 As COVID-19 cases increase in all 50 states and Idaho's largest health-care system warns of another surge, Blaine County remained at "minimal" risk for the virus Thursday, July 15.
In a risk assessment conducted by the South Central Public Health District, the district deemed Blaine County's risk to be in the lowest category, like the seven other counties in the district. The assessment—which is done every two weeks—used data from June 27 to July 10.
The district's model takes into consideration the number of new cases, the rate of positive tests for the virus, hospital capacity and other factors. It has four risk categories: minimal, moderate, high and critical.
In the 14-day period, three new COVID-19 cases were recorded in the 70-plus age group, two new cases in each of the 50-59, 30-39 and 18-29 age groups, and one case in the 14-17 age group.
The rate of positive tests for COVID-19 was 2.33% and the 14-day rolling average of new cases per 10,000 residents was 0.31—all in the "minimal" range.
Meanwhile, COVID-19 cases have been increasing across the nation, with all 50 states showing a bump in infections in recent days. On Friday, the federal Centers for Disease Control and Prevention recorded more than 40,000 new cases in the nation, up from 8,561 on June 13. The numbers have been trending upward since that time, though the number of new cases dropped to 7,156 on Sunday, CDC data indicates.
Idaho's COVID-19 case numbers have also been trending upward. On Saturday, the daily seven-day moving average case rate was 8.1 per 100,000 residents, the Idaho Department of Health and Welfare reported. On Monday, it was 8.2. Back on July 5, the number was 3.3.
On Monday, Health and Welfare recorded 271 new confirmed and probable cases of COVID-19 statewide. About two weeks earlier, on July 3, the number was 47. Since the pandemic began last winter, the state has recorded 197,211 COVID-19 cases and 2,176 COVID-related deaths.
On Monday, Blaine County's daily seven-day moving average case rate was 6.8 per hypothetical 100,000 residents, Health and Welfare reported. Blaine County has had 2,417 confirmed and probable cases of COVID-19, with 18 deaths attributed to the virus, according to department data.
Numerous health experts have attributed the increase in cases to the emergence of the Delta variant as the dominant strain of COVID-19 in the United States, as many Americans—many of them still not vaccinated—have lowered their guard and foregone taking protective measures. First identified in India, the Delta variant has been determined to be more transmissible and to sometimes cause more severe illness.
Last week, the South Central Public Health District reported that the Delta variant had been confirmed in Twin Falls County. Screening for specific variants is uncommon in Idaho, though, and officials suggested that this first recorded case was probably not the first occurrence of the Delta variant in the area. The U.K. and California variants of the virus were discovered in Blaine County earlier this year through a special testing project that has since ended.
In a speech Monday, President Joe Biden encouraged more Americans to get vaccinated against COVID-19. Vaccination rates have slowed in the nation and in Idaho.
"Get vaccinated now," Biden said.
Data indicates that almost all COVID-19 illnesses have recently been among people who are not vaccinated against the virus. The Idaho Department of Health and Welfare reported that in Idaho between January and June, 98.7% of COVID-related hospitalizations were among unvaccinated patients. In Idaho over the same time frame, 98.8 percent of COVID-related deaths were in unvaccinated people.
The St. Luke's Health System has seen an increase in inpatient COVID-19 numbers, which "have been changing at a very concerning rate," spokesperson for the organization told the Express in an email.
"After months of stable COVID admissions of about 20 to 25 patients, in recent weeks we have seen a doubling in inpatient COVID admissions and a 100 percent increase in ICU COVID admissions," the organization stated. "Currently, 10 percent of our hospitalizations are people diagnosed with COVID-19. We fear this may be the beginning of a significant surge."
At the same time, the average age of patients has decreased, St. Luke's stated.
"This is almost certainly related to the fact that the older population has much higher vaccination rates; for us, this is evidence that the vaccines work," the organization stated. 
By Monday, Idaho health-care providers had administered 1,365,494 doses of COVID-19 vaccines to 736,665 people, with 682,749 deemed fully vaccinated, the Department of Health and Welfare reported. An estimated 45.2% of eligible Idahoans have been fully vaccinated, the department reported. To be fully vaccinated, people must receive either two doses of the Pfizer or Moderna vaccines or one inoculation of the Johnson & Johnson vaccine.
In Idaho, anyone age 12 or older can receive a COVID-19 vaccine for free. People ages 12 to 17 can only receive the two-dose Pfizer vaccine. Minors must have parental consent or a special exemption to be vaccinated.
By Monday, 79% of Blaine County residents ages 12 and older were fully vaccinated and an additional 6% had received one dose of a two-dose vaccine regimen, Health and Welfare reported.
Blaine County's vaccination rate is the highest in the state.