Three of four valley cities ended emergency health orders this week, unwinding COVID-19 restrictions and effectively ending pandemic safety rules some 14 months after local leaders swept them into place.
In a series of split votes, Hailey, Ketchum and Sun Valley each rescinded their public health orders, which included requirements for masks and social distancing, limitations on group sizes and rules for certain businesses. The Blaine County commissioners are scheduled to consider their version of the ordinance Thursday, while the Bellevue City Council will take it up on Monday, May 24.
The decisions followed a surprise announcement last week from the federal Centers for Disease Control and Prevention that fully vaccinated people do not have to wear masks indoors or outdoors, except where required by federal, state or local regulations, or by private businesses. The announcement caused confusion among many Americans who wondered whether they should continue to wear masks and whether unvaccinated people would choose to do so.
Hailey was one of the first cities in Idaho to implement a mask mandate at the start of the pandemic, and on Friday it became the first local jurisdiction to lift that requirement. Mayor Martha Burke formally rescinded the city's mask mandate—its last remaining COVID-19 regulation—following the CDC's announcement. In a special meeting Monday, the City Council voted 2-2 on rescinding the mask requirement, with Burke casting the tiebreaking vote to do so.
"Had the CDC not spoken as they did, we would not even be having this meeting," Burke said Monday. "I stand by my decision—it was rational and thought out. But I don't believe for a second that this is the end of the virus and that this is the end of our response to it.
"We will revisit our COVID-19 situation and response repeatedly. Believe me, if we see numbers increase, it will prove to us how effective masks have been. I strongly encourage everyone to continue to wear a mask in any indoor situation where you don't know who may or may not be vaccinated."
North Valley cities end orders
The Sun Valley and Ketchum city councils followed Burke's lead this week, each voting to annul health orders that required masks to be worn indoors and outdoors.
In Ketchum, the council voted to rescind the city's COVID-19 emergency health order Monday evening, thereby removing local regulations and leaving the city under the state's COVID mitigation guidelines. The decision came after a split 2-2 vote by the council, with Mayor Neil Bradshaw casting the deciding vote. The mayor only votes in the event of a tie.
Councilman Jim Slanetz and Councilwoman Amanda Breen voted in favor of Slanetz's motion to rescind the order. Council President Courtney Hamilton and Councilman Michael David voted against the motion.
Bradshaw said the split vote was "probably indicative of our community." He asked people to continue to "stay safe" and said he hopes the decision "serves us well."
"This is not easy. It's never been easy," Bradshaw said. "And I'm truly thankful for everyone—the medical community, the frontline workers, people at the grocery stores, all keeping us all safe. And, again, now the onus goes onto personal responsibility."
In introducing the topic to the City Council on Monday, Fire Chief Bill McLaughlin said he had noticed a decline in mask use in town since the CDC announcement and that some businesses had lifted their mask requirements. He noted that Blaine County last Thursday was on the low end of the "moderate" risk level of its own assessment rubric—with some risk indicators in the "minimal" range—and that more than 70% of adults in the county are predicted to be fully vaccinated against COVID-19 by the end of the month.
McLaughlin said the community is certainly "in a different place" than when the city first declared a public health emergency in March 2020, but the pandemic is not over. He noted that some authorities in the medical community were urging patience in relaxing COVID regulations.
Indeed, a letter to the city councils of Ketchum and Hailey from the St. Luke's Wood River medical staff and Chief Operating Officer Carmen Jacobsen noted that only recently were people ages 12-15 made eligible to be vaccinated and that many visitors from other states and countries—where vaccination rates might be lower—come to Blaine County.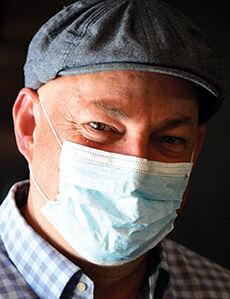 "A gradual relaxation of the mask mandate may protect those who cannot get vaccinated at this time," the letter stated. "Continuing to require masks indoors, with current exceptions, may also provide reassurance to residents and visitors alike."
Dr. Terry O'Connor, a St. Luke's emergency department physician and the regional emergency medical services director, sent an email to several elected officials that pointed to questions health experts have had about the CDC guidelines.
"By my last read, seems like most people want a tempered approach," he wrote.
Breen—an attorney who has supported COVID-19 mitigation measures—questioned whether Ketchum still had the basis to declare an ongoing health emergency.
"Clearly, the pandemic's not over," she said, noting that Americans continue to be affected by and die from COVID-19 and that most children cannot be vaccinated.
However, she said, local jurisdictions should not overstep their authority.
"I don't see an emergency justifying it," she said of the city's health order.
David said the CDC announcement and the public reaction to it had put elected officials in a no-win situation, in which they either seemingly ignore advice from medical experts or ignore people and business owners tired of COVID regulations.
"This is a challenge," he said. "I don't want to ignore the medical community."
Hamilton said she had considered whether waiting one or two more weeks would best serve the community, or waiting for more people to be fully vaccinated. She referenced comments from O'Connor on the benefits of wearing masks.
"I think that that's the reason to keep them, is to show that we're doing the right thing for public health and that we're in this together as a community, and we're supporting our vulnerable population," she said.
Slanetz said he believed most people have had the opportunity to be vaccinated, that children are at "extremely low risk" and that many business owners are "clamoring" to have a choice about making customers wear masks.
In the end, he called for "respect" and "compassion" for people who continue to wear masks.
"Everyone has their own story," he said.
With the order rescinded, the city will now fall under the state's COVID mitigation measures. The state is currently in Stage 4 of its Idaho Rebounds reopening program. Stage 4 encourages all eligible people to get vaccinated against COVID-19, "strongly" recommends face coverings "per guidance from CDC" and places no limitations on gathering sizes but states that people at gatherings "should adhere to physical distancing and sanitation guidelines."
Individual business owners can apply their own rules about masks.
Sun Valley annuls health order
The Sun Valley City Council voted Monday morning to immediately rescind the city's COVID-19 health order, which requires people to wear masks when around others in indoor and outdoor public places.
In a special meeting called by Mayor Peter Hendricks, council members voted 2-1 to annul the order, which had a previously established expiration date of July 1. Council President Michelle Griffith and Councilman Brad DuFur voted in favor of nullifying the order and subsequently having the city fall under the state's COVID-19 mitigation guidelines. Councilwoman Jane Conard voted against the change. Councilman Keith Saks was absent.
Earlier this month, Sun Valley council members and the mayor informally agreed to review the COVID-19 situation and consider amending the city's public health order when they convene for their next regular meeting in early June. However, Hendricks told the council Monday that he decided to call the special meeting in light of the new guidelines on mask wearing from the CDC.
Conard said she remained concerned that COVID-19 variants have been spreading, that the numbers of nationwide COVID-19 cases and deaths are still high, that children under 12 aren't eligible to be vaccinated and that many people from other places travel to Sun Valley.
"Public health doesn't respect boundaries of governments," she said.
Both Griffith and DuFur pointed to high COVID-19 vaccination rates in Sun Valley and Blaine County as a sign of progress. The vaccination rate in the city is 116%, according to the South Central Public Health District.
"Taking responsibility for your health, which is what the director of the CDC has said people should do, is a reasonable way forward," Griffith said.
DuFur said he was comfortable with having the city fall under the state's guidelines.
In early April, the City Council voted unanimously to extend the city's public health order through the end of June. The now-defunct order stated that all people must wear a face covering that completely shields their nose and mouth "when members of the public are physically present for otherwise unprotected social interaction," both in indoor and outdoor public places—with several exemptions. The city has been following state guidelines on other COVID-19 mitigation measures.
Vaccination rates paint mixed picture
In their respective meetings, officials in favor of maintaining mask rules noted that large portions of Blaine County are not fully vaccinated and many residents, including children under 12, haven't been eligible or able to receive vaccines.
Last Wednesday, the South Central Public Health District reported that around 152% of residents in Ketchum and 116% of residents in Sun Valley had been fully vaccinated, a number inflated by second-home owners and visitors vaccinated in the area. Vaccination rates fell moving south—64% in Hailey, 48% in Bellevue and 36% in Carey. Statewide, only around 31% of Idahoans were fully vaccinated as of last Friday, according to the CDC, making Idaho the fifth-lowest vaccinated state in the country after Mississippi, Louisiana, Alabama and Wyoming.
"We are a mobile community, and the total vaccination rate should be considered," the letter from Jacobsen and St. Luke's staff stated. "While our current local vaccination rate is high—but does yet not include those between 12 and 16—and has contributed to our lower case rate as of late, we are currently in between our peak busy season and the decline in our case rate may be partially attributed to fewer people being in town."
In a separate email, Blaine County Commissioner Angenie McCleary echoed those concerns.
"Time is our friend here," she wrote. "There can be light at the end of the tunnel, but we must be patient and responsible."
Hailey debate highlights split
Hailey's Friday mask-rescindment order closely followed three other COVID-19 restrictions voided by the city last week. A revised emergency health order signed by Burke last Tuesday lifted the city's outdoor and indoor gathering limits, previously capped at 50 and 10 people, respectively. It also lifted the city's outdoor mask-wearing requirement, which applied only to those standing or sitting less than 6 feet apart outside.
Hailey's indoor mask mandate required residents to wear face coverings in indoor public spaces, with exceptions for people eating or drinking at food establishments, children under 5 and those with disabilities.
On Monday, council members split on whether to uphold the mandate. Council members Juan Martinez and Heidi Husbands voted to end the mask requirement, while Council President Kaz Thea and Councilman Sam Linnet wanted to keep it in place indoors.
Linnet said he understood Burke's rationale for issuing the order but stressed that most constituents and public-health officials were in favor of continuing indoor mask-wearing.
The problem with the CDC's new guidelines, he said, is that there is simply no way to determine who's received a vaccine without asking for documentation.
"The rub, the difficulty of their announcement last week, is that the only way to ensure that unvaccinated people wear masks indoors is to require everyone to do so," he said. "I'd just implore people to get vaccinated if you're able and healthy, and to please continue to wear masks indoors. It's the best policy move and public health move for your neighbors who can't be vaccinated or are at risk."
Linnet added that around 70% of respondents in a recent Blaine County survey supported indoor mask-wearing.
"Lifting the mask mandate has not make our community safer. It's made our most vulnerable population more vulnerable, and it rewards those that refuse to wear masks or get the vaccine," he said. "Our public health advisors want us to keep this mandate. Doing away with it would be a dramatic departure from our decision-making over the past year."
Thea joined Linnet in voting against Burke's order. She said she was glad to see St. Luke's "up the ante" on its mobile vaccine units, which she said have helped to boost the local vaccination rate. But kids in the 12-15 age group only just became eligible for the Pfizer vaccine last week, she said, and are still susceptible to the virus.
"We haven't given them a chance to receive their vaccinations if they're going to get one. I think this [order] is rushing it," Thea said. "After having conversations with doctors, I think we probably do need to wait two more weeks to assess."
Martinez called the mask rescindment order "a moment for reconciliation" but noted there are still vulnerable residents, including pregnant women, who can't get the vaccine. (According to the CDC, limited data is available about the safety of COVID vaccines for pregnant people, organ transplant recipients and those with HIV and other immune system disorders.)
"I think it's important that just because we take off the mask doesn't mean that we lose our humanity," Martinez said. "It's important to recognize that that we're responsible for other people's health as well."
Councilwoman Heidi Husbands stressed personal responsibility.
"I just hope that we can show some kindness, some love," she said. "If you want to wear a mask, that's OK. If you don't, that's OK. Right now, I think it's time to move forward."
Husbands said she would "definitely encourage wearing masks inside," which she planned to do, and urged residents to get their vaccines. Private businesses have the right to require masks and continue any COVID-19 mitigation policies, she added, and employees should be treated with respect.
"If Atkinsons' Market [keeps] its mask mandate," she said, "you are required to abide by that."
Schools, Mountain Rides retain mask requirement
While cities were pulling mask requirements, other major institutions announced plans to keep them in place.
In a Tuesday morning interview, Interim Blaine County School District Superintendent Fritz Peters said the district's indoor mask policy will not change based on how local jurisdictions choose to interpret the CDC's latest recommendations.
The county's public schools are no longer requiring masks during recess and outdoor activities, but masks will continue to be required indoors, he said.
Indoor graduation and advancement ceremonies will proceed at Carey School, Hemingway STEAM School and Silver Creek High School with mask requirements and social-distancing measures, "including a family pod system and well below maximum" capacities, he said. Wood River High School and Wood River Middle School, on the other hand, will hold their graduation and advancement ceremonies outdoors.
"The district has moved forward very clearly with all parents that we are no longer requiring masks outside for students or staff, because there is simply minimal to zero evidence of the virus spreading outdoors," Peters said. "We're going to keep masks on indoors, probably for the rest of the year, because we don't have a population that's fully vaccinated due to their age."
He noted that while Sun Valley and Ketchum are communities with very high vaccination rates, Hailey, Carey and Bellevue are not.
"Our youth represent the highest-growing population in terms of virus spread and spreading new variants. So, masks are staying on at every school," he said.
Peters said not all parents have been on board with the district's continued indoor mask requirement.
"Some people are hearing what they want to hear—'Oh, there are no masks'—but CDC guidelines right now only apply to people who are fully vaccinated," he said. "There are parents that are upset about that, who want us to go completely mask free and think we're being too aggressive."
Mountain Rides Executive Director Wally Morgus told the Express on Tuesday that bus passengers will need to continue wearing masks, per CDC and Federal Transit Administration guidelines.
"For now, and until we get different guidance from the [FTA and CDC], as well as from local authorities, masks continue to be required for everyone on board Mountain Rides' buses," he said. "We thank everyone for their understanding and for their continuing good work and good will in making and keeping Mountain Rides' buses a safe place for all."
---
Additional reporting by Gretel Kauffman and Tony Evans.