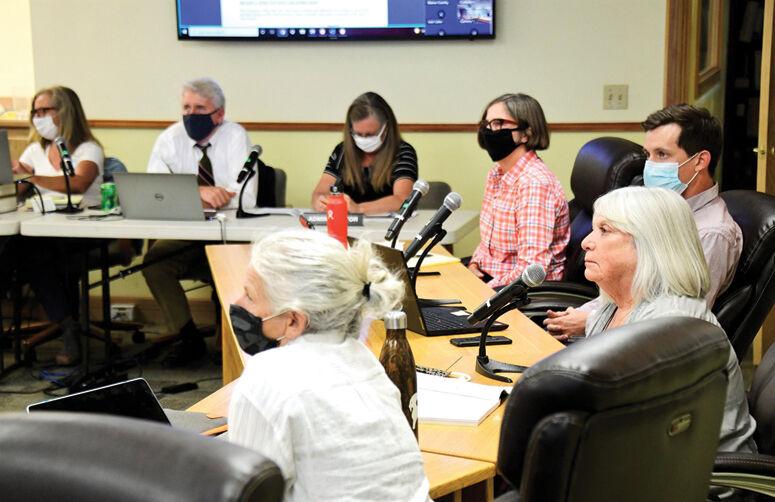 The Hailey City Council will decide on Tuesday whether to extend its Sept. 14 emergency health order by three months and continue to require face coverings in public until Jan. 10, 2022.
The city's current order requires residents and visitors over the age of 5 to wear masks, bandanas or face shields in indoor public spaces—grocery stores, retail floors and post offices, for example—and in outdoor settings where social distancing is not possible.
Exceptions apply to those spaced apart 6 feet or more outside, people eating or drinking at a food establishment, participants in athletic tournaments and anyone undergoing a medical procedure involving the face.
Unlike previous health orders, businesses are not currently required to enforce mask-wearing with signage. The lack of publicity has kept some customers in the dark about the health order, resulting in noncompliance, Hailey Police Chief Steve England said on Sept. 30. England also observed a more willful noncompliance to the order from employees in the retail and restaurant sector, he said.
"I do think more signage, more awareness when people are entering public businesses would set the tone for more compliance," he said at the time.
Several factors support the extension of Hailey's mask order, the city stated in a staff report published on Wednesday. Those include increased severe illness in unvaccinated people who contract COVID, a continued shortage of ICU beds, a growing number of COVID cases in local children and the fact that children under 12 are not eligible to receive vaccines, as well as the need to keep schools open.
Following Tuesday's discussion, councilmembers will go into executive session to discuss pending litigation against the city over the mask reqiurement. On Sept. 27, Sandpoint-based Health Freedom Defense Fund—a nonprofit led by local anti-vaccine advocate Leslie Manookian—along with Ryan Blaser, Michelle Sandoz, and Emily Knowles of Hailey, Barbara Mercer of Blaine County and Kendall Nelson of Ketchum filed a lawsuit in federal district court claiming that Hailey's mask order deprives residents of their personal liberties and the right to breathe oxygen.
"The Mask Mandate … constitutes a grand medical experiment and forcing every person in a public place in Hailey to wear a face covering constitutes a violation of international law, federal law, and Idaho law, all of which prohibit human experiments absent informed consent," the suit reads.
The city had not been served with the lawsuit as of Wednesday afternoon, City Administrator Heather Dawson told the Express.
In most cases when the city is sued, the Idaho Counties Risk Management Program—Hailey's insurer—provides a defense attorney, according to City Attorney Chris Simms. But ICRMP declined liability coverage because the plaintiffs are demanding declaratory and injunctive relief—essentially a strike-down of the order—rather than a monetary award, Simms said. On Tuesday, Mayor Martha Burke plans to hire Deborah Ferguson of Boise-based Ferguson Durham to represent Hailey in the suit.
"Deborah has immense relevant experience from both the government and private sector, with an emphasis on civil rights matters in federal court," Simms said.
In 2019, Ferguson represented the Idaho Press Club in a successful lawsuit against Ada County, which was found by a district judge to have violated the Idaho Public Records Act by repeatedly withholding public records from reporters.
More recently, Ferguson represented Reclaim Idaho as a lead attorney in a lawsuit against the state of Idaho over its new voter initiative law requiring ballot measure sponsors to collect signatures from all 35 legislative districts. The Idaho Supreme Court struck down the law in late August, ordering the state to pay out $152,000 to Ferguson's firm.