The Hailey City Council lifted the city's indoor and outdoor group-size restrictions and outdoor mask requirement in a unanimous vote Monday, paving the way for a number of summer festivities.
The revised health order entirely removes the previous order's 50-person outdoor gathering limit and 10-person indoor gathering limit. It no longer requires residents to wear masks outside when they cannot stay 6 feet apart, but "strongly encourages" mask-wearing in those situations.
One aspect of the previous health order—last renewed by the council on April 26—remains intact. Hailey residents are still required to wear face coverings in indoor public spaces, with exceptions for those eating or drinking at food establishments and children under 5 years old.
The 10-person indoor group-size limit specified in Hailey's previous health order was more restrictive than Gov. Little's Stage 3 economic rebound plan, which capped indoor gatherings at 50 people.
Idaho returned to Stage 4 of its rebound plan on Tuesday, lifting all indoor and outdoor gathering-size limits. (The plan, which also encourages Idahoans to follow CDC guidelines and schedule vaccine appointments, only requires masks at long-term care facilities.)
Mayor Martha Burke said Monday that she wanted to allow typically crowded events, including the Sun Valley Professional Bull Riders Classic Rodeo, to go on this summer.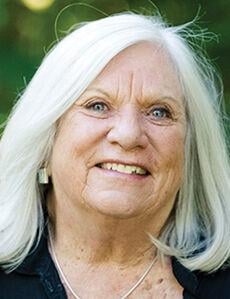 "I'd like to do away with mask-wearing outdoors and outdoor group-size limits," she said, "unless, of course, things go south and we'd have to pull back. But I would strongly suggest that people wear masks in close-quarter settings like the rodeo, where you're sitting shoulder-to-shoulder with people who may not have received a vaccine."
Burke, who signed the new order Tuesday, framed Monday's council debate with a few promising statistics. Blaine County has seen a drastic reduction in COVID-19 cases, she said, and has an overall vaccination rate of about 75%. (She noted that while Ketchum and Sun Valley have vaccination rates over 100%--a figure inflated by second-home owners and visitors getting vaccinated in the area--Hailey has a vaccination rate around 57% and Bellevue and Carey lag further behind, with rates of 40% and 18%, respectively.)
"If your peers and friends have been vaccinated, it's certainly acceptable to meet with them indoors and share dinner at this point," Burke said.
The council quickly came to a consensus Monday on lifting outdoor group-size restrictions.
"I think we can celebrate the fact that people are taking responsibility for being healthy and protecting themselves from COVID, and we can start to return to kind of normal social interactions," Councilman Sam Linnet said.
Councilwoman Heidi Husbands recommended doing away with both the city's indoor and outdoor mask requirements, stressing social responsibility.
"I don't think we should control who should wear masks and who shouldn't at this point in time, or shame people," she said. "I don't think there should be any mask mandate whatsoever."
Councilman Juan Martinez agreed. As a ticket scanner at Sun Valley Resort this past winter, he said, it was "awkward" to ask people to wear masks, and employees grew tired of enforcing Ketchum's mandate.
"There was an awkward shaming phase on both sides, a lot of cynical attitudes towards the government for being involved at all," he said. "I think we did what we could do, when we needed to do it, and now it's up to the individual to make their own decisions on how to stay safe."
Councilwoman Kaz Thea took a middle position. Though she was not willing to lift Hailey's indoor mask requirement, she said masks should not be required outside regardless of gathering size.
"There have not been COVID [related] hospitalizations recently," she said. "If we were to suddenly start seeing a spike in cases, we can always go back."
Linnet, citing CDC recommendations, said masks should be required for public gatherings over 50 people.
"I don't want to see any outdoor group-size restrictions. All I would want to see is masks on groups over 50 people until we have better information, which changes weekly," he said. "The bottom line is that masks don't impact businesses, and they're a minor inconvenience."
For the rodeo, Burke suggested dividing the arena into mask-wearing and mask-free zones to guarantee a larger crowd and promote inclusivity among "the majority of our community, which supports mask wearing, and our free-thinkers who follow the Wild West" mentality.
"I don't want to see any confrontations, especially after two or three beers in the heat," Burke said. "No one saying, 'You're a wuss' for wearing a mask or 'You're thoughtless' for not wearing one."