Gov. Brad Little announced Wednesday that all Idahoans age 16 and older will be eligible to receive COVID-19 vaccinations starting April 5.
The announcement moves the eligibility of Idahoans ages 16-44 in the general population up by three weeks.
The state is also accelerating eligibility for other groups. State officials announced Wednesday that Idahoans in the general population age 45 and older are now eligible, and residents ages 16-44 with at least one serious medical condition will become eligible on Monday, March 29.
After Little's special address, Elke Shaw-Tulloch, public health administrator for the state Department of Health and Welfare, said that the governor has also approved a recommendation from the state's Vaccine Advisory Committee that Idahoans living in congregate settings be eligible for COVID-19 vaccination now, regardless of their age or medical condition. That group includes residents in emergency shelters, transitional housing, dormitory housing, correctional facilities, housing for people in treatment or recovery programs.
Shaw-Tulloch also announced that the governor had approved a recommendation against prioritizing restaurant and bar workers, airport workers, bank and financial-sector workers, Idaho Tax Commission employees and Idaho Power staff who work outside. Instead, people in those groups will become eligible based on their age and medical condition.
Groups now eligible for COVID-19 vaccination include residents 45 and older, health-care workers, residents and workers in long-term care facilities, first responders, K-12 teachers and staff, frontline essential workers and people who live in congregate settings.
One reason the timeline was moved up, Shaw-Tulloch said, is that some of the 470 vaccine providers in the state have seen unfilled appointments stay open. State officials do not want any vaccine doses to be wasted thorough unfilled slots, she said.
Little thanked the nearly 390,000 Idahoans who had chosen to be vaccinated by Wednesday "because it's safe and because it works" and encouraged others who are eligible to get vaccinated.
"As more and more Idahoans choose to get vaccinated, we get closer to returning to normal," Little said. "The COVID vaccine really is our best shot at protecting jobs, saving lives and keeping our kids in schools."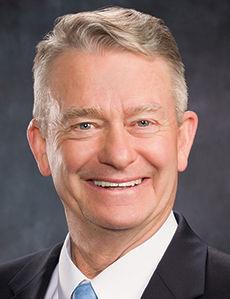 Little reminded Idahoans that they can schedule a vaccination appointment online with the state's scheduling tool, at covidvaccine.idaho.gov. He said 90,000 people had used the website to schedule an appointment. (Eligible people can alternatively register to receive a vaccination from a St. Luke's Health System facility through the organization's myChart online portal.)
Vaccination program ramping up
In the Department of Health and Welfare's media conference after Little's speech, Director Dave Jeppesen said the state's COVID-19 vaccine rollout "continues to go well." The three federally approved vaccines—from Pfizer, Moderna and Johnson & Johnson—are "safe and effective" and that by Wednesday about 28% of Idahoans had received at least one shot, according to the department data Jeppesen cited.
By Thursday morning, 631,803 vaccine doses had been administered to 396,315 Idahoans, with 247,135 people listed as fully vaccinated—with either one dose of the Johnson & Johnson vaccine or two doses of the Pfizer or Moderna vaccines.
The state is receiving more than 90,000 doses of vaccines this week, Jeppesen said, a significant increase from previous weeks. The state will receive 9,500 doses of the single-dose Johnson & Johnson vaccine in the coming days, Shaw-Tulloch said.
The state expects to have enough vaccine doses to inoculate 50% of all eligible Idahoans by May 12 and 70% by June 13, Jeppesen said.
However, it is important for residents to continue to follow COVID-19 mitigation measures, such as mask wearing, social distancing, washing hands and limiting group sizes, Shaw-Tulloch said. Variants of the SARS-CoV-2 virus that causes COVID-19 disease—which can be more transmissible and cause more severe illness—have been detected in Idaho, Shaw-Tulloch said.
"We are not out of the woods yet," she said.
Jeppesen agreed, noting that state officials want more people to get vaccinated "to get the virus under control." All eligible people—even those who have had COVID-19—should get vaccinated, the health officials said.
"There's light at the end of the tunnel," Jeppesen said.
The Pfizer vaccine is approved for people 16 and older, while the other two vaccines are approved for people 18 and older. Pharmaceutical company AstraZeneca has developed a COVID vaccine that was expected to be reviewed soon by the U.S. Food and Drug Administration for emergency-use authorization but the application was delayed this week amid questions about the company's data. The company stated Thursday that trial data has proven the vaccine to be "highly effective" and that it would apply for use authorization soon.
Meanwhile, the number of COVID-19 cases in Idaho continues to climb, but a slower rate than earlier in this year and during surges last year.
The Department of Health and Welfare by Thursday morning had recorded 178,544 cases of COVID-19 in Idaho since the pandemic began last winter, including 425 new cases on Wednesday. The state has recorded 1,952 COVID-related deaths.
Blaine County has recorded 2,234 confirmed and probable cases of COVID-19, with 17 deaths attributed to the virus.