Blaine County's risk level for COVID-19 was lowered from "critical" to "high" on Thursday, as the rates of new positive tests for the virus and new cases continued to drop after hitting several high peaks earlier this winter.
In its risk-assessment model using data from Feb. 14-20, the county's rate of COVID-19 tests registering as positive decreased to 3.93% from 7.22% the previous week, lowering it from a "high" risk to "moderate" risk. In the same week, the county's number of new daily cases per hypothetical 100,000 residents decreased to 19.9 from 44.1 the previous week, based on a seven-day average. A rate between 10 and 25 per 100,000 is considered a "high" risk.
The South Central Public Health District is investigating an "active outbreak" in a Blaine County long-term care facility, the county's online informational dashboard states, as well as "a cluster of cases in a local school."
The 14-17 age group and 40-49 group recorded the highest number of new cases, each with seven in the seven-day span.
The dashboard also notes that "COVID-19 variants have been detected in Idaho."
The Department of Health and Welfare has confirmed cases of two COVID-19 variants in the state, one that had been discovered in the United Kingdom and one first detected in South Africa. The variants—which are mutated versions of the coronavirus that causes COVID-19—spread more easily and could cause surges in case numbers, health experts and the federal Centers for Disease Control have warned.
"We remind Idahoans to continue wearing masks, physically distancing, washing hands frequently and staying home when ill," said Dr. Christine Hahn, medical director of the state's Division of Public Health.
The Department of Health and Welfare by Wednesday night had recorded 170,289 cases of COVID-19 in Idaho since the pandemic began last winter, including 423 new cases on Wednesday. The state has recorded 1,840 COVID-related deaths.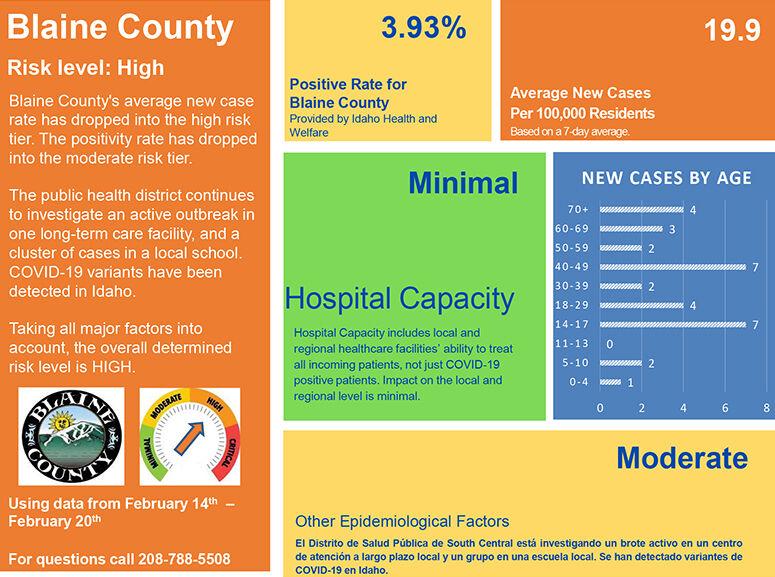 Blaine County has recorded 2,146 confirmed and probable cases of COVID-19, with 16 deaths attributed to the virus.
Statewide, 326,459 doses of ap-proved COVID vaccines had been administered to 223,152 people by Wednesday night, with 103,307 people receiving the recommended two doses, the Department of Health and Welfare reported. Vaccines had been administered to 5,107 people in Blaine County by Wednesday.
An increase in the federal allocation of vaccine doses—possibly boosted by pending federal approval of a new, one-dose vaccine produced by Johnson & Johnson—is expected next week and into March.